Plan sets domestic plane development schedule
By ZHU WENQIAN | China Daily | Updated: 2021-12-22 07:53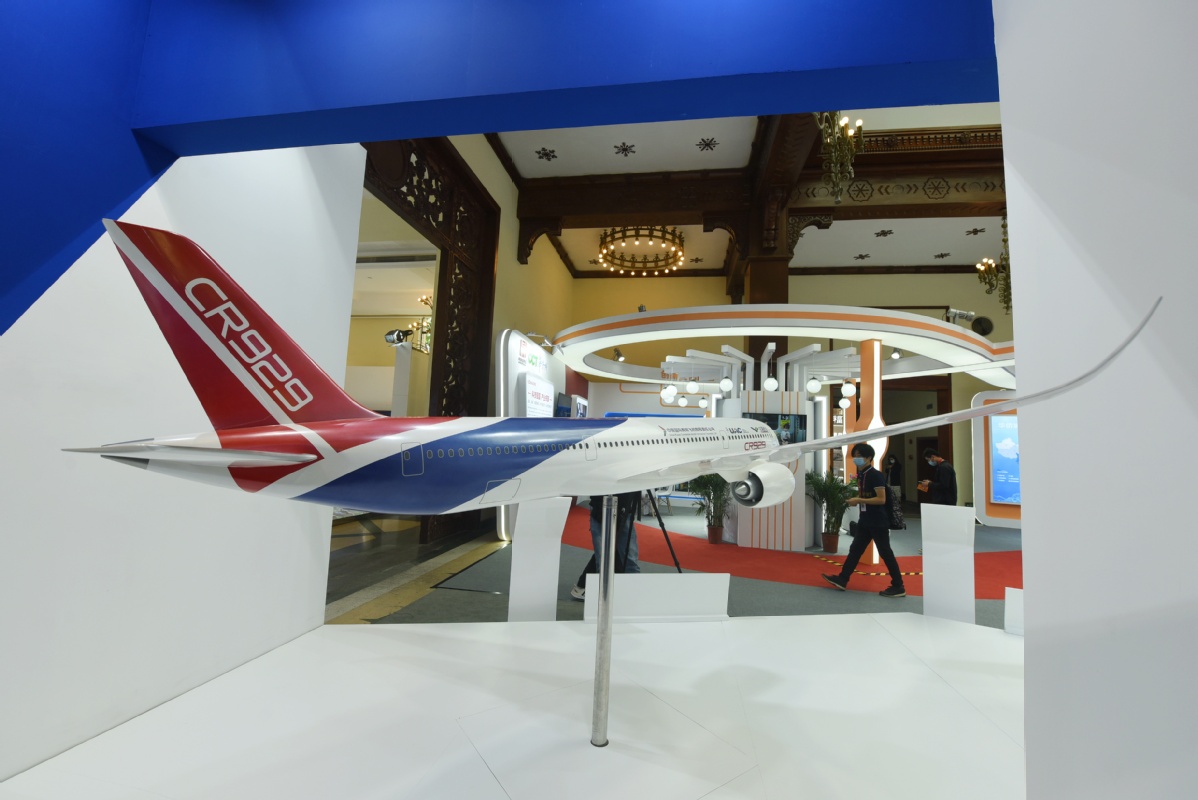 Between 2022 and 2024, China plans to certify its domestically built narrow-body passenger jet C919 and launch commercial flights, according to a new plan issued by Shanghai authorities.
During the three-year period, China will also push forward the serialized development of its first domestically made regional passenger jetliner ARJ21. Additionally, the country aims to begin detailed design of the CR929, a long-haul widebody aircraft undergoing research and development by China and Russia, according to the three-year action plan for Shanghai's civil aviation industry chain construction.
The plan was issued by the Shanghai Commission of Economy and Informatization, the Shanghai Development and Reform Commission and other related authorities on Monday.
"The serialized development of the ARJ21 means that based on the basic passenger jet model, China aims to develop other ARJ21-related models such as freighters, business jets and aircraft suitable for taking off and landing in high-altitude regions, and thus the aircraft type can adapt to more markets and assume more tasks," said Lin Zhijie, an aviation industry analyst and a columnist at Carnoc, a major civil aviation website in China.
"For the C919, China aims to set up an operational benchmark of domestically built civil aircraft and make the model profitable. When it comes to the CR929, China and Russia plan to finish all the design work in the next three years after completing the initial design. Details include the design of all parts and the production process of different components," Lin said.
Meanwhile, the government will support the innovation of general aviation aircraft, especially the development of amphibious aircraft and fixed-wing multirole aircraft. The government will also support manufacturers to develop small-scale general aviation aircraft into medium-sized and larger equivalents with more than 10 seats, and introduce more medium-sized light helicopters and rotorcraft from abroad, the plan said.
In addition, China plans to improve its services in processing airworthiness certifications, and support the airworthiness approval center in Shanghai to further elevate its abilities. It includes improvements in technical research and validation, management and efficiency, and the introduction of more professional talent, thus allowing it to help accelerate the airworthiness certification process for domestically built aircraft, according to the plan.
Over the next three years, China will improve aircraft operation and maintenance services as well as establish a collaborative mechanism between flight tests and commercial aircraft operations. Besides, the country will support the construction of delivery centers for large-scale passenger jets.
Large-scale passenger aircraft manufacturing involves a complex industrial chain. For instance, European aircraft manufacturer Airbus has some 4,500 suppliers globally in about 50 countries, according to the company.
"China's manufacturing of large-scale passenger jets is in a stage of growing from scratch. The issuance of the supportive policy at this moment is expected to help the domestic large passenger jet sector better complete its industrial chain development," Lin said.
"At the same time, it will guide upstream and downstream industries in Shanghai to better lay out their businesses, and give full play to an agglomeration effect. Thus, the aircraft manufacturer, parts suppliers and local economies can all achieve growth," he added.