SOEs' LNG storage tanks boost nation's green goals
By ZHENG XIN | China Daily | Updated: 2021-12-29 10:01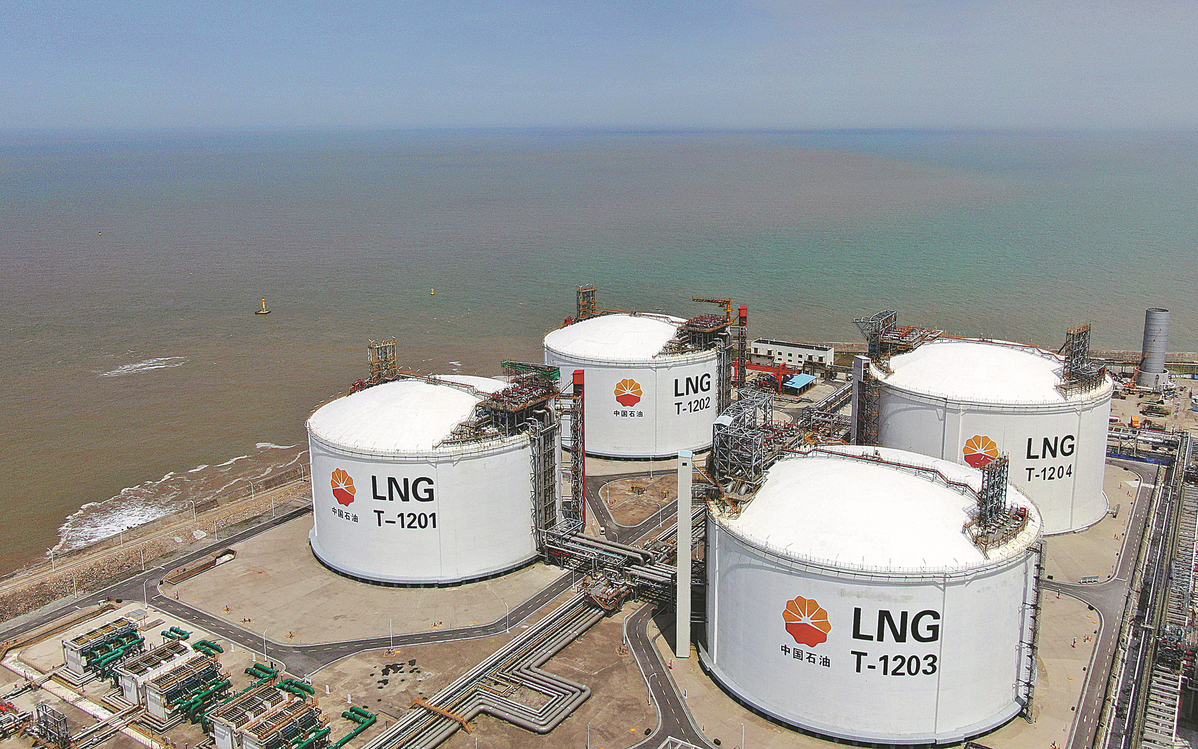 PipeChina, CNOOC and Sinopec facilitate energy supply and carbon emission cuts
In recent years, China's State-owned enterprises, or SOEs, have been stepping up construction of storage facilities for liquefied natural gas or LNG to further enhance the country's natural gas storage capacity.
China Oil& Gas Pipeline Network Corp, China's largest energy infrastructure owner, which is also known as PipeChina, announced the successful raising of four LNG storage-tank domes in Longkou, Shandong province, on Dec 15. This marks PipeChina's latest effort to improve the country's natural gas supply, storage and sales system.
LNG tank dome-raising and installation technology is a key part of LNG storage-tank construction. It is also the most challenging, complex and risky process of building an LNG storage tank. Safe and successful raising of tank domes signals that the construction has moved forward from civil engineering to assembly, which lays a solid foundation for future operations.
The first phase of the construction project located in Longkou, with an annual LNG receiving capacity of 5 million tons, is expected to be put into operation by 2023.The daily LNG transmission capacity in Longkou is expected to reach 40 million cubic meters by then, said the company.
The facilities will continuously provide secure and steady clean energy to Shandong province as well as the Bohai Economic Rim, also known as the Bohai Bay Economic Rim or the circum-Bohai Sea region, the economic region covering Beijing and Tianjin, and also including areas in Hebei, Liaoning, and Shandong provinces surrounding the Bohai Sea.
So far, the company has erected 21 LNG storage tanks across the country with a total storage capacity of more than 2.8 million cubic meters.
PipeChina said it will also continue to accelerate the clean energy supply capacity to help China achieve its 2060 carbon neutrality goal on time.
Figures from the National Bureau of Statistics revealed a blistering growth of the country's LNG imports over the first six months.
China's natural gas imports rose nearly 24 percent year-on-year to 59.82 million tons in the first half. Much of the increase came from LNG, which highlighted the importance of the fuel in the country's energy mix amid efforts by China to peak carbon emissions by 2030.
The import value rose 9.5 percent to 136 billion yuan ($21.34 billion) during the first half and the average price of LNG imports rose 39 percent year-on-year, it said.
As China aims to increase the share of natural gas in the primary energy mix to 15 percent by 2030 from around 8 percent in 2019, the government has started reducing carbon emissions by replacing coal and oil usage with natural gas in select applications such as heating and heavy duty commercial vehicles.
The country currently boasts 22 LNG receiving terminals and 72 LNG storage tanks with an annual receiving capacity of 92.27 million tons.
This year, 13 new LNG storage tanks that are part of five LNG terminal expansion projects entered into operation before the start of the heating season, giving an extra 1.28 billion cubic meters or bcm equivalent of gas storage capacity, according to BloombergNEF.
Tanks at major LNG terminals, especially those in the north, are estimated to reach about 80 percent full capacity, while smaller tanks in LNG peak-shaving stations also saw an annual growth of 58 percent to reach 0.9 bcm.
This is mostly driven by the central government's requirement for city gas companies to ensure storage capacity covers at least 5 percent of annual consumption of local cities to ensure three days of gas usage worth in storage, it said.
Like PipeChina, many other SOEs have also been pushing forward the construction of LNG storage tanks in recent years.
For instance, China National Offshore Oil Corp, the country's top offshore oil and gas producer, expanded the construction in Jiangsu province earlier this year, of what will be the world's largest LNG storage tank.
When completed by the end of 2023, the full project will have 10 tanks, including six new ultra-large tanks, which will have a total volume of 270,000 cubic meters. They will have an annual LNG processing capacity of 6 million metric tons and will become the largest LNG storage base in China, said CNOOC.
The company also said the six tanks will mark a breakthrough in the design and construction technology of China's ultra-large LNG storage tanks.
The company currently has five LNG receiving terminals in the country and 22 LNG storage tanks with an annual receiving capacity of 29.6 million tons, it said.
China Petrochemical Corporation, or Sinopec Group, the country's largest oil refiner, also announced that construction of its LNG project in Yantai, Shandong province, started earlier this month, which will further ensure gas supplies in the northern and eastern regions of the country.
For the first phase, its LNG project's annual receiving capacity is expected to reach 6.5 million tons after being put into operation in October 2023. It will play a key role in local energy structure optimization and sustainable economic development, said the company.
An analyst said China's LNG storage facility construction will play a key role in the country's natural gas supply, storage and sales system, and further facilitate the country in reaching its net zero goals.
Li Ziyue, an analyst with BloombergNEF, said LNG storage tank construction is key to meeting peak-shaving and seasonal rebalancing demand, while gas is expected to play a positive role in decarbonization due to lower emissions compared with coal.
According to a recent report by BloombergNEF, gas supplies have been rising to meet peak power demand and reduce carbon emissions from coal, especially in coastal provinces with top GDPs. Average gas power generation in Guangdong, Jiangsu, and Zhejiang-the top three provinces for gas power installation capacity-rose by nearly a third in the first half compared with a year earlier, it said.
"While natural gas does not have too many advantages in terms of reserves compared with coal, and is not as clean as new energy including solar and wind power, the bridging role of the super chilled fuel has a more important role than ever with the government aiming to achieve carbon neutrality by 2060," said Li.
"Increased natural gas usage will also help reduce China's carbon emissions and the emissions' intensity of natural gas can also be lowered substantially with carbon capture, utilization and storage-or CCUS-technologies."