High-speed rail network expands past 40,000 km
By YANG WANLI | CHINA DAILY | Updated: 2021-12-31 10:53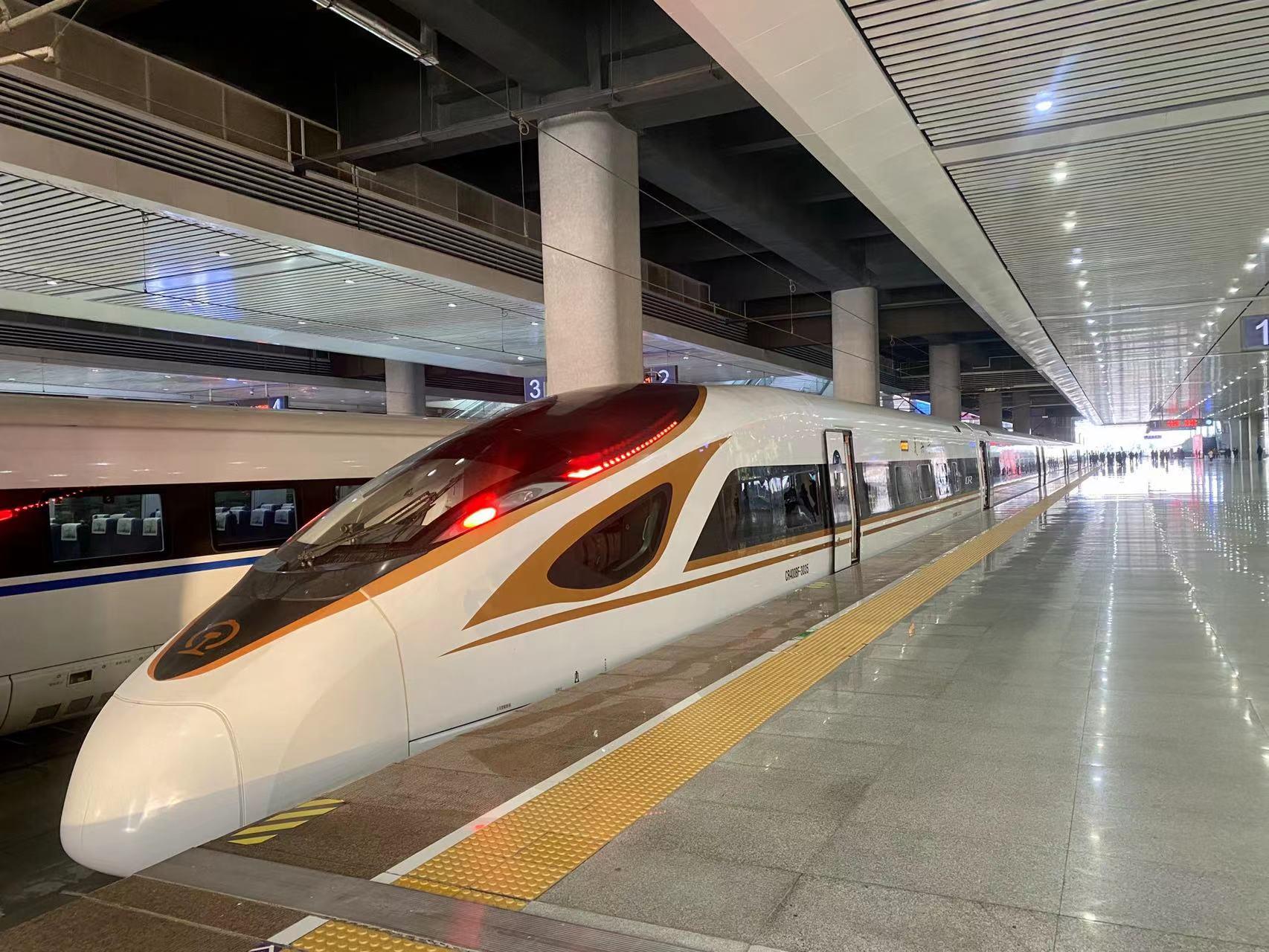 Anqing-Jiujiang section added as China advances effort to link all major cities
The Anqing-Jiujiang section of the planned Beijing-Hong Kong high-speed railway started operation on Thursday, bringing the total length of high-speed railway network in China to more than 40,000 kilometers-equivalent to the length of the equator.
Linking Anqing in Anhui province with Jiujiang in Jiangxi province, the new section started trial runs on Dec 1.
The 176-km line, with seven stations along its route, will reduce travel time between Anhui's capital Hefei and Jiangxi's capital Nanchang to two hours and 22 minutes, according to China Railway Shanghai Group.
The Anqing-Jiujiang high-speed railway has a design speed of 350 km per hour and is a section of China's planned vertical artery of the Beijing-Hong Kong high-speed railway.
There were five pairs of trains plying the railway on its first day of operation, and the number will increase to 24 pairs per day starting Jan 10.
The new line passes populated areas with abundant tourism resources, including Lushan Mountain in Jiujiang, and will greatly facilitate the travel of people along the route, said the company.
With the operation of the new section, the country's total railway network stretches more than 150,000 km.
China has more high-speed rail tracks than anywhere else in the world. It has built a high-speed railway network accounting for nearly 70 percent of the high-speed railway network in the world.
About 6.5 million passenger trips were handled per day by the high-speed railway network in 2019, while the number was 350,000 in 2008. Last year, 3.58 billion metric tons of cargo were transported via railway, 920 million tons more than in 2016.
The country's rapidly expanding transport network offers faster, cheaper, as well as more convenient and pleasant journeys, and plays a crucial role in social and economic development.
Transport Minister Li Xiaopeng said earlier that the railway network has reached 99 percent of the cities with a population of more than 200,000 while about 95 percent of cities with populations of more than 1 million have access to the high-speed railway network.
The network will continue to expand, according to a guideline released by several departments in 2016, which announced the building of a high-speed network of eight major north-south and eight east-west high-speed railway lines.
Construction is currently underway to complete the grid.
According to guidelines released by the China State Railway Group earlier this year, a total of 70,000 km of high-speed rail lines will be built by 2035, to reach every area that has a population of more than 500,000.
Luo Wangshu contributed to this story.