China Mobile joins peers on Shanghai bourse for largest listing in decade
By MA SI | China Daily | Updated: 2022-01-06 09:06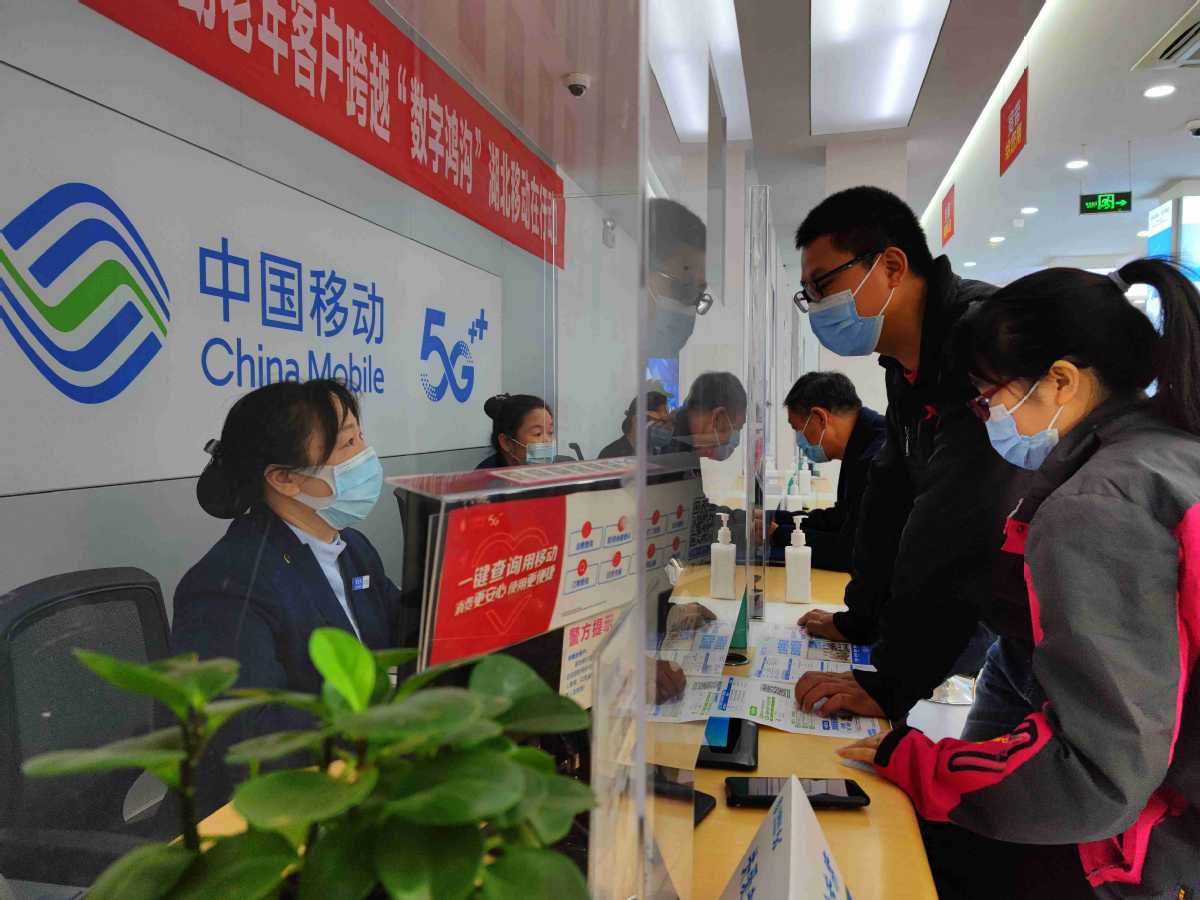 Shares of China Mobile edged up slightly on Wednesday after it listed on the Shanghai Stock Exchange in the largest initial public offering on the A-share market in the past 10 years.
China's big three telecom carriers, including China Telecom and China Unicom-two smaller rivals of China Mobile-have now all moved back to the Shanghai Stock Exchange from the US markets.
The stock opened at 63 yuan ($9.89), 9.4 percent higher than the offer price of 57.58 yuan, before consolidating gains and closing 0.5 percent higher at 57.88 yuan.
According to its prospectus, China Mobile could raise nearly 56 billion yuan from the listing after the company exercises an over-allotment option.
Yang Jie, chairman of China Mobile, said the company now has grown into a world-class telecommunications operator with the largest telecom network, the largest number of customers, and a leading profitability. China Mobile's operating income has continued to grow, and its annual net profit has exceeded 100 billion yuan for many years.
Getting listed in Shanghai marks a new milestone for China Mobile and the move means that the company has successfully built a platform to attract both domestic and foreign capital, laying a solid foundation for it to promote digital intelligence transformation and accelerate high-quality development, Yang said.
In Hong Kong, where China Mobile's shares also trade, its shares went up 3.33 percent to HK$49.6($6.36) on Wednesday. The rise came after the company said it plans to exercise its power under a buyback mandate to repurchase up to 2.05 billion shares in Hong Kong after Feb 7.
The A-share listings of China Mobile and China Telecom came after they were delisted from the US last year due to local investment restrictions.
Experts said A-share listings will help the telecom carriers broaden their fundraising channels, which should help them to transform their businesses well in time to exploit the commercialization of 5G services, a process that has been accelerating in China of late.
Xiang Ligang, director-general of the Information Consumption Alliance, a telecom industry association, said domestic investors are familiar with the three companies' businesses, which could help generate more funding for the telecom operators' 5G pursuits.
China Mobile said in its prospectus that the money raised from the new listing will be used to accelerate construction of 5G networks, cloud computing infrastructure and the research and development of new-generation information technology.
Fu Liang, an independent analyst who has been following the telecom industry for more than a decade, said the A-share listing of China Mobile will increase pressure on China Telecom and China Unicom.