Future of mobility on display at CES 2022
By LI FUSHENG | China Daily | Updated: 2022-01-10 07:38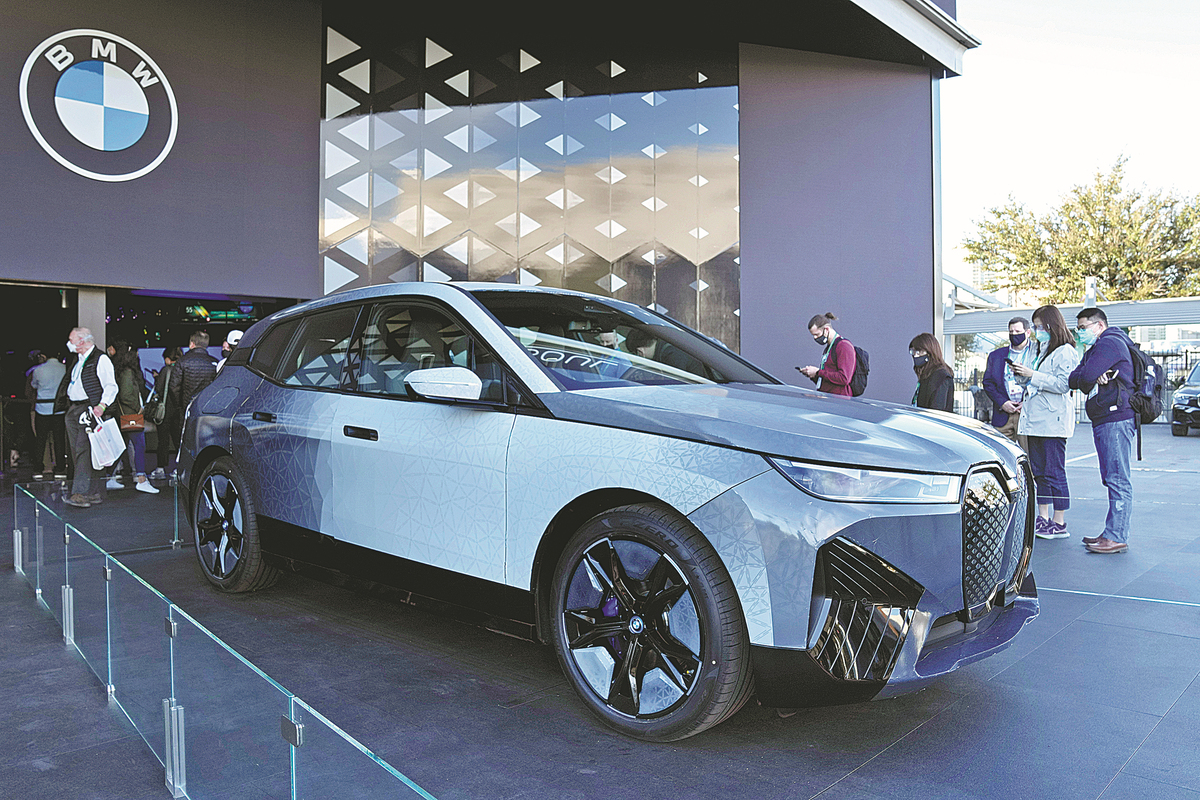 As car travel undergoes a digital revolution, opportunities arise for tech companies
The annual Consumer Electronics Show, which had primarily been the reserve of dedicated technology companies until recently, has grown into a major platform for the auto industry.
Held in Las Vegas last week, the CES attracted more than 170 carmakers, suppliers and transport-related companies to present their novel gadgets and unveil ambitious blueprints about the next era of mobility.
German carmaker BMW impressed with a model that can digitally change color.
The car, called the iX Flow, is laminated in electrophoretic film containing microcapsules that contain white, black or colored particles that become visible when an electric field is applied.
"The BMW iX Flow is a pioneering project in a field that opens up entirely new possibilities for car design and personalization," said the carmaker in a statement.
The carmaker also demonstrated an in-car 31.3-inch 8K display that can be connected via 5G.
When the display folds down, blinds cover the rear window and the interior lights dim. A specially composed sound sequence introduces the upcoming experience, according to BMW.
General Motors, the United States' largest carmaker, highlighted its electrification plan at an online event.
"Technology driven by purpose will change the world," said Deborah Wahl, GM global chief marketing officer.
"As we implement our growth strategy, we have an opportunity and, frankly, an obligation to create a better future for generations to come. That's the Ultium effect," Wahl said.
GM unveiled its electric Ultium platform in 2020, and several models have been built on it, including the electric Hummer.
The carmaker said more Ultium-based vehicles are around the corner, including the electric version of its popular Chevrolet Silverado.
GM's Cadillac presented an electric, autonomous two-seat concept vehicle called InnerSpace. At last year's CES, it unveiled a single-seat air taxi concept and an autonomous vehicle for up to six passengers.
"Electrification and autonomous driving will fundamentally change the role of vehicles and the experiences customers have with them," said Bryan Nesbitt, a senior design executive at GM.
"We're exploring where that will go with these innovative concepts, envisioning mobility as an ally of wellness, giving customers the ultimate luxury, more personal time rather than taking it."
At this year's CES, Stellantis, formed by the merger of Fiat Chrysler and PSA, announced that Chrysler will go electric in 2028.
Stellantis also unveiled a new crossover concept, called the Chrysler Airflow, that is intended to represent the brand's future direction.
"The automotive industry is in the midst of a deep transformation, to say the least," said Stellantis CEO Carlos Tavares. "In the next 20 years, we have an opportunity to redefine mobility, cars and how we experience them."
Chinese carmakers did not appear at the CES but Chinese startups specializing in such technology as autonomous driving and lidar made appearances at the event.
RoboSense, headquartered in Shenzhen, Guangdong province, showcased the world's first mass-produced automotive grade solid-state lidar.
Baidu's car subsidiary Jidu announced that it will partner with Nvidia to unveil a Level 4 autonomous model in 2023, which means the vehicle will be able to drive itself under most circumstances.
The concept will be showcased at the Beijing auto show in April 2022, according to the company.
"The Jidu vehicle has been designed to operate under the concepts of free movement, natural communication and self-improvement," said Robin Li, Baidu co-founder and CEO.
The CES also saw the latest attempts by traditionally nonautomotive companies in entering the fast changing auto market.
Electronics company Sony displayed a seven-seat electric SUV at the event, in another sign of how the electronics and car businesses are overlapping.
"We believe Sony is well-positioned as a creative entertainment company to redefine mobility," said Sony Chief Executive Kenichiro Yoshida.
Sony said the prototype features 40 sensors and will have Level 4 autonomous driving capabilities. It said it would establish a spinoff company later this year called Sony Mobility.
This means Sony now plans to sell vehicles under its own brand rather than merely supply its technology to other carmakers.
The Japanese company first displayed an electric vehicle model at CES two years ago, but at that time didn't plan to sell a Sony car.
Analysts said electric vehicles have fewer parts than gasoline vehicles and rely more on software controls, making it easier for companies that specialize in electronics to get into the business.