Guard food security in inclusive growth
By Matteo Marchisio | China Daily | Updated: 2022-01-11 07:18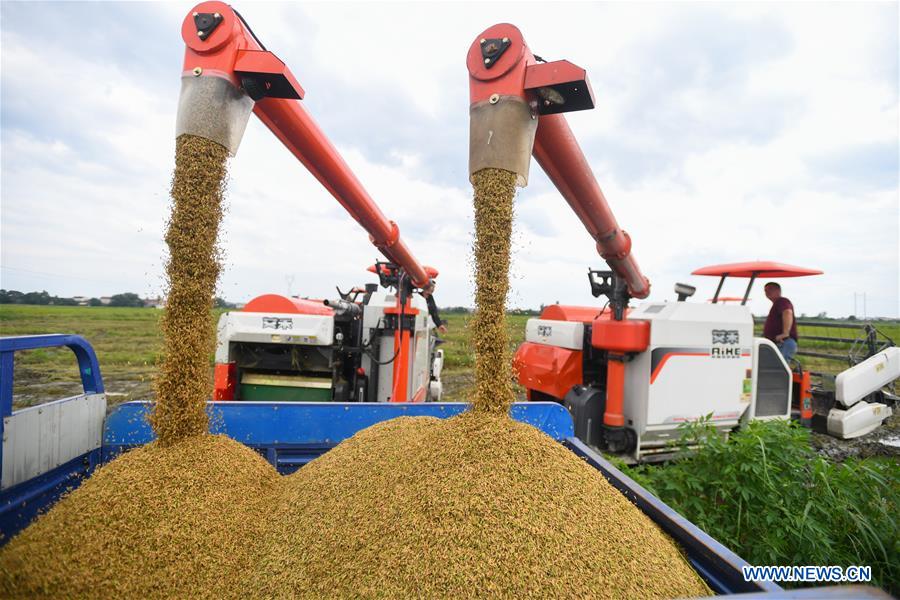 The 14th Five-Year Plan (2021-25) presented at the 13th National People's Congress in March 2021 placed renewed emphasis on developing rural areas through the concept of rural revitalization, one of the priorities under the new plan. Such emphasis stemmed from the recognition of the existing imbalance between urban and rural areas, and of the need to rectify it.
The importance of ensuring a steady development of rural areas was also highlighted by President Xi Jinping during a recent meeting of the Standing Committee of the Political Bureau of the Communist Party of China Central Committee. In his speech, President Xi emphasized the need to ensure the country's food security and to consolidate the country's poverty alleviation achievements.
Against this background, and in anticipation of the release of China's No. 1 Document in 2022, the recently concluded annual Central Rural Work Conference laid out the priorities for rural development in 2022. The conference outlined a plan that includes protecting 120 million hectares of arable land and keeping grain output above 650 million tons, and efforts to ensure rural residents do not fall back into poverty.
As a representative of an organization mandated to promote poverty reduction, food security and inclusive rural development-the International Fund for Agricultural Development-I fully support the strategic importance given by China to the development of its rural areas.
First, a large part of the population still lives in rural areas. However, rural areas do not offer sufficient employment opportunities, inducing a large part of the rural population-particularly the young-to migrate to urban areas to look for job opportunities, leaving the elderly, some middle-generation women, children and sick or disabled people behind. This phenomenon puts under increasing pressure the supporting capacity of cities and towns and, by separating families, it causes high social costs in rural society. This is not sustainable in the long term.
Only by investing in and accelerating the development of rural areas can attractive employment opportunities be created, and the active population be retained in rural areas, thus rebalancing the existing divide between urban and rural areas.
Second, although extreme poverty has been eradicated in China, there is still a large share of the population that lives just above the poverty line. This segment of population is at risk to fall (or fall-back) into poverty-or to remain trapped in a status of "relative" poverty. Most of these people live in rural areas.
The COVID-19 pandemic demonstrated how rural residents remain vulnerable to shocks. Developing economically rural areas, creating new job opportunities and ensuring that the vulnerable part of the population benefits from these opportunities is a necessary condition to consolidate the country's poverty alleviation achievements and prevent people from falling back into poverty. The IFAD has recently approved two projects, in Yunnan and Hunan provinces, precisely to enhance income generating opportunities in rural areas and promoting rural revitalization.
Third, although China should not be-in my view-too concerned about food security, the COVID-19 pandemic has certainly raised the awareness on the potential risks that an economic recession may have on food security. In this context, safeguarding grain security and protecting farmland may be strategic to ensure the supply of primary goods and prevent spikes in food prices.
While efforts to guarantee stability in agricultural production are understandable, China, however, needs to resist the temptation of adopting protectionist measures, which could generate a chain reaction among other countries. In addition to ensuring agriculture production, to pursue food security, China would also need to enhance food supply chains, improving for instance storage facilities or taking advantage of the opportunities offered by digital technologies, and reduce food losses and waste along the supply chain. Most importantly, to truly pursue food security, China needs to continue guaranteeing access to food to the most vulnerable households.
In the long run, China would need to focus on strengthening the resilience of rural communities, the most vulnerable part of the population, to shocks. This can be achieved by increasing and diversifying the income generating opportunities in rural areas, or, in other words, developing rural areas. Developing rural areas is thus strategic to foster economic and social stability.
The IFAD will continue to support China in its effort to develop rural areas and foster rural revitalization, consolidating poverty reduction achievements, reducing the urban-rural divide, and maintaining the national food security.
The author is IFAD country representative in China.
The views don't necessarily represent those of China Daily.
If you have a specific expertise, or would like to share your thought about our stories, then send us your writings at opinion@chinadaily.com.cn, and comment@chinadaily.com.cn.