Competition among cities for top talent heating up
China Daily | Updated: 2022-01-11 07:39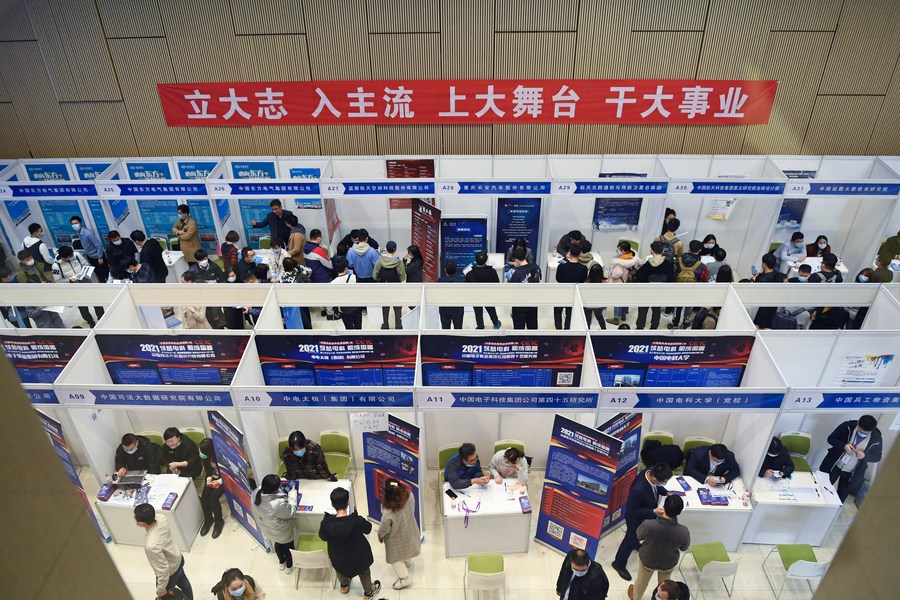 Reports released recently by Tsinghua University and Peking University on the employment quality of their graduates in 2021 have drawn the society's attention.
The reports said 7,441 students graduated from Tsinghua University in 2021, a year-on-year increase of 446, and 11,985 from Peking University, up 1,926 from the year before. Also, the employment ratio of graduates from the two universities remained high despite the impact of the COVID-19 pandemic.
Most of these graduates were absorbed by the information, communication and internet industries, universities and research institutes, equipment manufacturing, energy, finance, and public management sectors, and service fields.
Beijing remained the most preferred employment destination for the graduates. Shanghai's attractiveness has also increased significantly, but that of Guangdong has declined because of its economic restructuring, changed economic development status and labor market trends.
At the same time, there was a significant increase in Tsinghua University graduates entering State employing units. Of the 3,669 graduates who signed a three-party employment agreement, 15.8 percent were recruited by the Party and government organs, 30.3 percent by State institutions, and 23.8 percent by State-owned enterprises.
The flow of graduates from the two universities usually shows the trend of regional and industrial development. Even though 70 percent of Tsinghua or Peking university graduates are enrolled in State units, their first choice remains employing units in regions with a higher degree of openness. This shows that regional factors still play an important role.
The long-term development of a region depends on the "three carriages" on the supply side-innovation, capital, and labor-that are directly or indirectly related to a region's openness. At the same time, only a region that treats high-end talents well can retain high-end talents. Over the past year, Shanghai and Beijing have successively followed other cities in competing for talents by lowering the threshold for graduates from some top universities settling there.
With the decline of demographic dividends in recent years, the original economic growth mode based on labor quantity and factor input will be transformed to innovation-driven economic growth mode, which means the competition for high-quality talents will become normal among cities in the future. To retain high quality talents and excellent graduates, all cities should not only have a policy of vying for talents, but also give a boost to education, medical care and public services.