KFC, Pop Mart reap sizzling award from cooperation
By WANG ZHUOQIONG | China Daily | Updated: 2022-01-11 09:44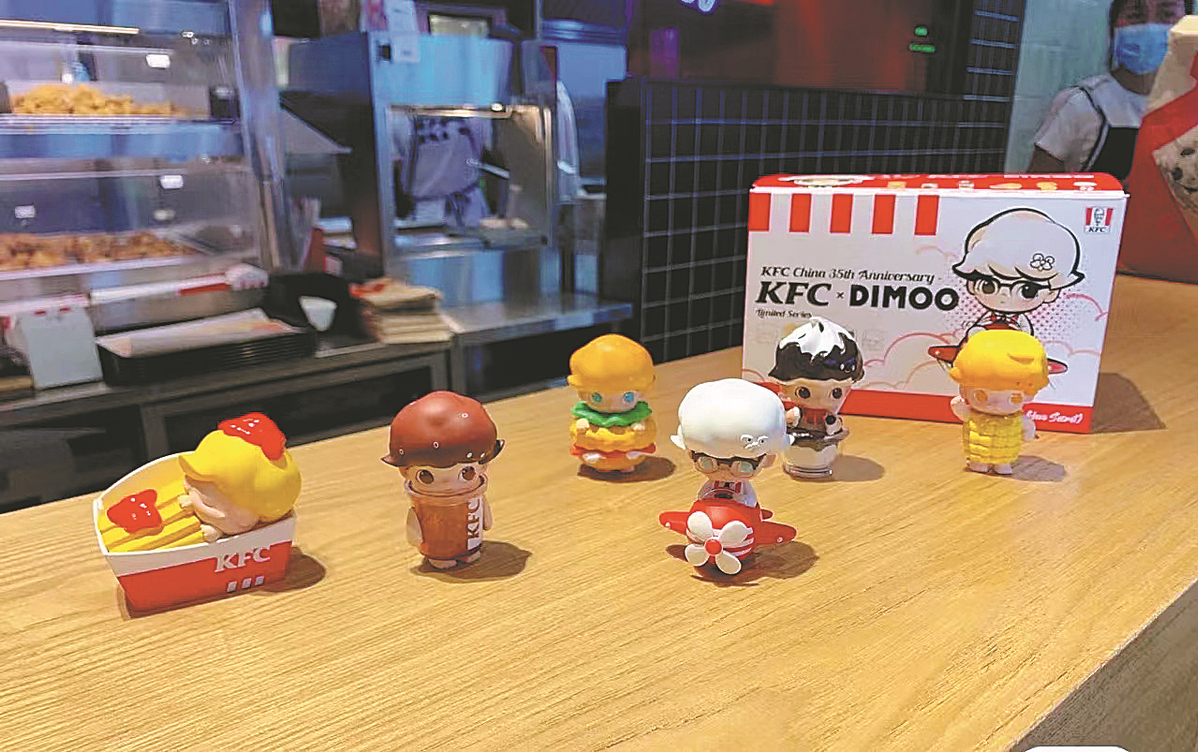 The recent collaboration between the world's leading chicken restaurant chain KFC and top domestic blind box producer and toymaker Pop Mart has created a frenzy on the internet, with consumers sharing photos or videos of dozens of fried chicken "family buckets" in exchange for toys.
Last week, KFC China began selling a total of 260,000 toy sets with its 99-yuan ($15.45) family-sized chicken bucket at its restaurants nationwide. Each toy set features seven kinds of images of Dimoo, one of the top five intellectual properties created by Pop Mart. Among the seven, six can be obtained by chicken bucket purchases while the seventh hidden image can only be unlocked when another six are collected.
By Friday, more than 85 percent of the toys were sold across the nation, with the rest of the sales delayed in cities affected by the COVID-19 pandemic, said Pop Mart.
On e-commerce platforms that trade secondhand products, Dimoo&KFC toys are already seen on shelves, with the set of six toys now priced at 768 yuan. The hidden character is sold at 799 yuan per unit, eight times higher than its original price.
At KFC restaurants, spending on family chicken buckets for a set of six totals 594 yuan.
Till Monday on Chinese social platform Weibo, the topic Dimoo &KFC has been read 91.48 million times and discussed 16,000 times, and some 4,300 related original content items were created. According to a report by news website Jiemian, a collector spent 10,494 yuan on 106 sets of chicken buckets for the toy sets, triggering even bigger discussion on social platforms.
"The heat of KFC and Dimoo toys is one of the reflections of the latest trend that international brands have joined with domestic top IPs in cashing in from younger Chinese consumers," said Jason Yu, managing director of Kantar Worldpanel China.
Liu Rubing, who leads the Dimoo& KFC project at Pop Mart, said it took almost a year to launch the toys. The launch of the merchandise during KFC's 35th anniversary in China is meaningful for a domestic culture brand.
The choice made by the two sides, Dimoo-a slightly troubled boy who grew up with his friends with expectations of a better life-adds interactive elements to KFC's food sets, making it funnier for young consumers, Liu said.
The IP licensing business at Pop Mart, which operates more than 250 offline stores and some 1,700 vending machines in the country by September, worked on a dozen collaborations last year, with more in the pipeline set for this year, she added.
How to blend its trendy cultural elements with the high-end luxury sector and daily life sector to have its IPs better integrated into consumption phenomena, such as cosmetics, clothing and catering, is key to Pop Mart's growth, Liu said.
The company's market value fell to HK$61.8 billion ($7.93 billion) on Monday, down by nearly 60 percent from its peak of HK$147.2 billion early last year.
This month, the company has lined up with Beijing Chaoyang Park to develop a theme resort as part of its efforts in businesses apart from blind box toy and IP licensing.
Meanwhile, under the influence of guochao-a trend representing the rise of homegrown brands that weave Chinese cultural elements into their design or branding-international brands are embracing domestic IPs or brands.
Kantar Worldpanel said that in the past three years, the market share of domestic brands, particularly in fast-moving consumer goods categories, has been rising while that of imported brands has been shrinking.
Factors for the development include the changing value and preferences among Generation Z, the continued improvement of the quality and innovations from Chinese brands, and the rise of cultural confidence, said Kantar.
Jiang Nini, head of the confectionary and ice cream unit at Nestle China, said younger consumers in China have higher recognition toward Chinese culture and are more proud of the concept of made-in-China products.
Aimed at tapping young consumers, Nestle's new ice cream product Yue Xin Yi, which plays up traditional Chinese aesthetics in its branding, flavor and packaging, is one of the company's efforts embracing guochao to reach more consumers.