Nation's arts scene given fresh life
By YANG YANG | China Daily | Updated: 2022-01-12 08:00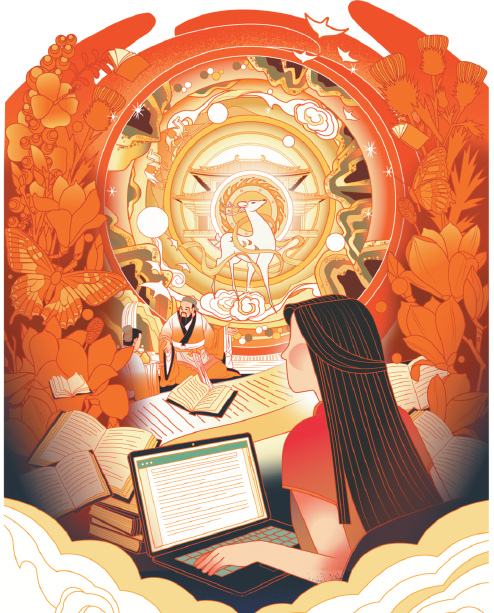 SHI YU/CHINA DAILY
As Chinese stories begin to emerge on global stage, artists mull expanding vision to comprise all humanity
Last month, the six-day national conference of the China Federation of Literary and Art Circles and the China Writers Association closed in Beijing. Held every five years, the conference brings influential artistic elites together.
Addressing the opening ceremony on Dec 14, President Xi Jinping raised five expectations for writers and artists, calling on them to represent the "splendid picture of China in the new era on the journey to national rejuvenation", to "serve the people and depict the epics created by the people", to "creatively explore art boundaries", to "present a reliable, admirable and respectable image of China to the world through good stories", and to "realize the value of their life in the pursuit of both artistic ideals and moral goodness".
Tie Ning, president of the China Federation of Literary and Art Circles and the China Writers Association, addressed the closing ceremony, saying that the delegates had spent days discussing Xi's speech, feeling that it had "pointed toward a bright prospect for the development of literature and art in China in a new era, and provided fundamental principles".
"We are lucky to live in such a great new era, with millions of promising things emerging, thousands of torrents of time racing, and many competitors contending. This is also a golden time for literature and art to prosper, for such a great time needs new epics created by writers and artists capable of matching its brilliance," she said.
After more than 20 years of development, online literature has become culturally significant in China. Beginning with fantasy, romance and martial arts, it has now turned its attention to real life.
"An increasing number of online authors have started writing about real life and have created many excellent works reflecting our times and daily lives that resonate with readers," said online author Yang Yan, who writes under the pen name Wuqingying.
"These works-reflecting the trends of our time, the dream of rejuvenating our nation, life and the innovation of science and technology, together with the genre of science fiction and topics like traditional Chinese culture and a 'community with a shared future for mankind'-have injected vitality into online literature, improving its development," she said.
Creativity and innovation are also breathing new life into traditional Chinese opera.
Since 2015, Black Box Theater performances in Shanghai have attracted large audiences, and it has become fashionable to go to Shanghai to watch performances in the winter.
Artists are using Peking Opera to tell the story of The Death of a Government Clerk by Anton Chekhov, Shanxi Clapper Opera to tell the Greek tragedy of Oedipus, and natural voices to sing Kunqu Opera.
Gu Haohao, president of the Shanghai Center of Chinese Operas, said that one of the best things about the Black Box Theater is that artists have the courage to keep exploring the boundaries of art.
After the final rehearsals for the Kunqu Opera Bai Luo Shan (The While Shirt) in December, Gao Jun, the show's vocal and music designer said that two middle-aged cleaners came up to him smiling and said: "It's great! We were able to understand the opera."
"As President Xi said at the national conference of the CFLAC and the CWA, artists should creatively explore boundaries. I will continue to work hard to make opera music more vibrant and influential," he said.
In recent years, Chinese sci-fi has blossomed as more people have started writing in the genre. Works like Liu Cixin's The Three-Body Problem have been translated into different languages and become New York Times best-sellers, and the movie based on his book, The Wandering Earth, set a milestone for Chinese sci-fi movies in terms of industrial standards.
The genre is still dominated by writers in the United States, followed by Japan and Europe. In the past, Chinese sci-fi could not compare with Japanese or European sci-fi, but in recent years, the gap has been narrowing, Liu said in an interview with China Art News at the conference.
"Now, Chinese sci-fi exerts a profound influence on trends around the world. But we should also be aware that we still lack really influential writers and works, and original works that are worth adapting," he said.
"If Chinese science fiction is to get a better foothold in the international market, we need to stand at a higher point, have a broader vision and get rid of individual narrow mindedness, but still hold firmly to the idea of a 'community with a shared future for mankind' to describe the future of the human race and explore our ultimate destiny. That is the vision sci-fi writers should have," he said.
Last year, the criminal or immoral behavior of some actors, singers and artists let down many who liked them and alarmed literary and artistic circles, reminding them of the importance of pursuing moral goodness as well as artistic ideals.
Pu Cunxin, actor and president of the China Theater Association, started his career as an actor in 1977. Since 1991, he has played the role of Li Bai, the great poet of the Tang Dynasty (618-907), on stage.
"I've been playing Li Bai for the last 30 years. He has shaped me, accompanying me on my journey," Pu said during an interview with China Art New at the conference.
"As I grow older, I better understand the role and who Li Bai was; he represents spiritual freedom. Playing him is also about how to be a person-that is, how to be morally good, innocent and pure. At the same time, as an actor, audience recognition raises my confidence. Audiences choose to come to the theater because they trust us and have certain expectations of us, so we must work hard to serve audiences, and to serve the people," he said.