Envoy rallies NHL crowd for Olympics
By YIFAN XU in Washington | chinadaily.com.cn | Updated: 2022-01-12 10:19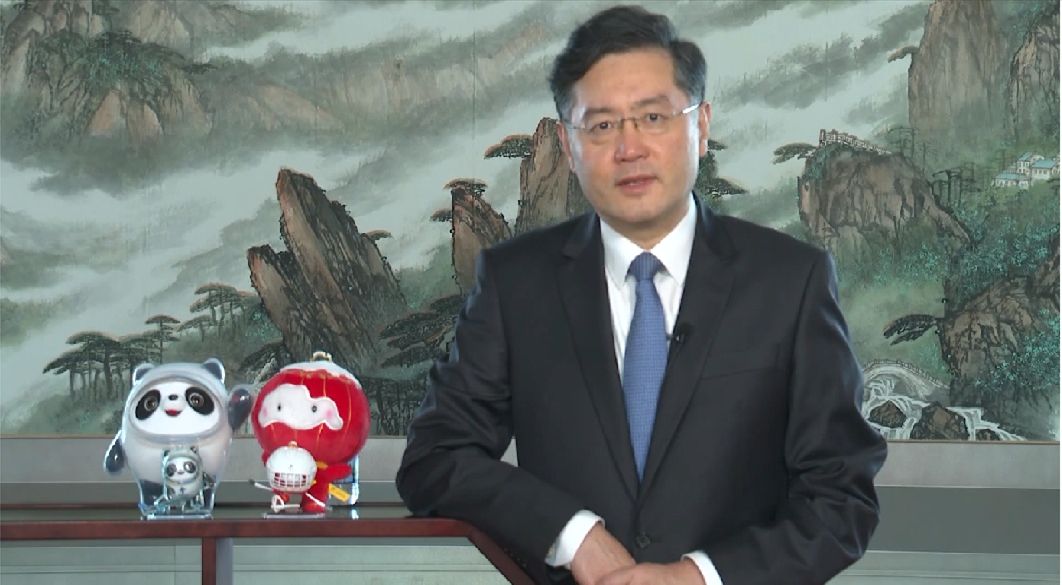 The Chinese ambassador to the US delivered video remarks on Monday after an NHL game between the Washington Capitals and Boston Bruins. He shared the Beijing Winter Olympics preparations with the audience and expressed his best wishes to the Chinese and US ice hockey teams.
More than 18,000 US hockey fans attended the game. In a message played on the video screen above the ice rink, Ambassador Qin Gang greeted the fans and quoted Mario Lemieux, a famous NHL former player, who said "every day is a great day for hockey".
"I wish to thank [the] players of both teams for making today a great day. People love ice hockey because of its speed and skills. Hockey players have fire in their hearts and ice in their veins. People love it also because it reflects the sportsmanship of mutual respect, fair play and tenacity," Qin said.
The envoy said that the Chinese and US men's ice hockey teams will compete in the same group in Beijing next month.
He emphasized that the Beijing Winter Olympics would use the world's most advanced ice-making technology, with zero carbon emissions. The ambassador said he hoped there would be plenty of goals by both the Chinese and US teams and wished them the best of luck.
Qin concluded his speech with some humor, saying that the COVID-19 epidemic is still spreading, so everyone needs to learn from the players on the ice — because they are always wearing a mask!
Slapshot, the mascot of the Washington Capitals, tossed Chinese Spring Festival tiger mascot dolls into the audience during game breaks, to cheers and ovations.
As one of the special media attractions, "Together for a Shared Future" was co-hosted by the Chinese embassy and CGTN (China Global Television Network).
Shen Haixiong, president and editor-in-chief of China Media Group, also delivered a video message. On the high-speed rail to the Beijing Winter Olympics venues, he said that he hoped everyone would enjoy the passion and happiness brought by sports and extended best wishes for the new year.