Targets set for growth of digital sector
By XU WEI | China Daily | Updated: 2022-01-13 07:26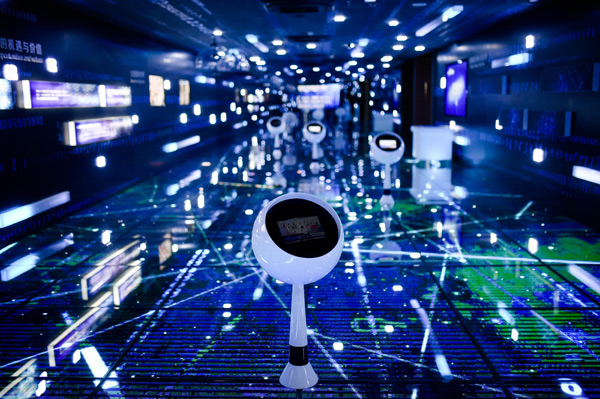 Five-year plan seeks infrastructure upgrade, transformation of industries
China has laid out a blueprint for the growth of its digital economy until 2025, pledging to further upgrade the nation's digital infrastructure, increase the role of data as a production element and promote the digital transformation of industries.
The plan to develop the digital economy during the 14th Five-Year Plan (2021-25) period, released on Wednesday by the State Council, China's Cabinet, highlighted the role of the sector as a key force in reshaping the global economic structure and international competition.
It set out a number of targets for the nation to achieve by 2025, when the added value of the core industries in the digital economy is expected to account for 10 percent of GDP, up from 7.8 percent in 2020.
China is expected to establish a market system for data elements, achieve progress in the digitalization of its industries and offer more equitable digital public services by 2025.
In upgrading the nation's digital infrastructure, the government will coordinate the construction of gigabit broadband and 5G networks, the plan said. Efforts will be undertaken to promote more commercial and large-scale use of 5G and scale up support for the research and development of 6G, the next generation of wireless technology.
The number of China's gigabit broadband users is expected to jump from 6.4 million in 2020 to 60 million in 2025, according to the plan.
A key focus of the plan is to harness the nation's innovation capacity in key technologies, including steps to bolster fundamental research of digital technologies, including sensors, quantum information, telecommunications, integrated circuits, key software, big data and artificial intelligence.
It highlighted the need to enhance the capacity for self-reliance in key products and improve competitiveness in key procedures.
The nation will continue to promote the healthy growth of the platform economy, encouraging platform companies to step up the integration and sharing of data, products and content and expand services such as online healthcare.
New growth areas in the sector, such as smart sales, unmanned deliveries and smart manufacturing will be fostered, the plan said.
To improve the level of digitalization in public services, the plan pledged continuous efforts to make administrative services smarter and provide more one-stop services.
China will further open up its services sector and explore measures to widen market access for new business models in the digital economy. More multinationals in the services sector will be encouraged to set up operation headquarters, research and development centers and purchasing and logistics hubs in China, the plan said.