Technology giants set sights firmly on tomorrow
By Ma Si | China Daily | Updated: 2022-01-13 08:25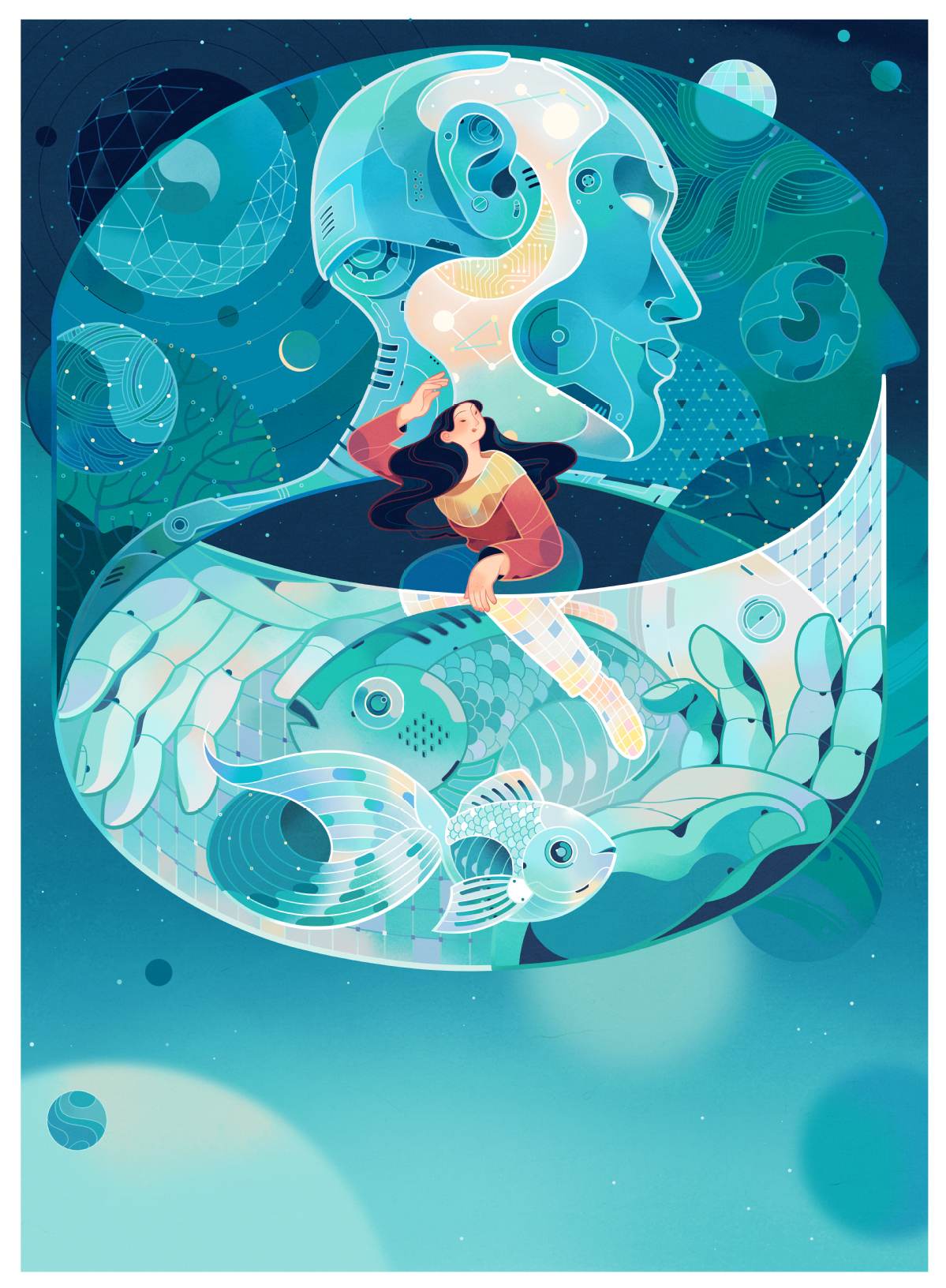 Enterprises excited by prospects of integrating physical and virtual worlds
Su Zao, a 23-year-old software programmer, planned a special party to celebrate the arrival of 2022.
Instead of going out with friends in the cold winds blowing through Beijing, she used her phone to invite them to a customized digital space she had been decorating for more than a week.
This area featured a countdown wall, pictures and jars for New Year's resolutions, with Su and her friends attending the party as virtual avatars. They got together, chatted, hugged each other and played games.
"Even though all this activity takes place in a virtual space, it doesn't make it less real. It's very realistic and important to me," Su said. "With the COVID-19 pandemic affecting offline social events, an immersive online gathering offers a good alternative."
Such digital spaces have been linked by some observers to the term "metaverse", the latest buzzword to hit the global spotlight in the technology sector.
The metaverse is basically a digital world created by technologies such as virtual reality and augmented reality, or VR and AR. As a concept, it is still in its infancy. There is still no universally acknowledged definition for metaverse, but it is considered by many as the next-generation internet.
In the past year, China has been gripped by the concept of the metaverse, with leading tech players and startups viewing it as a trillion-dollar business opportunity. At the same time, some people are puzzled by the use of such terminology-fearing it could lead to equity bubbles and an overindulgence in virtual worlds.
According to experts, the term "metaverse" has become so popular that it has been overused to some extent, but they said it is important to look beyond the current focus on VR games and entertainment to see the potential of the metaverse in promoting integration of the virtual and tangible worlds.
He Chao, secretary-general of the metaverse industry committee at the China Mobile Communications Association, an industry organization based in Beijing, said the metaverse is not just about creating a virtual world.
"It promises a future where the virtual and physical worlds are inextricably interconnected, which will bring not only changes to lifestyles, but great opportunities for industrial upgrading, especially integration of the real and digital economies," He said.
"The metaverse is becoming the new battlefield for competition on innovation among companies. It will be crucial to a nation's push for innovation-oriented growth and technological strength in decades to come."
Bloomberg Intelligence forecast that metaverse revenue opportunities globally could reach nearly $800 billion in 2024, while international consulting company PwC predicted that VR and AR have the potential to deliver a $1.5 trillion boost to the global economy by 2030.
Companies act
Sensing the prospects, Chinese tech heavyweights and startups are flexing their muscles. For example, late last month, Baidu unveiled its first metaverse-related app, Xirang, which translates as "land of hope", The app allows up to 100,000 people to take part in a three-dimensional virtual reality conference simultaneously.
Gaming giant NetEase has also moved fast. When its music streaming arm Cloud Village made its debut on the Hong Kong stock market last month, the company held what it claimed was the world's first metaverse listing ceremony through Yaotai, its immersive activity system.
NetEase CEO Ding Lei attended the event digitally as a 29-year-old version of himself in 2000 and as he appeared last year. Both digital versions sounded the listing gong in an offline ceremony with the real-life Ding.
In August, tech giant ByteDance, which owns the popular short-video app TikTok, made its first foray into VR by acquiring headset maker Pico. Other players, including Huawei Technologies and Tencent Holdings, are also jumping on the bandwagon with plans to increase investment in metaverse-related technologies.
According to business information provider Tianyancha, as of Nov 26, more than 960 companies had filed trademark applications in China involving use of the word "metaverse" in their names, compared with 130 companies in September.
However, metaverse is not a new word. The term was coined by science fiction writer Neal Stephenson of the United States in his 1992 novel Snow Crash.
Renewed interest in the term emerged after US gaming company Roblox included it in its prospectus for an initial public offering in March, and ended its first trading session with a mouthwatering $38 billion market capitalization. Roblox shares have since experienced dramatic fluctuations, triggering fears that the metaverse concept is being overhyped.
In October, Facebook CEO Mark Zuckerberg made a bold decision to rebrand its parent company as Meta-placing the metaverse further in the global spotlight.
The pandemic has also given the buzzword a push by accelerating the virtualization of society.
According to the 2020-21 Metaverse Development Research Report published by Tsinghua University, people now spend more hours online, and digital life has become the norm for many, in tandem with the physical world.
Generation Z-those born in the late 1990s and early 21st century-have a deep fascination with the metaverse.
A report by internet company Sina found that more than 63 percent of Generation Z members have a strong interest in the concept. They are eager to experience cutting-edge technologies such as VR, AR and digital humans in the metaverse. Up to 26 percent of them even want to keep a pet in the virtual world, the report stated.
Efforts needed
Experts said technologies such as artificial intelligence, cloud computing and 5G networks have reached a certain level, and combined, they are ready to unleash a new digital revolution.
Xiang Ligang, director-general of the Information Consumption Alliance, a telecom industry association, said that to make the metaverse a reality, long-term efforts are needed to develop supporting technologies, application scenarios and business models.
Pedro Palandrani, a technology analyst at research company Global X ETFs, said early versions of the metaverse exist, offering investors a glimpse of its enormous potential. However, a successful metaverse is expected to feature a decentralized open platform accessed by VR headsets and powered by blockchain technology.
"A truly immersive metaverse experience, for instance, engages all the senses-sight, hearing, touch, smell and taste. Today, VR mostly involves surround sound and images," Palandrani said.
Alvin Wang Graylin, president of HTC China, a global pioneer in VR, said, "We are still five to 10 years away from a successful metaverse."
He stressed that interest in the concept has helped the public realize that VR technology is not just for playing games, but has other applications covering many fields, including manufacturing, healthcare and education.
Sensing the promising future, governments are also moving quickly to promote the metaverse. For example, in November, the Caribbean island nation of Barbados announced plans to open a "metaverse embassy" on Decentraland, a US virtual world website that bills itself as a prototype for metaverse platforms.
In South Korea, local authorities in the capital also announced in November plans to establish Metaverse Seoul, a next-generation platform that will include a virtual city hall, tourism areas and social service centers.
Meanwhile, in China, Li Qiang, Party secretary of Shanghai, called last month for more efforts to guide enterprises in stepping up research into important platforms for interaction between the virtual and real worlds.
The nation's top industry regulator, the Ministry of Industry and Information Technology, has also placed more emphasis on using the metaverse to boost development of real economies. In October, the ministry said it would soon unveil new policies to accelerate industrial use of VR.
Yu Jianing, co-author of the book Metaverse and principal of Huobi University, an educational and research institution focusing on technologies such as blockchain, said, "The biggest potential for the metaverse lies in its industrial use."
For instance, factories of the future will have a "digital twin", or tangible counterpart, capable of using humans and machines in eye-catching new ways, Yu said.
He added that software developers will simulate every aspect of manufacturing operations in a digital twin factory, or metaverse, where engineers and designers worldwide collaborate in real time and jointly carry out product planning, design and other complex work.
"By simulating the feasibility of tasks in a digital twin factory, and then implementing this in reality, operating costs can be greatly reduced and efficiency boosted," Yu said.
"With rapid technological development, the real economy will embrace the metaverse, which will bring profound economic changes and revolutionize industrial upgrading. The next decade will be a golden period for development of the metaverse."