Shorter isolation idea attacked
By EARLE GALE in London | China Daily Global | Updated: 2022-01-13 09:17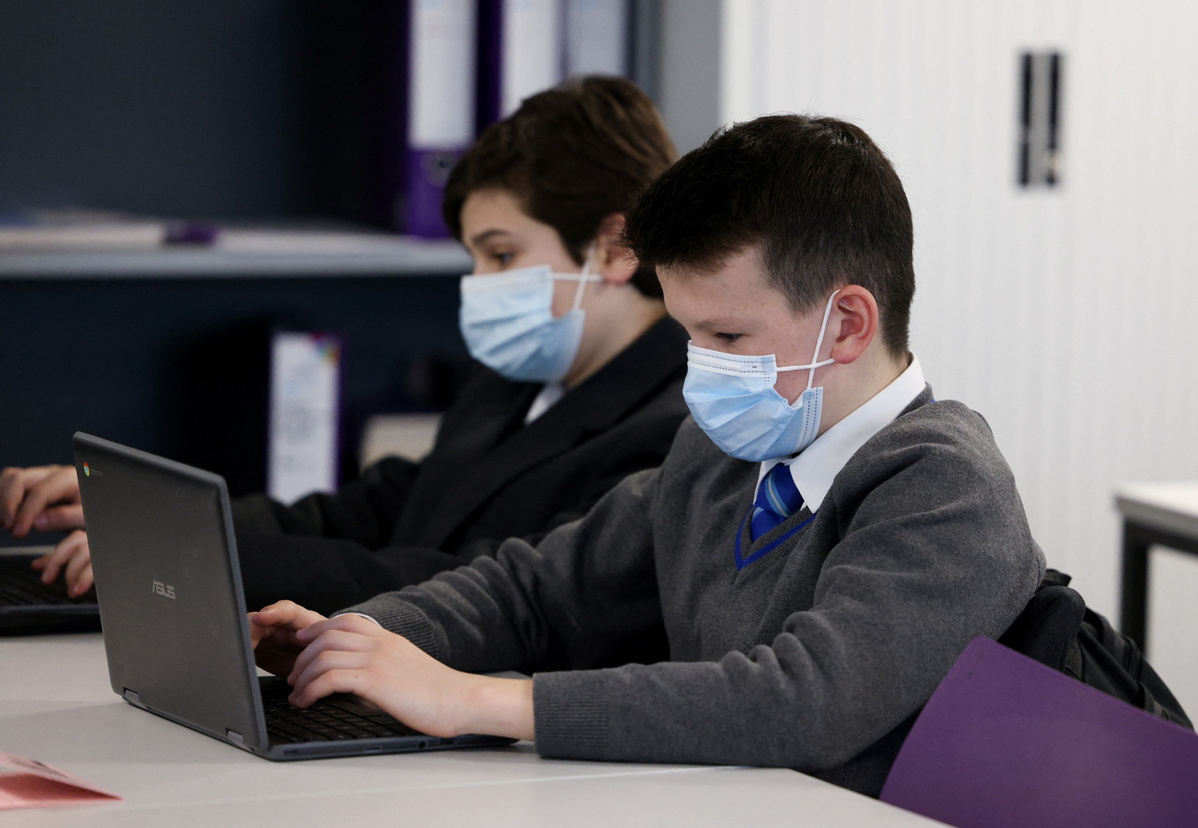 Proposal to slash minimum period to 5 days could spread virus say experts
A significant number of people could spread the novel coronavirus after leaving self-isolation, if England slashes its mandated minimum period of seclusion from seven days to five.
The move, which the government is mulling in a bid to get more people back to work, could leave one person in seven who previously tested positive for COVID-19 infectious after resuming social activities, The Guardian newspaper reported on Wednesday.
People must currently isolate for 10 days after testing positive, but can end their isolation on the seventh day if they get two negative lateral flow tests and do not have a fever.
Supporters of reducing the seven-day period to five say it would help employers struggling with worker shortages.
But experts told The Guardian the United Kingdom Health Security Agency, or UKHSA, expects 31 percent of people to still be positive on day five. Predictions suggest some of them would nevertheless pass a lateral flow tests.
The paper said around 15 percent of people released from self-isolation on day five could be infectious, while only 5 percent would be able to infect others if they finished the full 10-day self-isolation period.
Lawrence Young, a professor and virologist at the University of Warwick, told The Guardian: "As the UKHSA data attests, reducing the isolation period to five days runs the risk of highly infectious people returning to work or school and could only be introduced with strict enforcement of lateral flow tests."
But the problem of an increasingly large number of workers isolating each day is worrying the government.
The Financial Times said the UK's schools are struggling with absences, with one teacher in 12 absent during the first week of term that began on Jan 6.
The Department for Education said on Tuesday that 8.6 percent of teachers and school leaders-some 44,000 people-were off that week. In September, 3.4 percent were off work.
Additionally, another 105,000 non-teaching school workers were absent on Jan 6, and more than 314,000 students.
Geoff Barton, general secretary of the Association of School and College Leaders, told The Financial Times: "Any hope that the Christmas holidays would act as a firebreak for schools and colleges (has) evaporated."
He said the disruption has put schools "under severe pressure".
But while the highly transmissible Omicron variant of the novel coronavirus has caused massive disruption, there was a glimmer of hope on Wednesday that the worst may have passed, with official figures suggesting the number of new daily cases during the previous seven days had shrunk by 13 percent in comparison to the week before.
Additionally, hospital admissions appeared to be plateauing.
However, the BBC noted the number of daily cases depends on people coming forward for testing, and on them being able to get a test kit, which has not always been possible recently.
The good news may not have been sufficient to overshadow criticism of Prime Minister Boris Johnson, who had to apologize in Parliament on Wednesday after admitting attending a drinks party in the garden at 10 Downing Street, at the height of the nation's first lockdown, when such gatherings were prohibited.
Johnson's future was then discussed at a meeting of backbench Conservative members of Parliament, with several calling for him to quit.
Elsewhere in Europe, the number of COVID-19 cases has continued to multiply quickly, with Germany reporting 80,430 new infections on Wednesday, its biggest total so far.
The grim tally followed the World Health Organization warning on Tuesday that it expects half of Europe to catch the Omicron variant of the novel coronavirus within the next six to eight weeks.