Auto sales reverse downtrend, showcase consumption power
By MA SI and LI FUSHENG | China Daily | Updated: 2022-01-13 09:17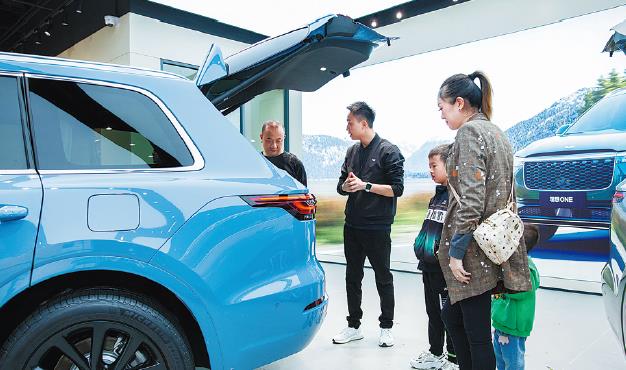 Auto sales in China reached 26.28 million units last year, up 3.8 percent, ending a three-year downtrend and showcasing the nation's recovering consumption power, officials and experts said on Wednesday.
Output of automobiles in China reached 26.08 million units last year. Automobile exports doubled, reaching 2.02 million units, a record.
The rise in overall auto sales is partly attributable to new energy vehicles, whose sales rose 1.6 times, or 157.5 percent, to 3.52 million units, the fastest growth rate since 2016. This secured China's position as the world's largest market for NEVs for seven consecutive years, they said.
Wang Weiming, an official from the Ministry of Industry and Information Technology, China's top industry regulator, said the automobile industry has played an important part in stabilizing China's industrial economy and spurring economic growth.
NEV exports in 2021 reached 310,000 units, a year-on-year surge of more than three times, which exceeded the total historical cumulative exports, the ministry said.
According to Wang, the ministry will further promote the development of NEVs and intelligent connected vehicles, and improve the stability and competitiveness of the industry and supply chains of the automobile industry.
Fu Bingfeng, executive vice-president of the China Association of Automobile Manufacturers, said production and sales are expected to maintain growth this year, given the prospect that issues like chip shortages and high prices of raw materials will likely ease.
Zhu Baoliang, chief economist at the State Information Center, said earlier that the current chip shortages are likely to be solved next year not only in China but in the rest of the world.
The CAAM estimated that overall auto sales in China are expected to rise 5 percent to 27.5 million units this year. Among them, sales of passenger vehicles are expected to reach 23 million units, up 7 percent.
NEV sales are estimated to reach 5 million units, up 42 percent, Fu said. "China's low-carbon strategy, the advancements of intelligent connectivity technologies and innovation in business models will help further popularize NEVs."
According to China's 2021-35 development plan for the NEV industry, the proportion of new NEVs in the sales of new vehicles is expected to rise to about 20 percent by 2025. Fu said the goal is likely to be achieved ahead of schedule.
To further facilitate the development of NEVs, the MIIT said it will intensify efforts to improve NEV charging and parking services, enhance electrification of the public transportation system and promote supportive industry chains.