Preserving the pages of history
By Wang Kaihao | China Daily | Updated: 2022-01-14 08:53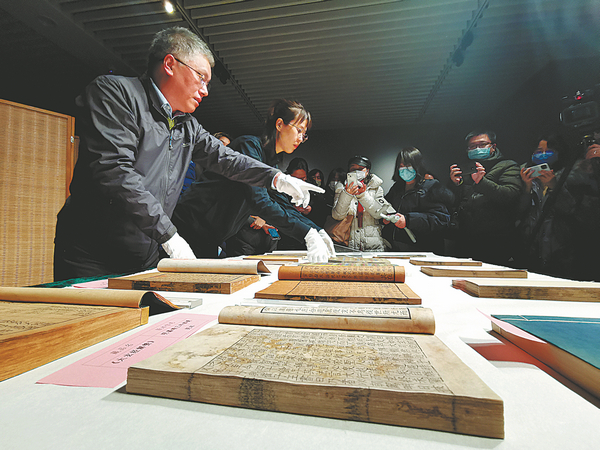 Historical collection
Tianlu was the name of a royal library during the Han Dynasty (206 BC-AD 220)-often considered as the earliest national library in China-and linlang means "various precious jades" in Chinese. By choosing this title, Emperor Qianlong (1711-99) tried to pay homage to history and traditional culture.
The antique enthusiast's dream came true-664 volumes of, what he considered to be, the finest ancient books, ranging from the Song (960-1279) to Ming (1368-1644) dynasties, were chosen from studies in the Forbidden City, the imperial palace known as the Palace Museum today.
The emperor inked special seals on the first and last pages of each volume of these beloved treasures and carefully housed them in a study next to the Palace of Heavenly Purity, a key office and ceremonial hall for Qing emperors.
The different origins of these books mean that their formats and materials vary dramatically, and there are also marks of previous restorations from the late Qing Dynasty. Sometimes even three kinds of paper can be found in one book.
"Some books were made with bamboo paper, but paper made from bark or grass was also used, as were silk pieces, making some volumes particularly precious," Cui says.
"It's often impossible to find the identical material with which to restore the books, because the production techniques of the originals have been lost," she adds. "We can, therefore, only attempt to make the closest possible alternatives ourselves."
To avoid any further damage to the relics, even the glues used in the restoration had to be handmade from raw flour.
"We can buy wheat starch, and it would be easier to use it to make glue," Cui says. "But we chose not to, fearing that food additives could lead to problems."
As Cui recalls, some volumes felt like crispy pastry in her hands. "They would crumble and fall apart once I touched them," she says.
Some books looked like hard bricks, with the pages all stuck together, while pages in other books felt like loose cotton because the fibers were so old.
With various handmade tools, and employing traditional craftsmanship and patience in equal measure, restorers finally ensured the safety of the pages.
The restoration experts need to be versatile in many skills. They are like chefs when they have to steam the books with precise timing and like gardeners when spraying water in the air to create the ideal moisture-rich environment for the cured pages.
It sometimes took a few hours to fix a single page, but it would not be unusual for some severely damaged pages to require days, or even weeks, of restoration work.
"After being repaired, we're confident that the pages can now survive at least another 200 years," Zhu says.