As cybercrimes rise, police nationwide step-up arrests
By YANG ZEKUN | chinadaily.com.cn | Updated: 2022-01-14 18:10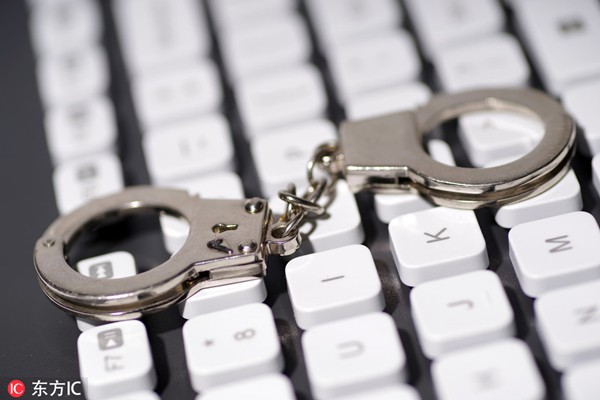 Police nationwide solved 62,000 cybercrime cases last year, helping safeguard security and order online, the Ministry of Public Security said on Friday.
They arrested 103,000 suspects and handed out administrative penalties to 27,000 internet businesses, it said.
Sun Jinfeng, the political commissar of the Bureau of Cyber Security at the Ministry of Public Security, said that all kind of crime is appearing online, and that cybercrime has become one of the major dangers to national data security, the economy and society at large.
The bureau focused on the illegal activities that received the greatest public complaints last year, such as the infringement of personal data, hacking, the production and sale of equipment used to eavesdrop or film clandestinely, and people paid to post views and reviews, Sun said.
"Big data, cloud computing and other internet technologies promote network connectivity and convergence, but also increase the risk of information leakage. In this regard, China promulgated the Data Security Law and Personal Information Protection Law, providing sound legal support for the protection of personal data security. Public security organs have consistently held a tough position on the infringement on personal data," he said.
Last year, police focused on the emerging trend of selling personal data on the Internet, the Dark web and other clandestine areas. They investigated 9,800 cases of infringement and arrested 17,000 suspects.
Motivated by financial gain, some people have carried out covert intelligence attacks to steal data for profit in recent years, threatening the data security of businesses, individuals and the security of key information infrastructure, Sun said.
In 2021, police arrested 3,309 people for carrying out hacks, providing tools and money laundering services, and eliminated 341 groups that produced and sold Trojan horse viruses and developed attack software platforms, securing important information systems and networks, and protecting personal data, he said.
Public security organs nationwide also arrested 783 suspects for secretly taking photos or eavesdropping, and seized 4,100 pieces of related equipment and components, according to the ministry.
In addition, 200 cases of ghostwriting were investigated and 2000 suspects arrested. About 6.2 millions social media accounts, 1,200 websites and 170,000 chat groups on social media platforms were shut down. The police also seized a large number of forged press cards, company seals and business licenses destined for criminal use.