Long-term approach needed to protect arable farmland
By ZHAO YIMENG | CHINA DAILY | Updated: 2022-01-17 07:21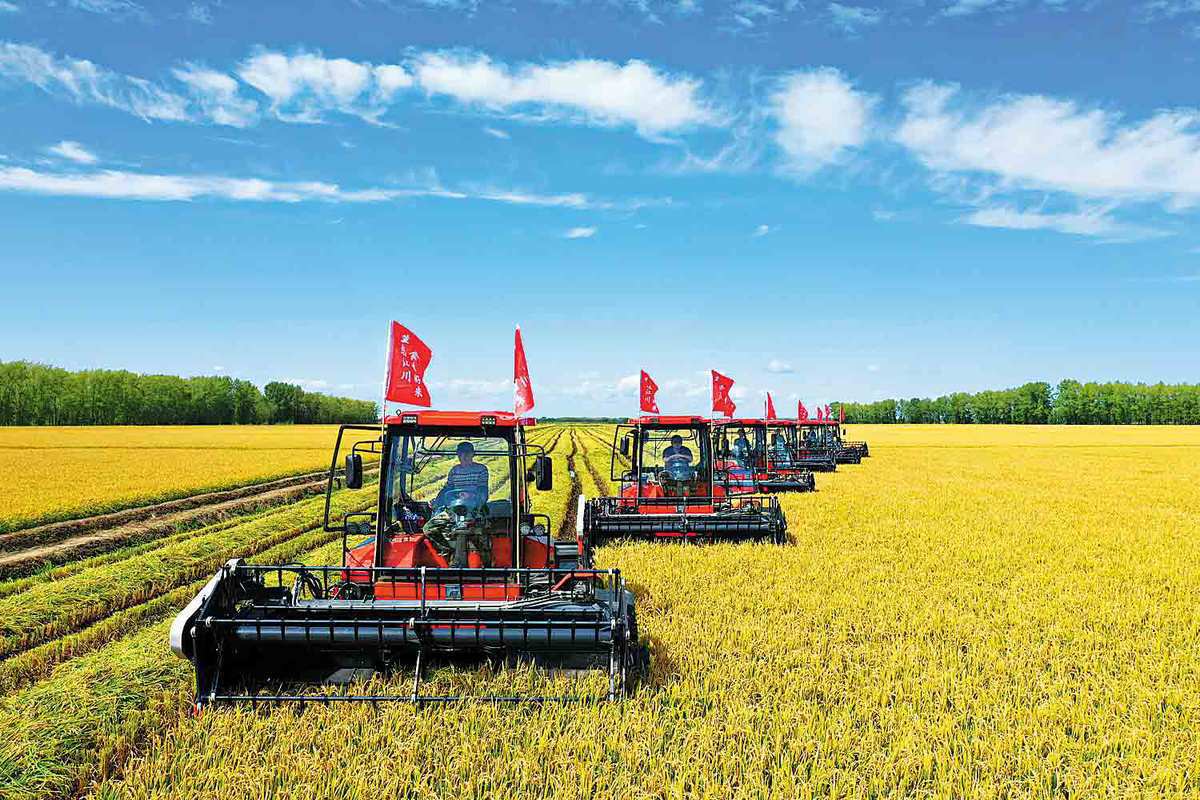 Progress vital to nation's food security, sustainable development, experts say
China should adopt a long-term approach to protecting arable farmland to ensure the country's food security and sustainable development, agricultural experts said.
Before an annual rural work conference late last month, President Xi Jinping said requirements for the protection of arable land must be further clarified to ensure that China's 120 million hectares of farmland is a reliable figure and that all of the farmland is fertile.
China has 127.87 million hectares of arable land, with the area having fallen by 7.5 million hectares in the past 10 years and approaching a red line, according to the results of the third national land survey, which was released in August.
Agricultural authorities at the annual work conference were urged to strictly implement measures to protect arable land and strengthen regulations governing its use.
Xi also mentioned at the annual Central Economic Work Conference last month that large areas of fertile arable land in some areas are not planted with grain, but used to grow flowers and fruit or raise livestock, and asked whether grain production was being neglected.
It's not unusual to see more lucrative cash crops grown on flat, fertile land that is suitable for growing grain, with media outlets reporting that farmers have planted apple and pear trees on farmland, while some villagers living near rivers and lakes have dug ponds in arable land to develop aquaculture.
Xia Zhuzhi, an associate professor at the Rural Governance Research Center at Wuhan University, said growing alternative cash crops is more profitable than growing grain.
For example, the per hectare income from growing watermelons is double that of growing grain in a village in China's central plains, while the planting area of seedlings in a township in a more developed eastern province accounted for 80 percent of its arable land, according to a survey conducted by Xia.
"Also, agricultural machinery has encountered obstacles in places where farmland is fragmented, and irrigation canals have faced disrepair for years," he said, adding that farmers tended to give up growing grain and even left fields uncultivated.
As the diets of Chinese people have changed, demand for fruits and other cash crops is increasing. Urbanization has also boosted demand for nursery crops such as ornamental trees and perennial flowers, encouraging farmers and local governments to grow them.
"But the 120 million hectares of arable land is the bottom line to ensure national food security for 1.4 billion people in China and must not be encroached upon, destroyed or retreated from," Xia said.
The increasing use of arable land for nonfarming purposes will affect national food security and must be taken into serious consideration, he added.
Cheng Guoqiang, a professor at Renmin University of China's School of Agricultural Economics and Rural Development, said local governments should optimize the structure of rural land use and protect arable land, especially permanent basic farmland, and regulate the use of land for nonagricultural and nonfarming purposes.
The Ministry of Natural Resources said it will strengthen law enforcement and supervision by uncovering the illegal occupation of arable land through remote sensing once every six months.
When Xia conducted research in Zhejiang province, he found that local governments had divided land according to its grain production function and supervised farming through satellite remote sensing and drones to regulate the crop types planted in certain areas.
Kong Xiangbin, a professor at China Agricultural University, said local governments are expected to subsidize farmers growing grain to increase their productivity and incomes.
Xia said giving priority to grain production on limited arable land doesn't mean ripping out fruit trees in some areas that had developed plantations in a suitable way, but stabilizing grain output while giving moderate encouragement to the development of cash crops.
To make sure that "all farmland is fertile", Agriculture and Rural Affairs Minister Tang Renjian said China will establish 66.67 million hectares of high-quality farmland with stable yields by the end of this year.
High-quality arable land only accounted for 31 percent of China's total, with some areas overused and damaged by farming activities using fertilizers and pesticides, Wu Kongming, president of the Chinese Academy of Agricultural Sciences, said last month.
The academy has launched a campaign to protect high-quality arable land resources, aiming to resolve issues including the preservation of black soil in Northeast China and dry lands in North China through scientific innovations such as biological nitrogen fixation technology.
A national scientific center for arable land was unveiled last month at the academy to integrate talent and resources in the field.