Counting the cost of vanishing permafrost
By KARL WILSON in Sydney | China Daily | Updated: 2022-01-17 09:27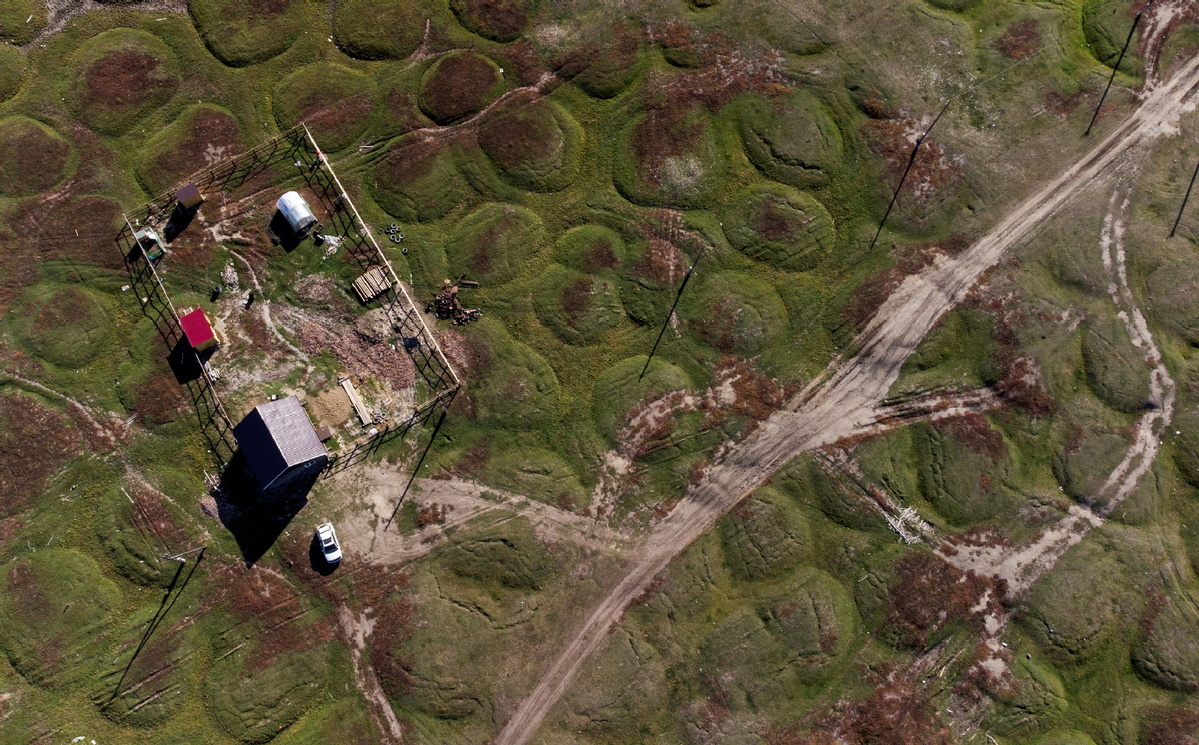 Billions at stake with looming damage to Arctic infrastructure, scientists say
Thawing of the permafrost amid rising temperatures, much of it caused by human activity, will have a serious impact on infrastructure in the Arctic region and will cost billions of dollars to rectify, scientific papers say.
In research published by the online journal Nature Reviews Earth and Environment last Tuesday scientists warned that anthropogenic warming, or environmental change caused by man, will impact 69 percent of the residential, transportation and industrial infrastructure in permafrost regions by the middle of this century.
Scientists worldwide have collaborated to produce six research papers examining the physical, biogeochemical and ecosystem changes related to permafrost thaw and the associated impacts.
Jan Hjort, a professor of physical geography at the University of Oulu, Finland, one of the scientists who worked on the project, said the cost of permafrost degradation could amount to tens of billions of dollars.
Much of the Northern Hemisphere is covered by permafrost, or land that remains frozen for two or more years in a row. It is estimated that 85 percent of Alaska and 55 percent of Russia and Canada consist of permafrost.
In a research paper titled "Impacts of Permafrost Degradation on Infrastructure", scientists said that in Russia the total cost of support and maintenance of road infrastructure owing to permafrost degradation from 2020 to 2050 is expected to reach about $7 billion for the existing network, with no additional development.
A better understanding of the regions at high risk is needed for mitigation to be effective, they said.
Anthropogenic warming is the key driver of "observed and projected climate change", Hjort told China Daily.
Permafrost regions will see shorter snow periods and less cover, he said.
"Permafrost will be warmer, and thaws will cover extensive areas. Biota (distribution of plants and animals) will change, while the amount and distribution of Arctic species will decrease."
Accelerated warming
Tree lines will slowly advance north, and expansion of shrubs will spread across the Arctic, from Alaska's North Slope to the isolated expanse of the Siberian tundra, he said.
Some regions would become wetter and others dryer.
Arctic permafrost regions store nearly 1.7 trillion metric tons of frozen and thawing carbon. Anthropogenic warming threatens to release an unknown quantity of this carbon into the atmosphere, influencing climate.
Scientists warn that methane and carbon dioxide escaping from long-frozen soil could accelerate warming and overwhelm global efforts to cap the rise in Earth's temperature at livable levels.
Exposure of highly combustible organic matter no longer locked away by ice is also fueling unprecedented wildfires, making permafrost a triple threat, they say.
Permafrost, blanketing a quarter of the Northern Hemisphere's land mass, contains twice the carbon now in the atmosphere, and triple the amount emitted by human activity since 1850.
In a paper titled "The Changing Thermal State of Permafrost", scientists said increases in permafrost temperature vary spatially because of interactions between climate, vegetation, snow cover, organic-layer thickness and ground ice content.
Sharon Smith, a research scientist working with the Geological Survey of Canada and one of the co-authors of the paper, told China Daily that a greater understanding of longer-term interactions between permafrost and the surrounding environment is needed.
"Permafrost and the ice within the frozen ground influence the movement of water (including surface and subsurface water flow), ecosystems and the strength and behavior of the ground," she said.
"Changes in permafrost conditions, its warming and thawing, can therefore have implications for hydrological processes, ecosystems and stability of the landscape such as ground settlement, slope instability, with subsequent impacts on northern lifestyles and infrastructure."
Permafrost can also contain significant amounts of organic material that stores carbon in the frozen ground, she said.
"This carbon can potentially be released as permafrost thaws, with impacts on the climate system."