Italy faces big decision over presidency
By JULIAN SHEA in London | China Daily Global | Updated: 2022-01-18 09:30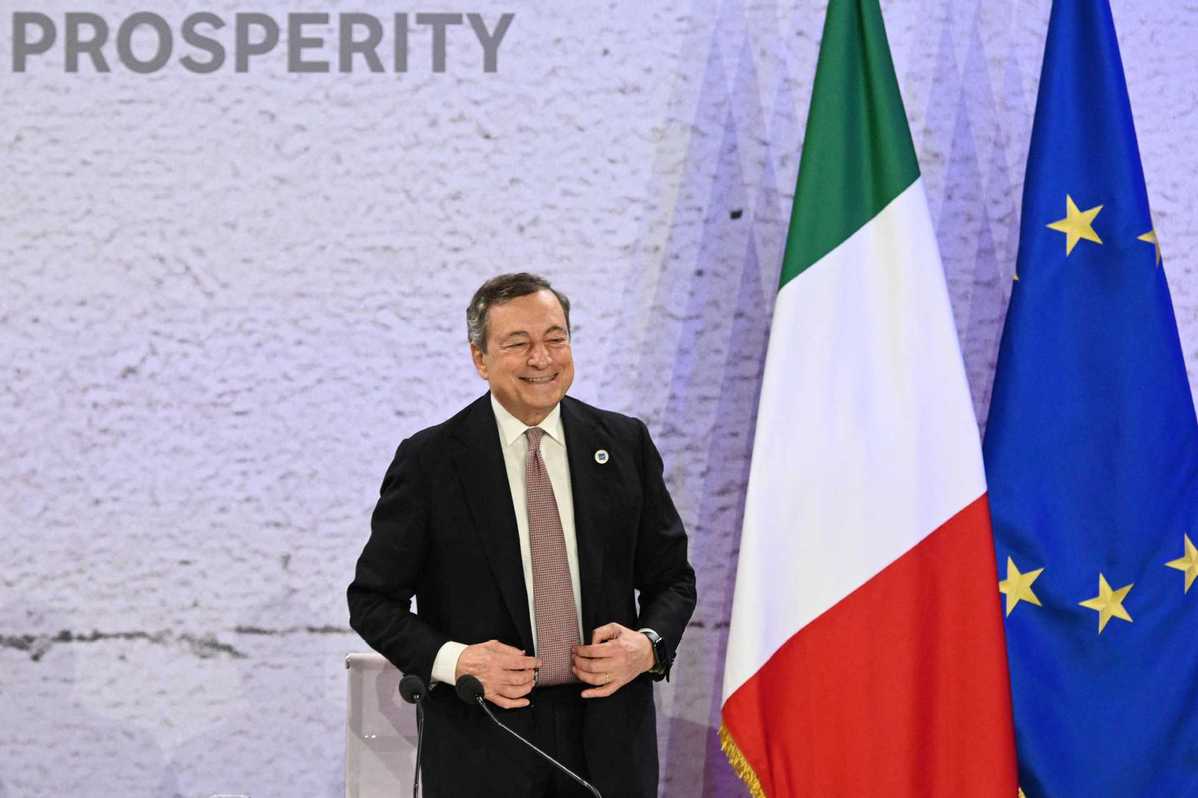 Europe's political landscape could be in for another change as Italian President Sergio Mattarella reaches the end of his seven-year term of office, and speculation grows over whether Prime Minister Mario Draghi will switch positions, with the country in the early stages of a major economic reconstruction.
Germany is just getting used to its new chancellor Olaf Scholz after 16 years of Angela Merkel being in charge, Portugal has an election at the end of this month and France will also have a presidential election in April, so a changing of the guard in another major European government could cause more uncertainty in a time of recovery.
Draghi is the former president of the European Central Bank, who saw the euro through some of its toughest times, and was appointed prime minister in February 2021 after his predecessor Giuseppe Conte resigned when his coalition government's plans for spending European Union recovery money were rejected.
"Mario Draghi was the Italian who saved Europe, and I think now he is the European who can save Italy," former prime minister Matteo Renzi told the BBC at the time of his appointment.
Italy had already suffered from years of economic problems before it became one of the first European countries to suffer a major outbreak of novel coronavirus at the start of the pandemic.
Opinion is divided over whether Draghi changing positions might either endanger the economic recovery, with the risk of triggering more elections, or whether as president, with a largely ceremonial role but longer term of office, he could provide a more stabilizing influence.
Mattarella, who is 80, has previously indicated he wishes to retire, but could yet be persuaded to stay on, with some center-left parties hoping to convince him, which would allow Draghi to continue his reform policies as prime minister, until at least 2023, when the next elections are scheduled.
"Draghi as president of the republic would guarantee a fairly long period of top-down supervision of the implementation of reforms and the spending of European funds," Giovanni Orsina, director of the school of government at Rome's LUISS University, told the Financial Times.
However, the financial markets have expressed greater concern about the prospect of Draghi possibly changing roles, and what that might mean.
"We have seen in the past that financial markets are very sensitive to political developments, especially if (they) lead to a government that might be less committed to Europe, less committed to reforms," Lorenzo Codogno, a former chief economist of the Italian Treasury, told The Daily Telegraph.
Jack Allen-Reynolds, a senior European economist at Capital Economics who specializes in Italy, also said a resulting election might put the recovery at risk.
"A new government might also have different priorities that don't necessarily align with the current recovery plan. Whichever new government it is has the incentive to play ball on the recovery plan," he said.