Drone displays set to take off globally
By Barry He | China Daily Global | Updated: 2022-01-18 09:31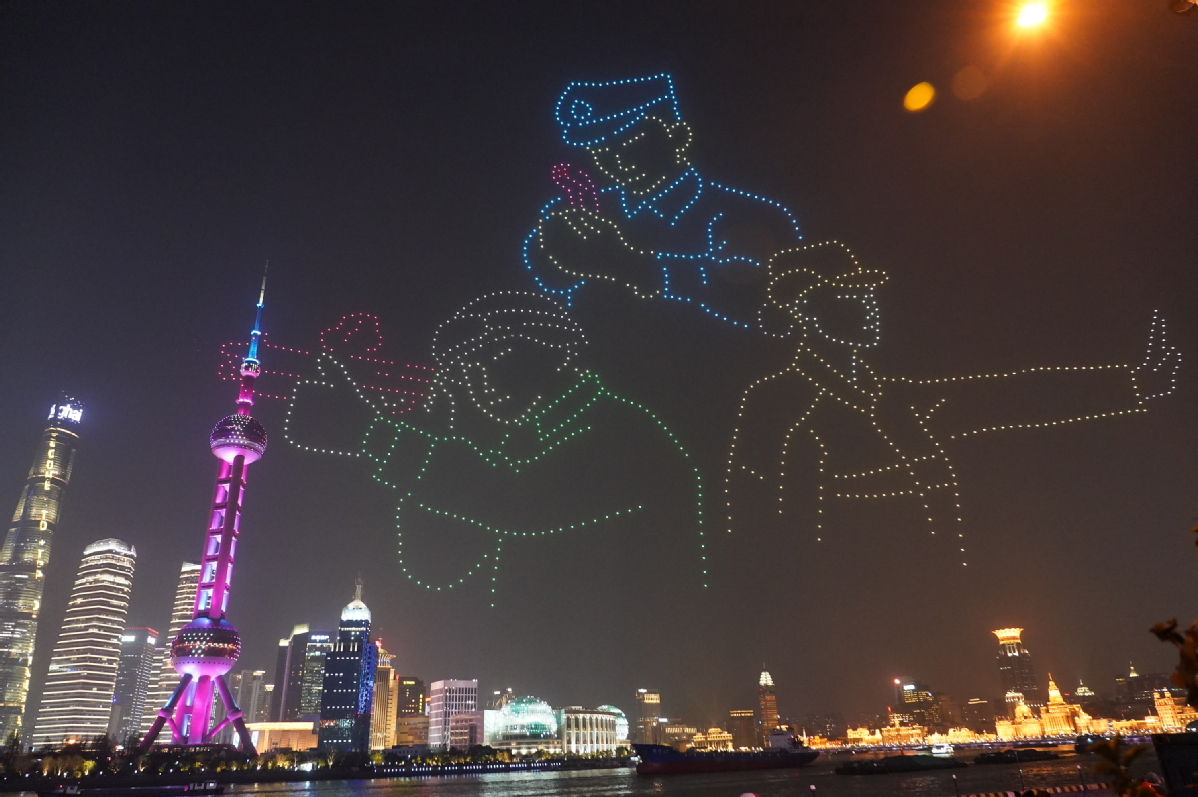 Drone displays are becoming more common in public celebrations, resembling programmable fireflies in the night sky, dazzling onlookers.
A computer program turns graphics into flight commands, producing complex visual images and animations that add a sense of awe to any outdoor event or celebration. The sheer versatility of displays mean that anything from animals to written messages can be scrawled across the night sky. Considered to be more environmentally-friendly than fireworks, and less distressing for pets and local wildlife, such performances are becoming more common across China and the wider world.
The recent advancement of drone robotics has meant that large public displays from the Tokyo Olympics to lavish corporate events are showcasing the technology. The increasing affordability of commercial and private drones also means that such displays are accessible on a local level, too. Derbyshire County Council in the United Kingdom has performed drone choreography for crowds of up to 1,000, finding the reusability of the flying vehicles a worthy investment, compared to an annual fireworks budget.
Companies such as SkyMagic in the UK, who provide such display services, are finding themselves in demand, with the pandemic surprisingly boosting interest. Compared to fireworks, drone displays can hang in the air for longer, and fly over different areas, so congregated crowds in a single viewing point are no longer necessary.
Hogmanay, the annual new year's celebration in Scotland, saw drones take the form of a huge galloping stag, illuminating the night sky as the animal appeared to run across it, each pixel animating the image made of a separate drone powered by AI.
China, however, holds the record for technological displays. Last year, Shenzhen Damoda Intelligent Control Technology put on a record-breaking display in Shanghai, with 3,281 drones performing intricate acrobatics to create complex images and messages to wow spectators.
The potential of this new industry is hard to judge, given the fact that just a few years ago, the very concept of flying drone swarms would have been unimaginable. As recently as 2014, drones performing complex programmed aerial maneuvers were relegated to university research laboratories. As the technology advances, ever-more complex and dazzling displays are sure to be enjoyed by the public. Safety concerns, however, do exist, with many people wondering whether flying the machines in the dark over crowds presents hazards, with already isolated incidents of falling machines occurring around the world.
However, no serious accidents have happened so far, and with the right precautions, it may be hard to argue that explosive pyrotechnics and firework displays are a safer alternative.
Fireworks, however, are far from being relegated to history. Cheaper and readily accessible, the loud atmospheric spectacles they create are still felt by many people to be an integral part of any celebration.
With Chinese New Year coming up, excuses to celebrate around the country will be bountiful, and a mixture of traditional fireworks and drone displays will be sure to light up the night sky in spectacular fashion.
Barry He is a London-based columnist for China Daily.