Tech advances, 5G speed stoke growth in 8K content
By FAN FEIFEI | China Daily | Updated: 2022-01-18 10:14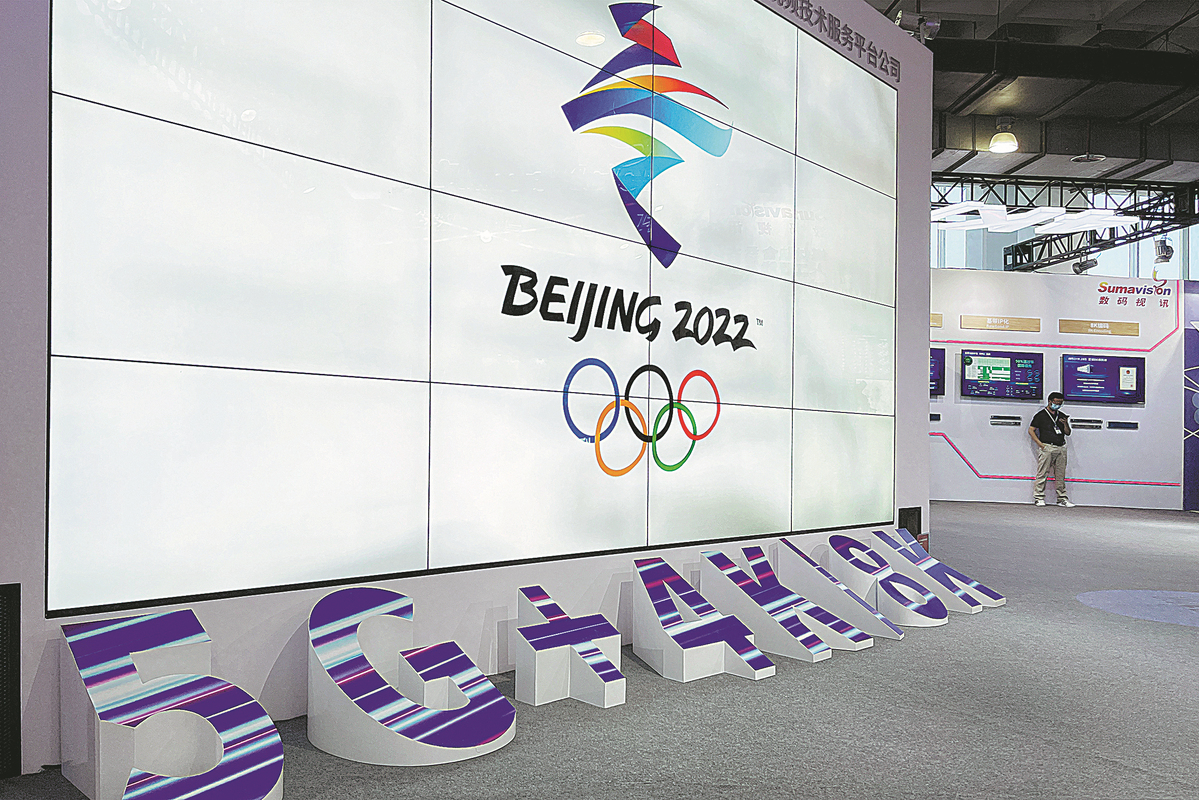 Winter Olympics provide crystal clear exposure for worldwide viewers
The emergence of the 8K ultrahigh definition television industry is to usher in explosive growth opportunities, fueled by the upcoming Beijing 2022 Winter Olympics and the deployment of superfast 5G technology, which makes the transmission of 8K content possible, industry experts said.
With breakthroughs in 8K technology and the growing maturity of the industrial chain, the cost of 8K televisions is expected to drop as shipments and penetration rates rise, they added. The term 8K refers to an image or display resolution with a width of approximately 8,000 pixels, currently the highest UHD resolution in digital television and digital cinematography.
Spectators will be able to see 8K images of Olympic events on TV and UHD images on 8K terminals at venues, city squares and other places during the Winter Olympics, said Yu Hong, director of the Beijing Organizing Committee for the 2022 Olympic and Paralympic Winter Games' technology department.
Organizers of the Games and venue operators have tested new broadcasting technologies, such as 8K UHD livestreaming and cloud-based broadcasting, to give viewers a more immersive experience. In addition, China Media Group said it will broadcast the event with some innovations, including 8K UHD transmissions.
China's UHD video industry was expected to exceed a valuation of 4 trillion yuan ($627.6 billion) by 2022, according to a plan issued by the Ministry of Industry and Information Technology, the National Radio and Television Administration and China Media Group.
The plan said breakthroughs were to be made in the research and development of products and the industrialization of 8K technology this year. Internationally competitive companies were being fostered in the field, and the number of UHD video users is expected to hit 200 million.
Chinese home appliance manufacturers have been ratcheting up efforts to join the 5G-powered 8K UHD TV flurry in a bid to grab a bigger slice of the country's high-end TV market.
Wang Zhiguo, chairman of Shenzhen Skyworth-RGB Electronics Co Ltd, a subsidiary of Chinese television maker Skyworth Group, said the company is committed to providing a complete range of 8K products, including video cameras, monitors and cloud operating systems, accelerating its steps in the 8K UHD industrial chain. That strategy is expected to help Skyworth expand 8K technology applications to a wide range of fields like aerial photography, education, healthcare and advertising, Wang said.
Wu Wei, chief engineer at Skyworth Group, said the country's 8K video industry will see robust growth with the Beijing 2022 Winter Olympics, which will use 8K UHD livestreaming and transmission.
"5G offers technological support for the adoption of 8K, while 8K is one of the best application scenarios for superfast wireless technology," Wu said, adding 5G has the advantages of high speed, large capacity and minimal delay, which creates great opportunities for the adoption of 8K UHD TV.
The domestic 8K TV industry is still in a nascent stage, Wu said, adding that Skyworth will intensify research and development efforts in 8K chips to improve the clarity, contrast and brightness of images.
Skyworth has launched a series of 8K TV products with built-in 5G connectivity, which supports 8K signal reception, decoding, image signal processing and screen display.
"With the advent of superfast 5G technology and the popularization of big TVs, 8K has created many opportunities. The broadcasting of sporting events via 8K equipment has also motivated people to demand high-definition image quality," said Liu Fei, research director of the consumer electronics department at market consultancy AVC.
However, there is a shortage of 8K video content, which requires advanced, professional equipment such as special cameras and monitors, increasing the cost of producing content, Liu said. The high cost of 8K technology-based products and limited 8K content are major factors expected to hinder the market's growth.