Sanctions point to the decline of Western liberal democracy
By Huang Yongfu | chinadaily.com.cn | Updated: 2022-01-18 15:45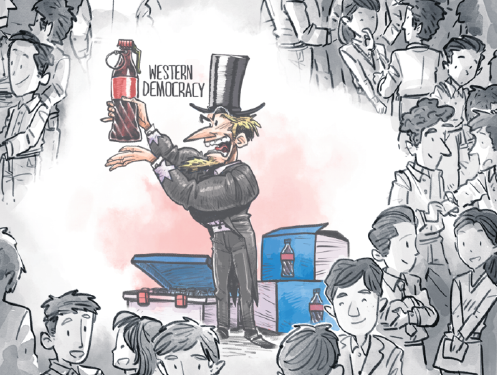 The US's anti-China policy has reached a point of hysteria culminated at the new legislation of the so-called Uygur Forced Labor Prevention Act signed into law by President Joe Biden on 23 December 2021. The new act bans all US businesses from sourcing goods manufactured in Xinjiang under the guise of "human rights abuses", more specifically "genocide" and "forced labor".
The most recent series of US economic and trade sanctions against China include adding 8 more Chinese companies to an investment blacklist by the US Treasury Department and an additional 34 Chinese companies and institutes to an entity list by the US Commerce Department, on 16 December.
Those moves have nothing to do with alleged "human rights abuses" , as testified by statements issued by Apple, Nike and Coca-Cola among others that no signs of "forced labor" have been found.
Instead, such moves once again show Washington's agenda to intensify its rumor-mongering campaign against China on all fronts to destroy its global supply chains across the economic spectrum and its economy in general. Xinjiang is well-known for being a major cotton producer and a supplier of much of the global materials for solar panels.
As the Beijing 2022 Olympic Winter Games is fast approaching, such moves together with assigning a new "special coordinator for Tibetan issues" are Washington's tricks to stir up troubles for China.
To contain China, Trump Administration had aggressively deployed a wholesale weaponization of economic tools such as tariffs and technological sanctions by declaring "national security risks"or "human right abuses".
Biden has taken up the dirty work left by his predecessor. Furthermore, as an aggressively leftist or progressive administration, Biden Administration claims to restore "human rights" as the centerpiece of US foreign policy, and advocate an ideology focusing on social justice, similar to "scientific socialism"by Karl Marx.
By playing the "human rights" card, Biden Administration is positioning itself as the guardian of democracy and human rights, having a role to democratize other societies against a universal form of democracy.
With whatever pretexts to wage sanctions, America's state capitalist policies aiming to wantonly suppress Chinese institutions and enterprises, slow China's technological advancement on a systemic level and support designated America's industries deemed strategically important violates the principles of laissez-faire, free-market capitalism.
Besides, America's state capitalist policies point to the decline of Western liberal democracy in terms of failing to equally respect development rights and paths of development partners.
How has been Western liberal democracy declining or evolving over time?
Over the past 250 years, classical liberal democracy has helped solve society's many problems and bring about unparalleled progress to the West, by applying so-called liberal principles. Adam Smith and other classical liberals believe in setting fair initial conditions for events to unfold from the bottom up and through competition in a complex system with little or no central direction. They assert human progress in a divided world is brought about through a universal commitment to individual dignity, free markets and limited government.
A century ago when the Fascist cancers began to eat away at liberal Europe from within, classical liberal democracy stood to the test by preventing the extremes from strengthening.
Since the Soviet Union, their last ideological challenger, collapsed, the Western elites have been so laden with arrogance and complacency of being always right, instead of humility and self-doubt. The most dangerous threat to liberalism's spiritual home comes from the woke, inclusive of right­leaning liberals, typically the Trumpian populism and UK's Tory Brexiteers, and left­leaning liberals, represented by Biden's modern progressivism.
Both populists and progressives have brought along tactics to enforce ideological purity. Although the two hate and feed each other pathologically and their rows consume politics and turn the nation against itself, they share some similarity.
Both denigrate liberal edifices such as science and the rule of law, subordinate the individual freedom to the interests of partisanship, put ideology and politics ahead of reason, they sabotage good government and threaten liberal values such as human rights. They share a view that the marketplace is rigged and laissez-faire is a pretence which entrenched interests use to preserve the status quo, raging at classical liberalism for its supposed elitism and privilege.
More importantly, both populists and progressives share an assumption that the world is zero-sum.
Zero-sum thinking is primitive and out-of-dated in the sense that it was well-adapted to a world of tribal conflict prior to the development of modern economy, where there is no economic growth, no technological change, little specialization, limited trade, little capital, and warfare between neighboring tribes. Zero-sum thinking is certainly not adaptive for a modern society.
Zero-sum thinking drives identity politics, which creates an intrinsic conflict between blacks and whites domestically as well as whites and Asian yellows internationally, for example. Identity politics foment racial antagonism and resurrect xenophobia. Trump administration ever used the elusive falsehood that Covid-19 originated in a Wuhan laboratory to bash China and deflect attention from his administration's catastrophic pandemic response, followed by important human-rights movements and thoughts such as hate crimes against Asian and Critical Race Theory.
When China is storming ahead, the woke vilify a resurgent China as a "China threat". With outdated zero-sum mentality, the woke advocate antagonistic government policies to contain China using excuses of "national security risks"or "human right abuses". In a pluralist world full of creativity and useful inventions, counter-productive woke policies such as tariffs and sanctions can only increase racial animosity and conflict, slow economic growth, and sap social capital and consumers' welfare.
US hypocrisy to promote the America-style human rights is reflected by the failure of woke governments to promote basic rights where it could, during Afghanistan withdrawal for example.
Nor were they able to conform to the so-called liberal principles that appreciate diversity in all its forms is a strength of a country and should be respected and treated fairly. More and more people in the dysfunctional society weary of its flawed electoral rules, persistent inequality and racism, wanton interference into internal affairs of other countries, and even military invasions into sovereignty countries such as Iraqi killing thousands of millions people.
In reality, human rights is the least thing the US has cared about throughout its history. Its primitive accumulation of capital was completed through massacre against the Indian Americans, while its global hegemony was established via wars.
To revive America-style liberal democracy and human rights, Americans should be woke from the woke doctrine and abandon or reverse the woke policies against development partners like China.
To be a genuine liberal, Western politicians with sense of justice should avoid the danger of left-leaning identity politics, understand why is classical liberal democracy struggling around the world, open to newly-developed development philosophy and embrace new development partners.
Huang Yongfu is an economic affairs commentator. After earning a PhD, he started his career at the University of Cambridge and then moved on to the UN system. He is the author of many papers and books related to economics. His current interests lie in global development and Sino-U.S. links, especially trade, financial and technological issues. The article reflects the author's opinions and not necessarily the views of China Daily.
If you have a specific expertise, or would like to share your thought about our stories, then send us your writings at opinion@chinadaily.com.cn, and comment@chinadaily.com.cn.