EU Parliament gets new chief
By CHEN WEIHUA in Brussels | China Daily Global | Updated: 2022-01-19 09:18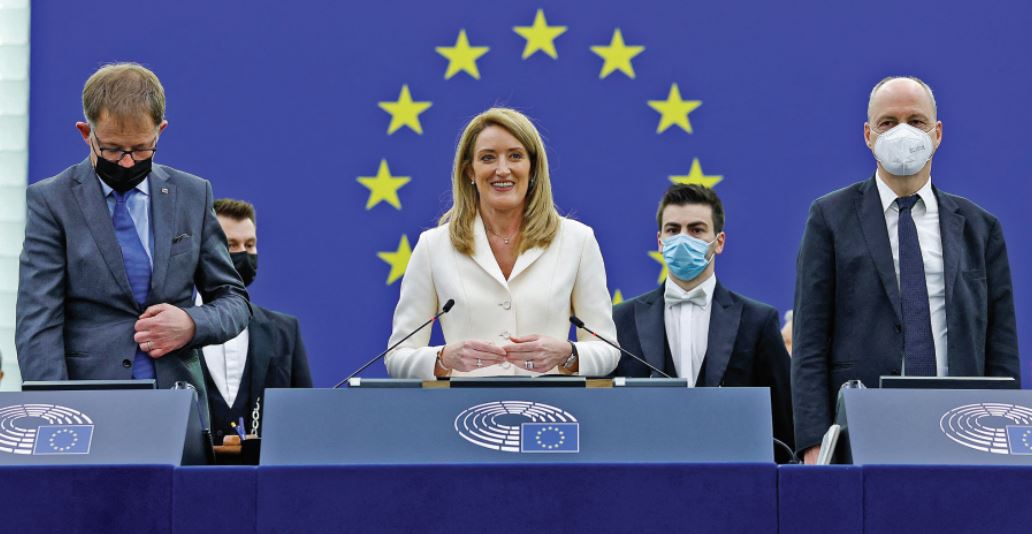 Maltese politician vows to use her role to promote sexual, reproductive rights
For Maltese politician Roberta Metsola, her election on Tuesday to be president of the European Parliament could not have been better timed. It was also her 43rd birthday.
Metsola won 458 of the 616 votes cast in the 705-seat legislature plenary meeting in Strasbourg, France. She had been acting president since the death on Jan 11 of David Sassoli, an Italian politician and member of the center-left Socialists & Democrats party.
Metsola had been first vice-president of the Parliament since November, 2020.
A member of the center-right European People's Party, or EPP, Metsola was among four candidates vying for the job. The others were Spain's Sira Rego of the United Left party, Poland's Kosma Zlotowski of the European Conservatives and Reformists party, and Sweden's Alice Bah Kuhnke, of the Green party. Zlotowski dropped out before ballots were cast.
"It's an honor for our country. It's an honor for such a small country... This chamber will be led by a Maltese woman. I think this should make us all proud," she told a news conference after her election.
Metsola, the mother of four children, is the youngest president of the Parliament in history, and the third woman to take up the position, 20 years after France's Nicole Fontaine (1999-2002) and before that Simone Veil (1979-1982).
"I think it should be a testament of the hard work since we joined the European Union," said Metsola, who campaigned for Malta to join the EU in her youth and became an MEP in 2013.
During the news conference, several questions were directed at her past anti-abortion views. Like all other Maltese MEPs, Metsola has consistently voted against or abstained in resolutions that recognize abortion as a human right. Malta is the last EU state where abortion is still completely illegal.
She said on Tuesday that the European Parliament has been "unambiguous" on all sexual and reproductive health and rights.
"It has repeatedly called for these rights to be better protected… And I can confirm to all of you that this is the position I will push forward as vice-president and once I become president," said Metsola, a lawyer by profession.
In her remarks to members of the Parliament on Tuesday, she pledged to do her "utmost to work on behalf of this Parliament and for the benefit of all EU citizens".
"In the next years, people across Europe will look to our institution for leadership and direction, while others will continue to test the limits of our democratic values and European principles," she said.
"We must fight back against the anti-EU narrative that takes hold so easily and so quickly.
"The next part of the mandate will see a window of opportunity to make our Parliament more modern, more effective and more efficient."
EU leaders offered her their congratulations.
"The European Parliament is the beating heart of our European democracy. Looking forward to cooperating with you, dear Roberta," European Council President Charles Michel said in a tweet.
"As the 3rd woman to head this noble house, your hard work &determination are an inspiration to us all," European Commission President Ursula von der Leyen said in a tweet.
"We'll work closely together for the EU's recovery and a green, digital & bright European future."
Von der Leyen, who also belongs to the EPP, was in isolation in Brussels and could not attend the Parliament plenary session as planned, after her driver tested positive for COVID-19 on Monday.
"She will open the next chapter for the European Parliament after the first half of the mandate was marked by pandemic disruptions," EPP group chairman Manfred Weber, a German politician, said of Metsola.