Minister insists Johnson did not lie to Parliament
By JONATHAN POWELL in London | China Daily Global | Updated: 2022-01-19 09:20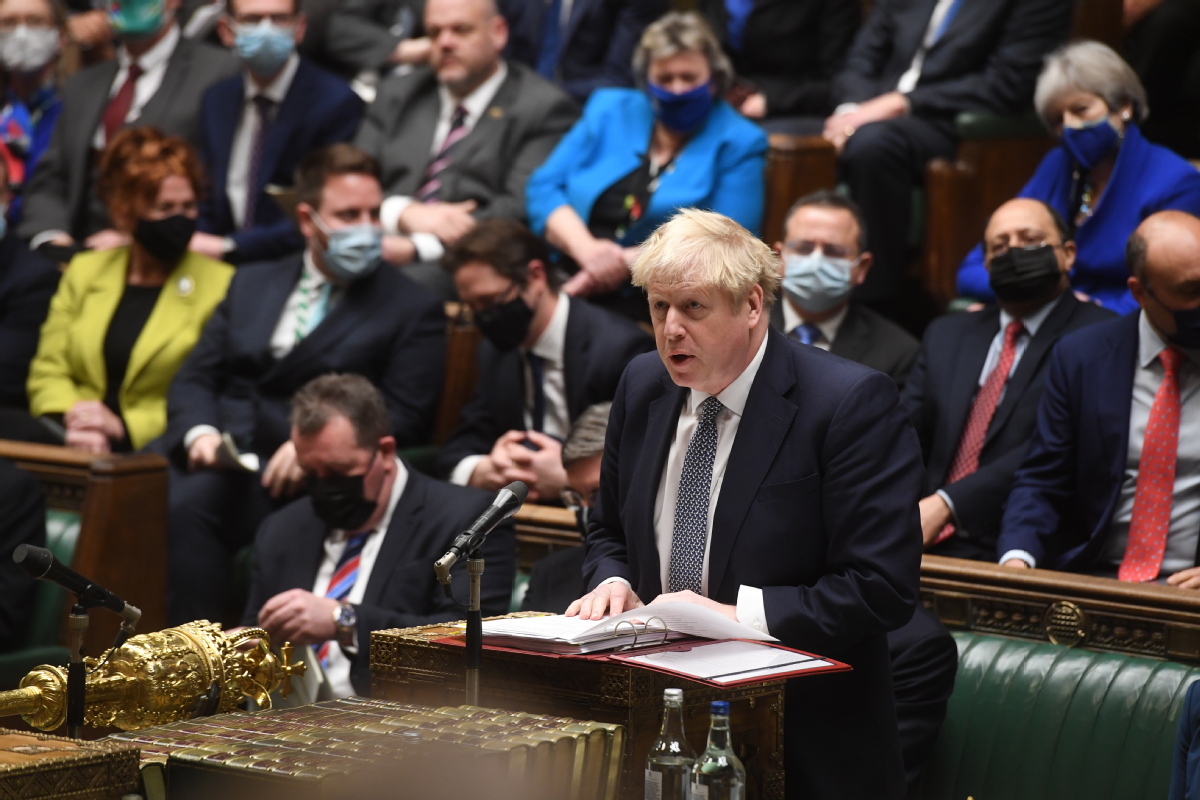 Allegations that Prime Minister Boris Johnson lied to Britain's Parliament over claims of rule-breaking parties in Downing Street are "nonsense", his deputy has said.
Johnson told Parliament last week that when he attended a party in the Downing Street garden on May 20,2020, when lockdown restrictions were in force, he "believed implicitly that this was a work event".
Responding to claims made on Monday by former senior advisor Dominic Cummings that Johnson misled Parliament, Deputy Prime Minister Dominic Raab said: "Look, the suggestion that he's lied is nonsense.
"He's made it very clear to the House of Commons, took questions on this, that he thought it was a work event," he told Times Radio.
Cummings, who left government in November 2020 and who has since become a persistent critic of the prime minister, claimed in his blog that Johnson had agreed the drinks party should go ahead, reported Reuters news agency.
He added that he and other senior advisors were now prepared to swear under oath that the prime minister had "lied to Parliament about parties" at Number 10, noted The Daily Telegraph.
An investigation into allegations of rule-breaking by Johnson, his team and officials in Downing Street and in other government departments, is being conducted by senior civil servant Sue Gray.
Raab admitted that the prime minister would be expected to resign if he knowingly misled Parliament.
He said it was "clearly the case "that ministers should resign if they are found to have broken the ministerial code.
Cummings claimed that he and another senior advisor told Johnson's Principal Private Secretary, or PPS, Martin Reynolds, the official who invited people to the party, that the event should not go ahead.
"I told the PPS the invite broke the rules," he said. "The idea that the PPS would be challenged by two of the most senior people in the building, say he'd check with the PM then not-is not credible."
Raab refused to speculate when asked to explain the contradictory versions. "It is quite right to say that both accounts cannot be reconciled, and the prime minister has been very clear that what has been suggested overnight is not true," he said.
Amid fresh calls for Johnson to resign, including from some of his own Conservative Party members of Parliament, Raab insisted the prime minister had been "straightforward" when addressing Parliament.
Speaking to Sky News, Raab said of the allegations: "The PM's been very clear that's not true or accurate. Forgive me if I don't get drawn into the soap opera of what one or other claim has been made.
"I've been clear that I think it's a serious issue, which is why we've got that serious investigation. I'm not going to get into commenting on every little snippet in the papers."
In a column for The Times, William Hague, former Conservative Party leader, said that if Johnson is forced to resign, he will be "an outlier in British political history" because other prime ministers forced to quit have left over policy issues, not because of their conduct.