BRI poised to put Syria on recovery path
By JAN YUMUL in Hong Kong | China Daily | Updated: 2022-01-19 09:59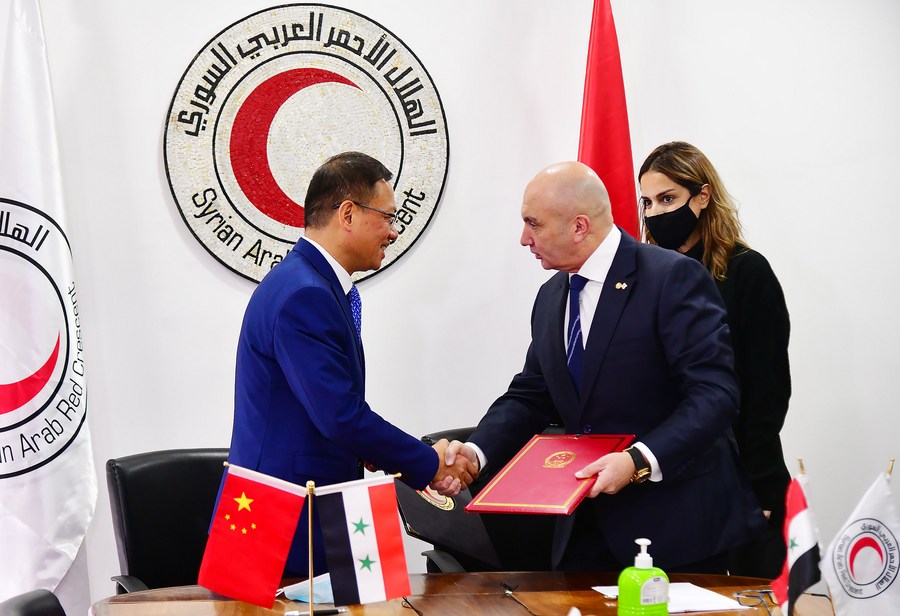 With rebuilding urgency, partnership with China provides hope, experts say
With war-torn Syria becoming the latest Middle Eastern country to join the China-proposed Belt and Road Initiative, the stepped-up cooperation between the two countries is also expected to benefit a region long held back by conflict, experts said.
Joining the BRI "will bring considerable investments and aid … as Syria starts its long-term post-conflict reconstruction in the next few years," said Nabil Sukkar, founder of the Syrian Consulting Bureau for Development and Investment, a consultancy in Damascus.
Sukkar, a former senior economist at the World Bank, said the move comes as Syria turns farther "east in its trade relations following Western sanctions imposed on it as of the beginning of the current Syrian conflict in 2011".
On Jan 12, Fadi Khalil, head of the Planning and International Cooperation Commission in Damascus, and Feng Biao, China's ambassador to Syria, signed a memorandum of understanding at a ceremony marking Syria's admission to the BRI.
The ceremony was the latest high-profile event involving the two nations since Syrian President Bashar al-Assad's reelection in May last year.
Khaled Almasri, a former dean of the faculty of international relations and diplomacy at Al-Sham Private University in Damascus, said it is in Syria's "national interest" to join the BRI as a new opportunity to establish bilateral and multilateral relations with other countries.
At the ceremony last week, Khalil said that the admission of Syria into the BRI revives the country's old role on the ancient Silk Road. Feng said that the cooperation between the two countries will provide "the greatest contribution" to Syria's economic reconstruction and social development.
Sukkar notes that since Syria had been among the nations on China's "2,000-year-old Silk Road", it made sense for Syria to become part of the modern initiative.
Also last week, Gulf Cooperation Council Secretary-General Nayef bin Falah Al-Hajraf, as well as the foreign ministers of Oman, Kuwait, Saudi Arabia and Bahrain-and separately those of Turkey and Iran-visited China to discuss respective bilateral relations. They are among the 144 countries and regions that have signed MOUs on participation in the initiative, according to China's Belt and Road portal.
Syria has been mired in conflict and divided into enclaves since the civil war started in 2011. More than 350,000 people have died during its decade of war, according to the United Nations. The Syrian Observatory for Human Rights estimates the number of fatalities at around 600,000.
International humanitarian organization World Vision estimates that 6.8 million refugees and asylum-seekers have fled Syria, while 6.7 million have been displaced internally. In its 2021 report, it said the economic cost of Syria's conflict had reached $1.2 trillion.
Economic potential
Anis Khayati, an economics professor at the University of Bahrain, said the restoration of large areas by Assad's forces had helped reinforce China's vision of investing in Syria's long-term economic potential, which benefits its vision for the BRI.
"Beijing's arrival at the Syrian ports is an attractive opportunity for China to connect with Eurasia," said Khayati, adding it will help facilitate support between the two countries on international platforms.
Almasri believes China can offer "outstanding economic help", starting with immediate humanitarian aid, such as food packages, and creating job opportunities. China can also play a constructive role in helping Syria through its political reform and transition period.
Syria received more than 4,000 metric tons of rice from China on Sunday. The Syrian Health Ministry received 1 million doses of COVID-19 vaccines from China on Jan 3.
Almasri said the fact that China "is the only country in the world able and willing to help Syria in the reconstruction process" is the most important reason for fostering relations.
The academic said China could also support university students through research programs and cultural activities to advance both countries' interests.
Sukkar said that Syria's political and economic relations with China have always been "deep and friendly", saying "Syria learned a lot from China" when China started its liberalization process.
Xinhua contributed to this story.