Researchers piece together evidence of 'big-headed man'
By ZHANG YANGFEI | China Daily | Updated: 2022-01-19 10:01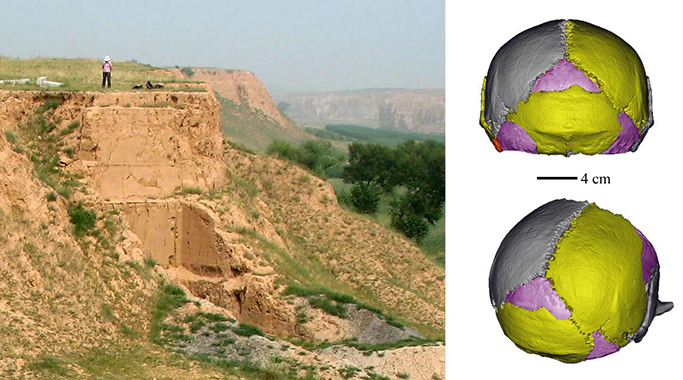 An international team led by Chinese paleoanthropologists recently discovered a species of early hominin with the largest cranial capacity in the late Middle Pleistocene, dating back 160,000 to 200,000 years ago.
Their study was based on skull fossils excavated in the 1970s at the Xujiayao site on the border of Shanxi and Hebei provinces.
Researchers reconstructed a complete skull of Xujiayao Man for the first time and estimated that the cranial capacity of the ancient relative of modern humans reached 1,700 cubic centimeters.
"This is the largest 'big-headed man' ever discovered in the Middle Pleistocene," said Wu Xiujie, a researcher at the Institute of Vertebrate Paleontology and Paleoanthropology, a subsidiary of the Chinese Academy of Sciences.
The study was published in the latest volume of Journal of Human Evolution.
Wu, the paper's first author, said the Xujiayao hominin's brain is slightly smaller than that of its relative, Xuchang Man. The latter's cranial capacity was estimated at around 1,800 cc but it lived 60,000 years later.
The average brain capacity of modern humans is about 1,400 cc and the normal range is from 1,100 cc to 1,700 cc, he said, adding that the average brain size of other ancient humans of the same period as Xujiayao Man was about 1,200 cc.
Previous studies suggested that the Xujiayao hominin's evolution falls in the range of early Homo sapiens and Neanderthals and its dental growth and development patterns showed similarities to modern humans. Modern-day hominins are humans, chimpanzees and bonobos.
Brain size is one important indicator of the evolutionary status of archaic humans, but there is no simple positive correlation between brain size and intelligence, Wu said.
Wu said it is commonly believed that the brain size increases with geological age. For example, the cranial capacity of Australopithecus species that lived from 4.2 million to 1.9 million years ago was 404 cc to 530 cc, while that of Homo erectus, another relative of modern humans that lived from 2 million to around 117,000 years ago was 600 cc to 1,251 cc.
But the discovery of new fossils in recent years has raised questions about such common beliefs, with scientists coming up with various hypotheses, such as food diversity and environmental changes, for the diversity without having reached a convincing conclusion, he added.
"Human evolution is not a simple succession process," Wu said. "Different groups in different regions have different evolutionary paths."
The recent finding suggests that around 300,000 to 100,000 years ago, a group of "big-headed people "with special physical features may have existed, and further research on this hominin is required, he said.