NYC subway crime alarms riders
By MINLU ZHANG in New York | chinadaily.com.cn | Updated: 2022-01-19 12:08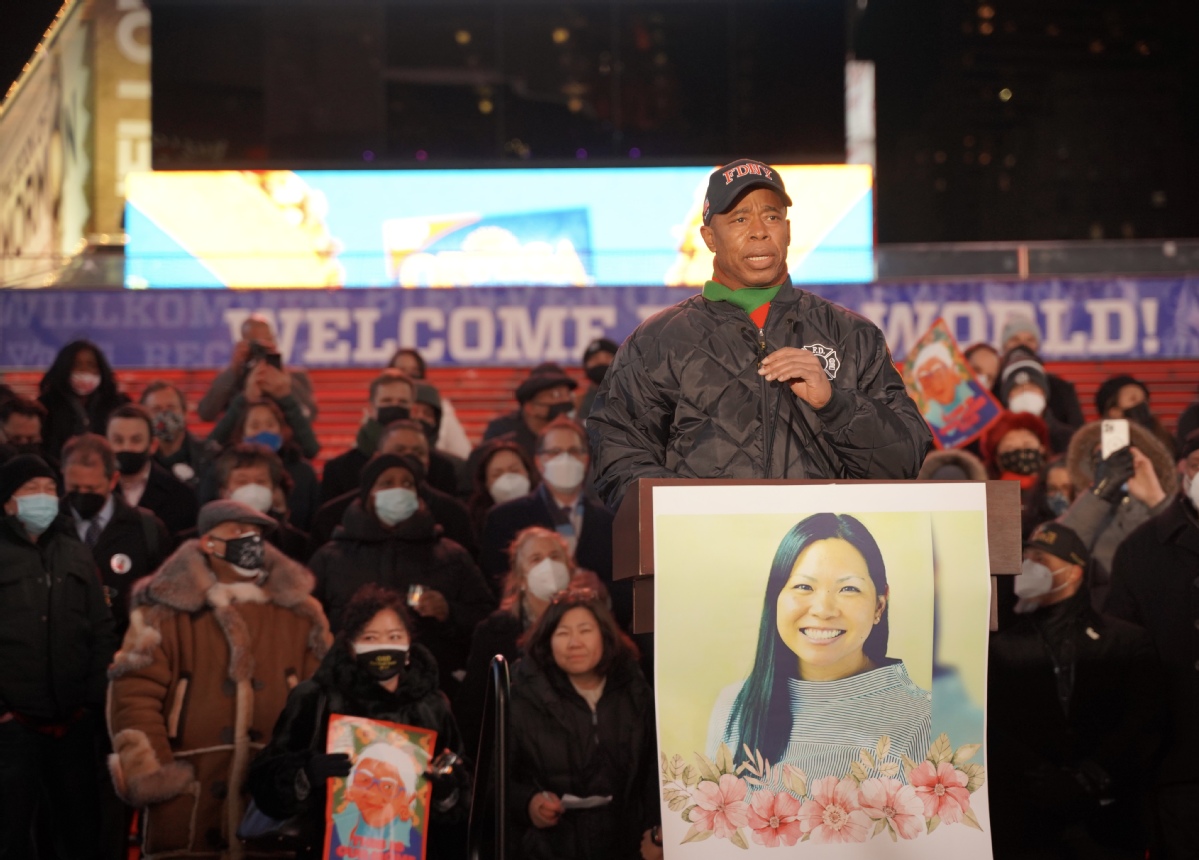 New York City's subway system, the largest in the US, saw ridership decline because of the pandemic. Now the city officials are in fear after a 40-year-old Asian woman was shoved to her death onto NYC subway tracks by a homeless man.

Michelle Alyssa Go, senior manager at the consulting firm Deloitte, was shoved in front of a subway train at the Times Square station on Saturday. Simon Martial, 61, a man with a history of mental health problems and a prison record, turned himself into police and confessed to the crime within the hour when it happened.

"We're going to drive down crime, and we're going to make sure New Yorkers feel safe in our subway system. And they don't feel that way now. I don't feel that way when I take the train every day, or when I'm moving throughout our transportation system," Mayor Eric Adams told reporters Tuesday. Adams is a former New York Police Department captain and transit officer.

Adams' conceding that he doesn't feel safe on the subway system comes just days after he said that the subways are safe and that there is only a "perception" that they aren't safe after the shoving of the woman at the Times Square station.

The shoving was the second one on the same Times Square platform in a little more than two months. On Nov 12, a robber pushed an Asian woman onto the tracks. She was rescued.

In an earlier subway death this year, a man was hit by a train on New Year's Day when he jumped down to the tracks to help a man who had fallen after he had been attacked by a group of teenagers. Two teenagers were charged with murder.

In September, three transit employees were assaulted in separate incidents within one day. Several riders were slashed and assaulted by a group of attackers on a train in lower Manhattan in May, and four separate stabbings — two of them fatal — happened within a few hours on a single subway line in February.

The city's subway system is contending with riders' fears about crime and public safety. Through Dec 12, 2021, straphangers had been pushed onto the tracks 27 times, up from 25 during the same period in 2020, according to the New York Police Department.

One day after Go was shoved onto the tracks, the platform was back open and passengers, who were waiting for trains there, said while they were aware of what happened they had to continue riding the trains.

"I try to be aware of my surroundings," Jonathan Jones told Pix 11. He was trying to ensure his attention wasn't diverted, "like be on my phone all the time, or take a nap on the train."

The overall ridership is less than half of what it was before the pandemic began, with 3.1 million riders on an average day, according to the Metropolitan Transportation Authority. Transit crimes are up 82 percent between the first week of January 2022 and the same period last year.

"Our recovery is dependent on the public safety in this city and this subway system," Adams said at a news conference on Saturday. "We can do that with the right balance: a balance of safety and a balance of proactively giving people the assistance they need when they're in a mental health crisis."

But some NYC subway riders noticed there has been a heavy police presence in Times Square, and there were six officers assigned to the station on the day Go was killed, authorities said. It underscores the view of some that a larger or more visible police presence is likely not the answer to solve subway safety.

"This notion that just adding more police is going to solve something, that notion is proven not to work when it's a place like Times Square," Jumaane Williams, New York City's public advocate and a Democratic candidate for governor told the New York Times. He acknowledged that the current leaders' plan was still in its early stages. "That doesn't mean that law enforcement doesn't have a part to play."

"It's a horrible tragedy, but that shouldn't be a pretext for intensifying policing, which is where this will likely go," Craig Hughes, a supervising social worker at the Urban Justice Center told the Times. "The presence of more police doesn't necessarily mean more safety, and for many homeless people, it means less safety."

Saturday's attack against Go, who was of Asian descent, also raised concerns amid the rising hate crime against Asians during the pandemic in New York and around the country.

Police said the killing of Go, including whether it was a hate crime, was under investigation. But the police said minutes before Go was pushed, Martial approached another woman, who was not Asian, and put her in fear that he would push her to the tracks.