Tough year only the start for US leader
By HENG WEILI in New York | China Daily Global | Updated: 2022-01-20 09:58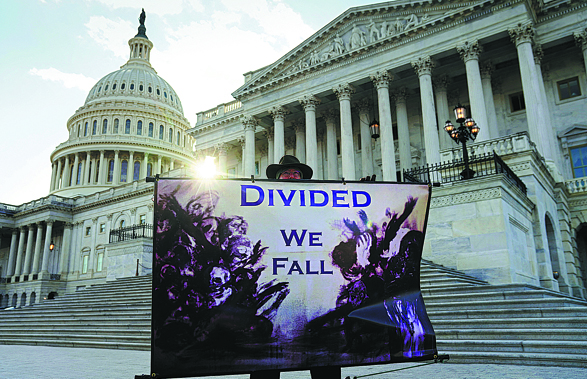 Resurgent virus and legislative woes point to more troubles ahead for Biden
Joe Biden is about to complete a politically perilous first year in the White House of the kind unseen for presidents in recent times in the United States.
The 79-year-old Democrat's approval ratings are plumbing the 30 percent range. COVID-19 infections and deaths have recently shot up and were higher in 2021-a year when vaccines were widely available-than they were in 2020. He had pledged during his election campaign to end the pandemic.
Perhaps the most trying time in his first year was the disastrous withdrawal of US forces from Afghanistan in the summer, with the publicly supported goal of having the troops out by the 20th anniversary of the Sept 11 terrorist attacks.
But that accomplishment was undermined by tragic images of desperate people falling to their deaths after trying to latch on to the wings of departing military transport planes. The pullout had a sickening conclusion when 13 US soldiers, along with 169 Afghans, were killed by a suicide bomber at the Kabul airport on Aug 26.
Inflation, which ran at 7 percent in December, is at a 40-year high. The Federal Reserve is expected to start raising interest rates in March to cope with what it had earlier called a "transitory "increase in prices.
Supply chains nationwide have been disrupted as wholesale and retail businesses deal with coastal port backlogs, transportation staffing shortages and a city-state patchwork of COVID-19 policies.
A roaring resurgence in consumer demand amid the initial easing of the pandemic had been blamed for most of the supply chain disruptions, although the Omicron coronavirus variant could subdue commerce again. While unemployment is low at 3.9 percent, the White House is dealing with tepid job creation and more people quitting their jobs, as the pandemic led a lot of people to reassess their lot in life.
The price of gasoline in the US traded at an average of $3.31 a gallon on Tuesday, up 92 cents from a year ago, according to price-tracking site Gasbuddy.
A record 1.7 million migrants were encountered trying to enter the US illegally in the 12 months to Sept 30, capping a fiscal year of chaos at the southern border, The New York Times reported. For all of 2021, the number of illegal crossings was estimated to have exceeded 2 million.
In the legal realm, Biden's vaccine policies got a split decision on Jan 13 as the Supreme Court rejected the administration's plan to have the Occupational Safety Health Administration require on-site employees of private companies with 100 or more workers to be fully vaccinated against COVID-19.
The court did uphold the White House mandate that healthcare workers at facilities that receive federal funding be vaccinated.
Biden's two main, pending legislative proposals-the $1.75 trillion Build Back Better (trimmed from an original $3.5 trillion) and two voting rights bills-have run aground as two politically moderate Democratic senators, Joe Manchin of West Virginia and Kyrsten Sinema of Arizona, refuse to sign on to the program because of inflation concerns and, in the case of the latter bill, because of their opposition to repeal the ancient Senate tradition of the filibuster.
On most legislation, 60 senators are required to end a filibuster. A filibuster is continuous debate on a bill to prevent it from coming up for a vote. The Senate is split 50-50.
"A 50-50 Senate, as has been demonstrated over and over, is a shaky foundation upon which to base a transformative presidency. Was it a mistake by Biden to assume otherwise?" Dan Balz of The Washington Post wrote on Jan 16.
Deep political divisions
Political division is as deep if not deeper than when Donald Trump was president. Biden, who ran as a "unity" candidate, recently referenced 1960s-era Southern segregationists when talking about opponents of the voting bills.
The Democrats say the legislation is needed because states have taken measures to restrict voting after the 2020 election and because of Trump's rejection of the results.
Republicans say they want to ensure voter identification and are concerned about potential fraud from expanded mail-in balloting, a process that was widely increased in the 2020 election amid pandemic restrictions.
The Senate opened debate on Tuesday on the voting bills, which would give the federal government unprecedented control over state elections.
Biden held a rare news conference on Wednesday to kick off his second year in office, his 10th in the first year, and his taking of questions from reporters was even more infrequent. His speech delivery has been inconsistent, as he often comes across as shouting, but at other times, he whispers into the microphone.
Matthew Delmont, a civil rights historian, told The Associated Press: "What I worry is that the Washington he (Biden) understands isn't the Washington we have anymore."
Of Biden's first year, his chief of staff, Ron Klain, told The Associated Press: "I think it's a lot of achievements, a lot of accomplishment, in the face of some very serious obstacles. The Biden presidency remains a work in progress."
Moreover, the White House also has had to contend with reported disagreements between Biden and Vice-President Kamala Harris over her role. Both have publicly defended their working relationship. Harris also has dealt with a flurry of staff defections.
This year could bring more upheaval for the White House. If the Republicans capture the House of Representatives (28 House Democrats have decided not to seek reelection) in November, the president could face a possible impeachment by a party smarting from two impeachments of Trump.