Xi's speech at Davos lifts global hope
By Md Enamul Hassan | chinadaily.com.cn | Updated: 2022-01-20 19:15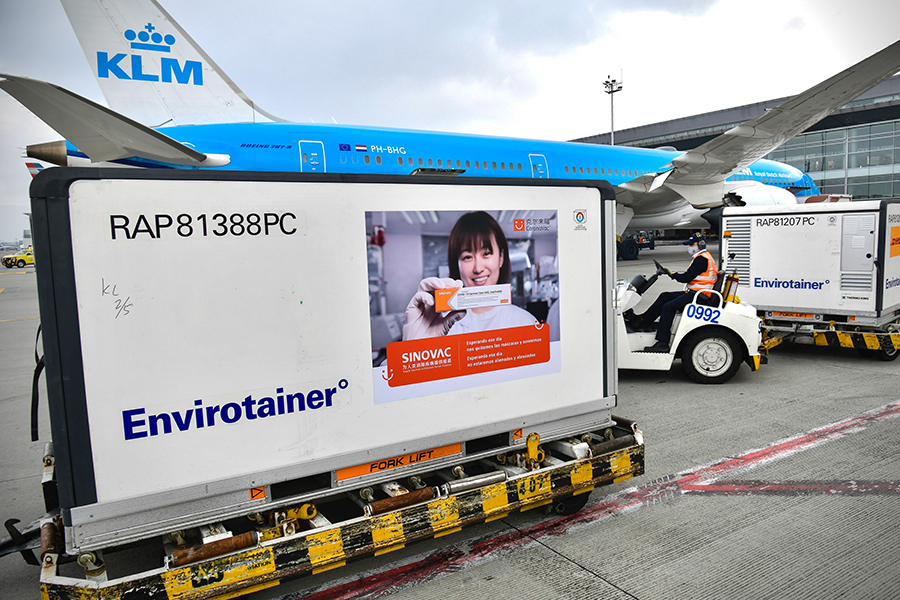 With the growing contagion of Omicron variants, COVID-19 continues to take tremendous toll on humanity. Unfortunately, the world has yet to find any tangible relief from the devastating pandemic. Every sphere of human life, especially the health and economy, has been upset during the dark days of the pandemic.
It was widely expected that vaccines would make things normal and the world would return to the time before the pandemic, but people who are now being advised to keep following coronavirus restrictions as the pandemic goes on. The world is, therefore, getting more pessimistic and panting for relief from the onslaughts of coronavirus.
However, China has stood out among the rest of the world. It has defeated the virus and recovered its economy. Thus the country has been the only major economy posting positive economic growth of 8.1 percent last year.
China has proved its mettle in handling the pandemic and economic crisis by keeping local transmission almost under control and recording vast growth in its foreign trade, in terms of both exports and imports during the whole year of 2021.
As a result, the world, especially the developing nations, has taken China as a role model in staging a turnaround from the devastating crisis of the pandemic. More countries are turning to China for forging cooperation on fighting the virus and recovering their economies.
In such a situation, President Xi Jinping has recently delivered online a special speech titled 'Forge Ahead with Confidence and Fortitude to Jointly Create a Better Post-COVID World' at the 2022 World Economic Forum Virtual Session. In the speech, President Xi reiterated his resolve to build a shared future for humanity based on the principle of win-win cooperation.

In doing so, the Chinese president came up with four specific proposals-- embracing cooperation and jointly defeat the pandemic, resolving various risks and promote steady recovery of the world economy, bridging the development divide and revitalize global development, and discarding Cold War mentality and seek peaceful coexistence and win-win outcomes.
Most importantly, Xi reaffirmed that China will stay committed to pursuing high-quality development, reform and opening-up, and promoting ecological conservation. He went on saying that for China, reform and opening-up is always a work in process. Whatever change in the international landscape, China will always hold high the banner of reform and opening-up and will continue to let the market play a decisive role in resource allocation.
He added that China will build a unified, open, competitive and orderly market system, where all businesses enjoy equal status before the law and have equal opportunities in the marketplace. All types of capital are welcome to operate in China in compliance with laws and regulations.
He also noted that China will continue to expand high-standard opening-up, steadily advance institutional opening-up that covers rules, management and standards, deliver national treatment for foreign businesses, and promote high-quality Belt and Road cooperation, with a view to further integrating into the regional and global economy and achieving mutual benefit and win-win results. 
The speech has widely been hailed by global leaders and experts as a pragmatic and timely guideline. In my eyes, the speech has served as a beacon in the gloomy days of the pandemic. It has not only spoken for the oppressed but also raised hope for pandemic-stricken people, especially for the people of developing nations around the world.
As a strategic partner, largest trading partner, and one of the major development partners of China, Bangladesh should be upbeat about benefiting from China in line with the speech. Many statements of the speech contain a number of pieces of good news for Bangladesh as well. Dhaka can be hopeful about reducing the trade gap between the two friendly nations as the Chinese president expressed his firm commitment to expand China's market for the world. As Bangladesh is expecting duty-free access of its 98 percent export items to the market, Dhaka can see a fresh boom of its exports there in accordance with the commitments of Xi.
As Xi reiterated his commitment to play much wider roles in global development and expansion of the Belt and Road Initiative, Bangladesh can reap more dividends by incurring huge amounts of new investments in its promising infrastructure sectors under the BRI cooperation in the future. The BRI cooperation has also opened the door to Bangladesh to learn lessons from China about reducing poverty.
The Chinese president reaffirmed his commitment to promoting harmony between humanity and nature. To face the challenge and eventually reduce the impact of climate change, China has initiated a unique approach named "ecological civilization." As Bangladesh is the worst possible victim of climate change, it can forge greater cooperation with China over the issue under the BRI. Ecological civilization is more relevant to Bangladesh as the approach can strike a balance between rapid development and environment protection, which is a must for sustainable development.
Bangladesh can benefit from sending its students to China to turn them into skilled human resources. As China will further open its all sectors, including the education one in the future, Bangladesh should grab the opportunity under the BRI cooperation. As far as I know, around 2,800 undergraduates, graduates, and postgraduate students are awarded Chinese government scholarships every year. Bangladesh can get into China to increase the number of scholarships and student intakes as well.
Finally, as a strategic partner, Bangladesh has prospects on all fronts to explore and forge ahead all-out cooperation with China. As the Chinese president stated that China must stick to the existing policies of deepening its opening-up and reforms, Bangladesh can hugely benefit from China. I, therefore, believe that Xi's online speech at Davos Forum holds hopes for Bangladesh too. Now Bangladesh should come forward to make the hopes a reality.

Md Enamul Hassan is a news editor at China Media Group (CMG) in Beijing, China.
The opinions expressed here are those of the writer and do not necessarily represent the views of China Daily and China Daily website.
If you have a specific expertise, or would like to share your thought about our stories, then send us your writings at opinion@chinadaily.com.cn, and comment@chinadaily.com.cn.