Virus 'may be around forever' says minister
By JULIAN SHEA in London | China Daily Global | Updated: 2022-01-21 09:59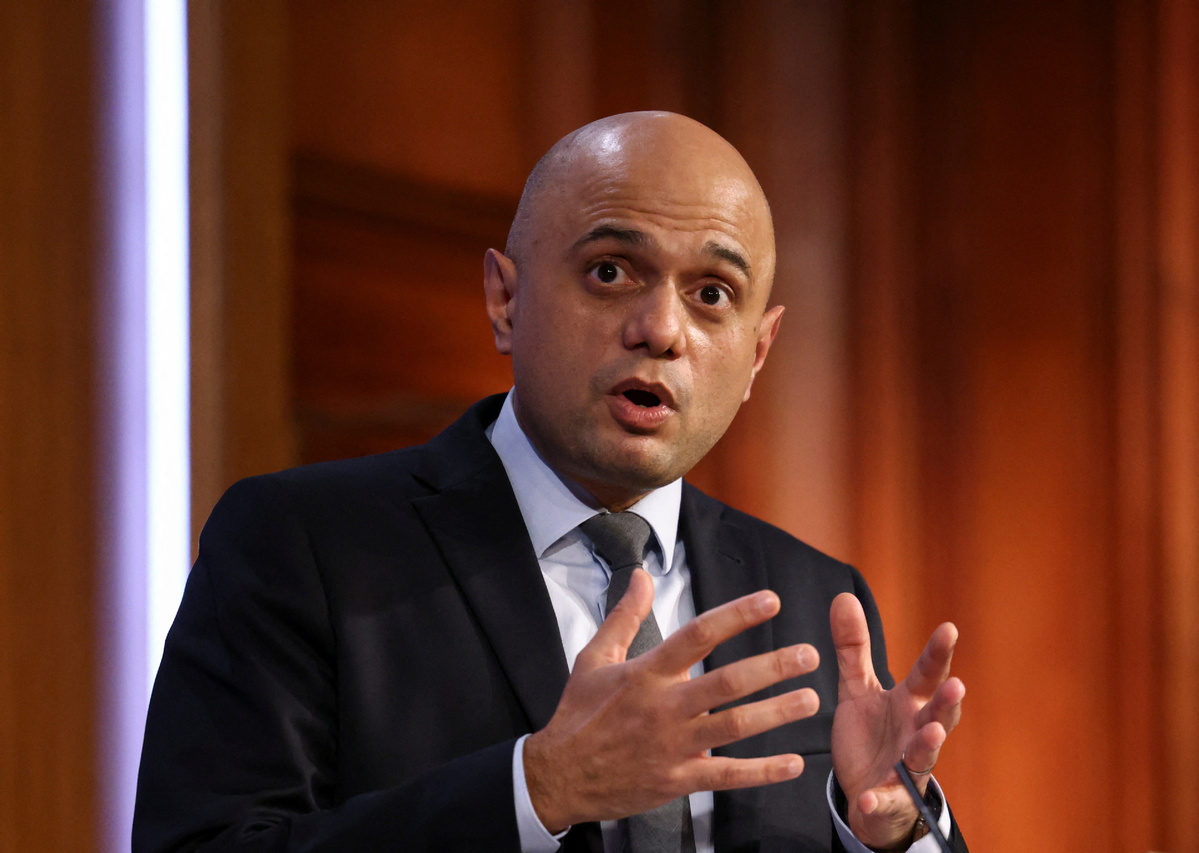 Doctors' group warns decision to lift all restrictions 'will increase transmission'
Less than 24 hours after health restrictions were lifted in England, British Health Secretary Sajid Javid has said COVID-19 could remain a matter of daily life "perhaps forever, and we have to learn to live with it".
Speaking on Sky News, Javid also said vaccination against the novel coronavirus could become an annual event, and repeated that in future, the virus may have to be handled in a similar way to how flu is dealt with.
"It was an example of how we need to learn to live with COVID," he said, when asked about the flu management comparison.
"Sadly, people die of flu as well. In a bad flu year you can sadly lose about 20,000 lives-but we don't shut down our entire country and put in place lots of restrictions to deal with it.
"We need to continue with our lives with sensible, appropriate and proportionate measures."
On Wednesday, Prime Minister Boris Johnson, whose handling of and personal conduct during the pandemic have seen him come in for heavy criticism, announced that guidance to work from home wherever possible, the mandatory wearing of face masks and COVID passports for entry to large gatherings would be dropped.
Matthew Fell, chief policy director at the Confederation of British Industry, welcomed the announcement.
"It's great news that Plan B is coming to an end and businesses will be hopeful that we are finally starting to turn the corner on COVID-19," he said.
"There's a vital need now for greater consistency in how we live with the virus in the longer term. Swinging back and forth between restrictions and normality has been damaging."
On the same day the lifting of restrictions was announced, across the whole of the United Kingdom, 108,069 cases were recorded, and 359 deaths within 28 days of a positive test were recorded.
The British Medical Association, the professional body representing doctors, said the decision to lift all restrictions "will inevitably increase transmission" and "place the public at greater risk", causing a "rebound" of Omicron variant infections when "the (National Health Service) is still under crippling pressure".
The chair of the organization, Chaand Nagpaul, was unequivocal in his criticism about the reasoning behind the move.
"This decision clearly is not guided by the data," he said. "When Plan B was introduced in December, there were 7,373 patients in hospital in the UK-the latest data this week shows there are 18,9791. Case rates too are nearly twice as many."
Johnson has also indicated that the legal requirement for self-isolation, which expires on March 24, is unlikely to be renewed and the date could in fact be brought forward.
Speaking on the BBC Radio 4 Today program, Javid said a "decision point" about this would be coming "quite soon", and when pushed further on the issue, added "the direction we're travelling at the moment, I'm optimistic".
Javid also told the BBC that despite the lifting of restrictions, he would most likely choose to continue to wear a face mask.
"Because prevalence is still high and there will be people there, especially if I am going to my local shop which is small and enclosed and can have quite a few people in there at one time in quite a small space, I don't know most of those people, I think that would be sensible," he explained.