Johnson opponents 'face intimidation'
By JONATHAN POWELL in London | China Daily Global | Updated: 2022-01-21 10:08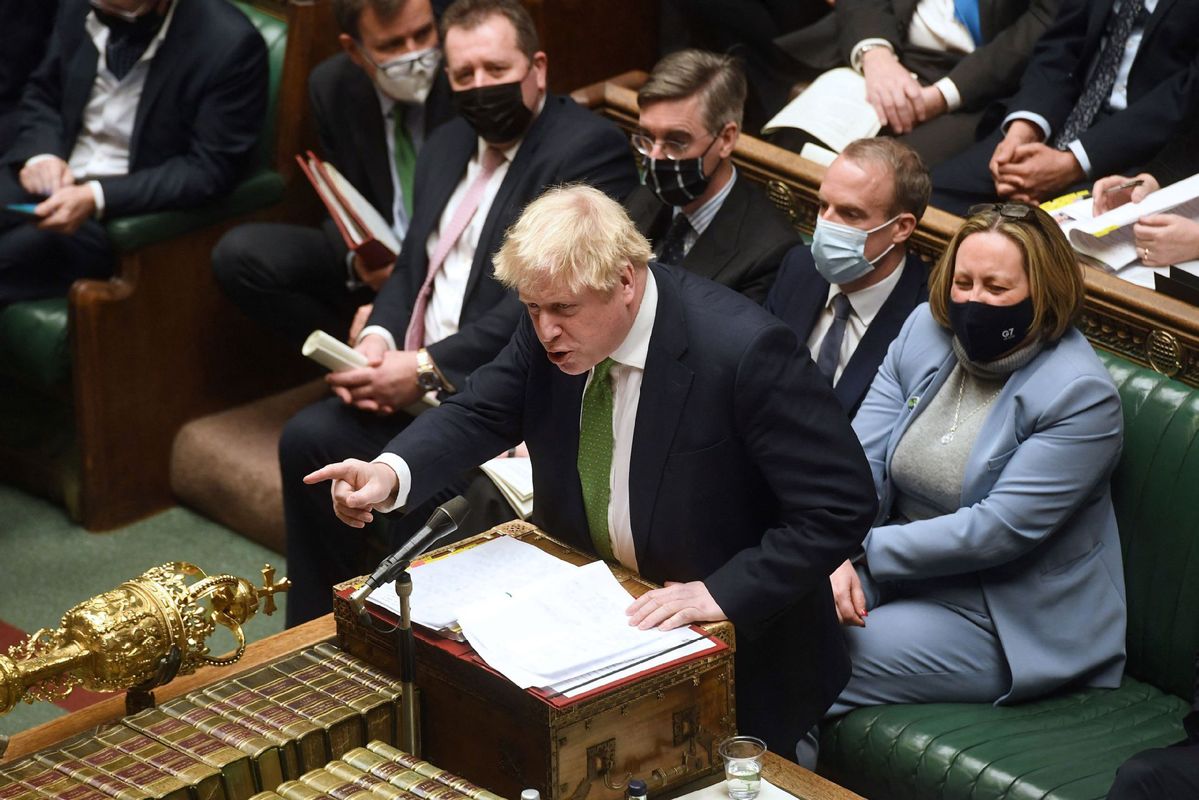 Conservative members of Britain's Parliament who are unhappy with the direction of their party under the leadership of Prime Minister Boris Johnson are reportedly facing intimidation and alleged blackmail threats.
Pressure was piled on the prime minister amid "Partygate" allegations of lockdown breaches on Wednesday when Conservative MP Christian Wakeford defected to the opposition Labour Party.
Moments before weekly Prime Minister's Questions began in Parliament, Wakeford, who won a traditional Labour stronghold seat in the 2019 general election, crossed the floor to sit with Keir Starmer's party.
A Labour Party source was on Thursday quoted by The Daily Telegraph as saying that five more Conservative MPs could follow Wakeford in switching to the opposition.
"I have been speaking to other friends across the floor who are incredibly disillusioned and are feeling more and more like their future would be under a Keir Starmer government than a Boris Johnson one," the MP said.
Wakeford had been one of a reported 20 Tory MPs who had submitted a letter of no confidence in Johnson this week. One Conservative MP told Sky News Wakeford had decided to switch after "they threatened his seat" with having its boundary changed. "This is what bully tactics look like," the MP said.
In his letter of resignation, Wakeford told Johnson: "Both you and the Conservative Party as a whole have shown themselves incapable of offering the leadership and Government this country deserves."
William Wragg, chair of Parliament's public administration and constitutional affairs committee, on Thursday accused the government of blackmailing backbenchers who have considered calling for a vote of confidence in Johnson.
Speaking to the committee, Wragg said a number of MPs "have faced intimidation" after expressing an intention to bring a vote of confidence in the prime minister.
Wragg accused government whips of "encouraging the publication of stories in the press seeking to embarrass those that they suspect of lacking confidence in their prime minister".
He added that "intimidation in Parliament is a serious matter" and the reports "would seem to constitute blackmail".
Responding in a Twitter post, Labour's Angela Rayner said: "These are shocking accusations of bullying, blackmail bad behavior from people in positions of power. We need this to be investigated thoroughly".
Johnson's political allies say the threat to his leadership has eased. Some say Wakeford's defection has persuaded other Conservative MPs not to act against the prime minister this week, reported the BBC.
"The prime minister is probably thanking Christian for what he did because it's made a lot of people think again, think twice," said MP Andrew Percy.
It is understood the disgruntled MPs will wait to consider forcing any vote to oust Johnson until after the civil servant Sue Gray publishes her report on allegations of lockdown parties at Downing Street, which is due next week.
In media interviews on Thursday, Health Secretary Sajid Javid admitted that disclosures of parties at Downing Street when the country was under lockdown rules have been "damaging" to Britain's democracy.
Javid told the BBC's Today program that anyone who broke the rules "should be disciplined". He said: "Of course things like this damage our democracy. From what we already know from the people who have come forward and apologized for the parties that took place, for example the one on the eve of Prince Philip's funeral, that was completely wrong. It was wrong in every single way. That is already damaging, of course it is."