Village cashes in on wooden rice cookers
By YANG JUN and WANG JIN in Bijie, Guizhou | CHINA DAILY | Updated: 2022-01-21 10:09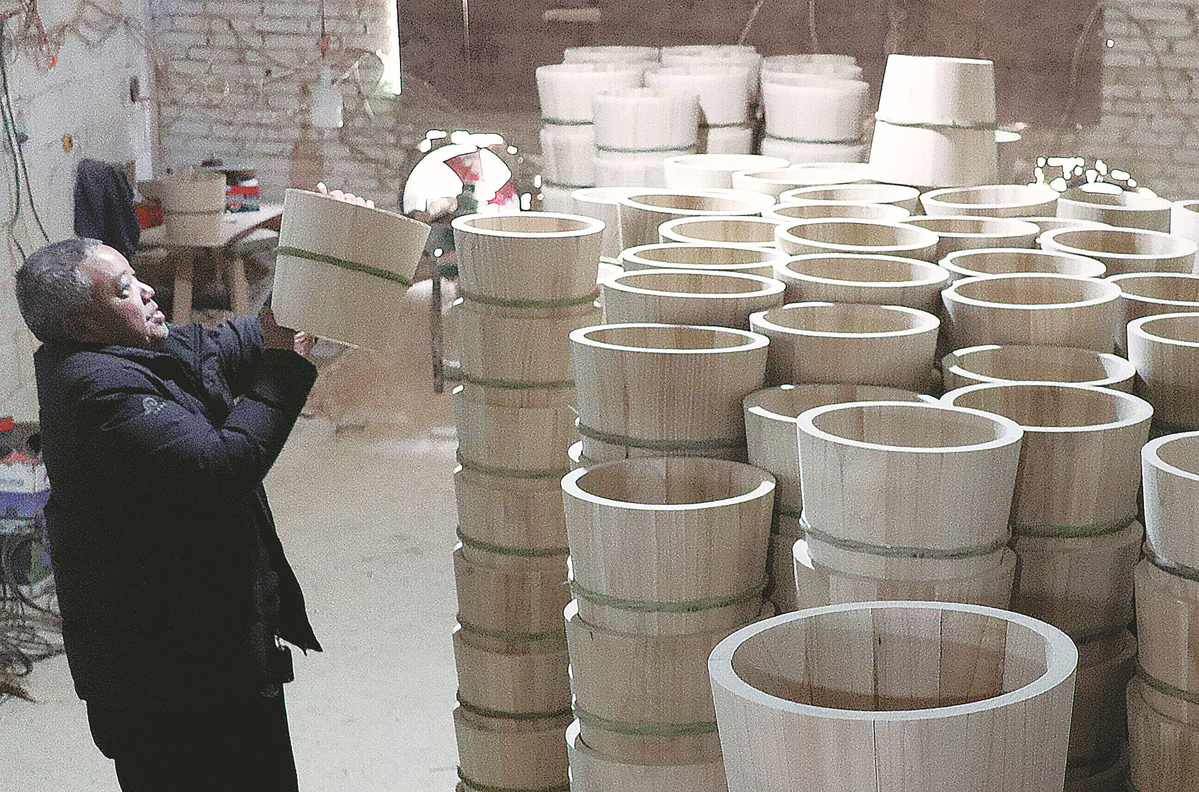 Before the introduction of electric rice cookers, every family in Liangfeng village, Bijie, Guizhou province, cooked rice in small wooden buckets that imparted a fresh and sweet aftertaste.
By producing such buckets, Long Shengguo, a master of the traditional craft, guided the village to prosperity.
"Our factory has had a good start this year, winning a bulk order of about 3,000," said Long, the Party secretary of the village, which is in Bijie's Jinhaihu New Area. He's also in charge of the Liangfeng Muzeng Processing Factory.
Muzengzi, wooden buckets for steaming rice, were widely used in southern China in times gone by. They evolved from an ancient pottery container for cooking food.
When electric cookers replaced wooden ones, most carpenters capable of making the buckets found other work, but the traditional craft has been maintained in Liangfeng for hundreds of years.
Long became a carpenter in 1992 after he was injured in a traffic accident. Unable to go out for work, he learned how to make muzengzi. Like most local carpenters, he supported his family by peddling handmade wooden kitchenware on the streets until 2015, when he opened his own factory.
"It was entirely handwork before we brought in machines," Long said. "We had to climb up mountains and cut down trees to get timber that could only be processed into several products a day."
A previous muzengzi factory set up by the village folded due to poor management, which led Long to propose that he manage the current one, which was built by village cooperatives.
To improve production efficiency, Long spent more than 200,000 yuan ($31,400) on 12 machines to improve the quality of its products and reduce the need for labor.
In the plant, amid the scent of freshly cut cedar and the roar of machines, villagers were busy processing wood to fulfill New Year orders.
After over 20 procedures, including sawing, cutting, drilling, assembling and grinding, the body of a wooden rice bucket is finished, with the finishing touches being a steamer cover and a bottom made of woven bamboo.
Major procedures are now accomplished by machines, but some work is still better done by hand, creating jobs for villagers. Among the plant's 15 regular workers, nine escaped poverty by becoming involved in carpentry. They can each earn more than 3,000 yuan a month.
Liu Wenxiang, a 30-year-old who has mastered every process, said he could earn up to 400 yuan a day.
Long Kun, Long Shengguo's son, said the factory can produce 100 wooden bucket rice cookers a day.
"The wholesale unit price is 40 yuan, with demand often exceeding supply," he said. "Full-year net profit has reached 500,000 yuan, and if not for the epidemic, we would have promoted the products to the Democratic People's Republic of Korea and Southeast Asia."
Long Shengguo said there are seven muzengzi processing factories in Liangfeng that employ 40 people, including 15 who have climbed out of poverty, making the industry a promising one for the small village.
Elderly residents have also benefited.
"I can make 10 bottoms a day and get a monthly income of more than 2,000 yuan," said 70-year-old Xia Qikun, who has been weaving bamboo since he was a child.
Chen Meiling contributed to this story.