Plane lands safely after engine failure
By ZOU SHUO | China Daily | Updated: 2022-01-22 08:18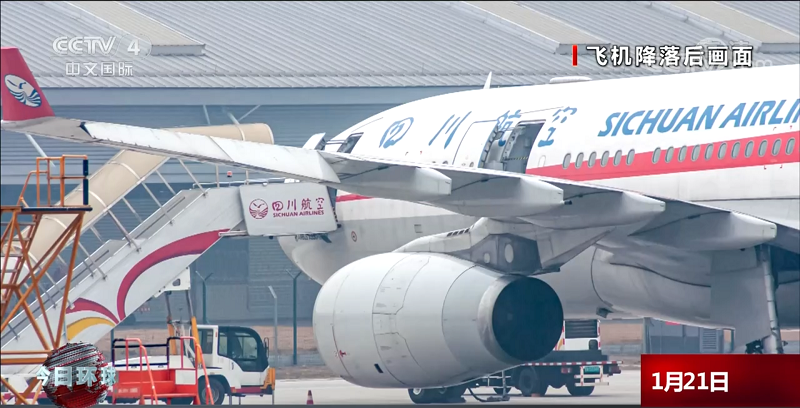 An engine malfunctioned on a passenger flight from Beijing to Chengdu, Sichuan province on Thursday, but the plane landed safely, Sichuan Airlines said late Thursday night.
Sichuan Airlines flight 3U8884 issued an emergency 7700 code after one of its engines stopped working, according to an announcement from the Southwest Regional Administration of Civil Aviation Administration of China.
The crew followed safety protocols and the plane landed safely at Chengdu Shuangliu International Airport at 2:47 pm, the airlines said.
Crew members immediately communicated the proper procedures to passengers, who cooperated with the crew, it said.
Dealing with an engine malfunction is a routine part of crew training, and any professionally trained pilot is capable of handling such a situation, the airlines said.
The 7700 code indicates that a flight has encountered an emergency situation and allows air traffic control to single out the flight to deal with the situation.
In 2018, another Sichuan Airlines flight carrying 128 people made an emergency landing after a cockpit window broke at 9,800 meters, with the co-pilot sucked halfway out of the aircraft.
Two crew members had mild injuries and all passengers were safe.
The pilot of the flight, Liu Chuanjian, was awarded the title of "hero captain of China's civil aviation" and 5 million yuan ($788,000) by Civil Aviation Administration of China and Sichuan provincial government.
Shu Ping, director of the Academy of Civil Aviation Science and Technology's Aviation Safety Institute, said while it is rare for airplanes to have engine malfunctions mid-air, it is not a serious accident.
Engine failure is much less serious and more common than a broken cockpit windshield, he said.
A broken cockpit window only happened twice in civil aviation history, he added.