Envoy hails COSCO, US cooperation as 'win-win' example
By ZHAO HUANXIN | chinadaily.com.cn | Updated: 2022-01-23 00:11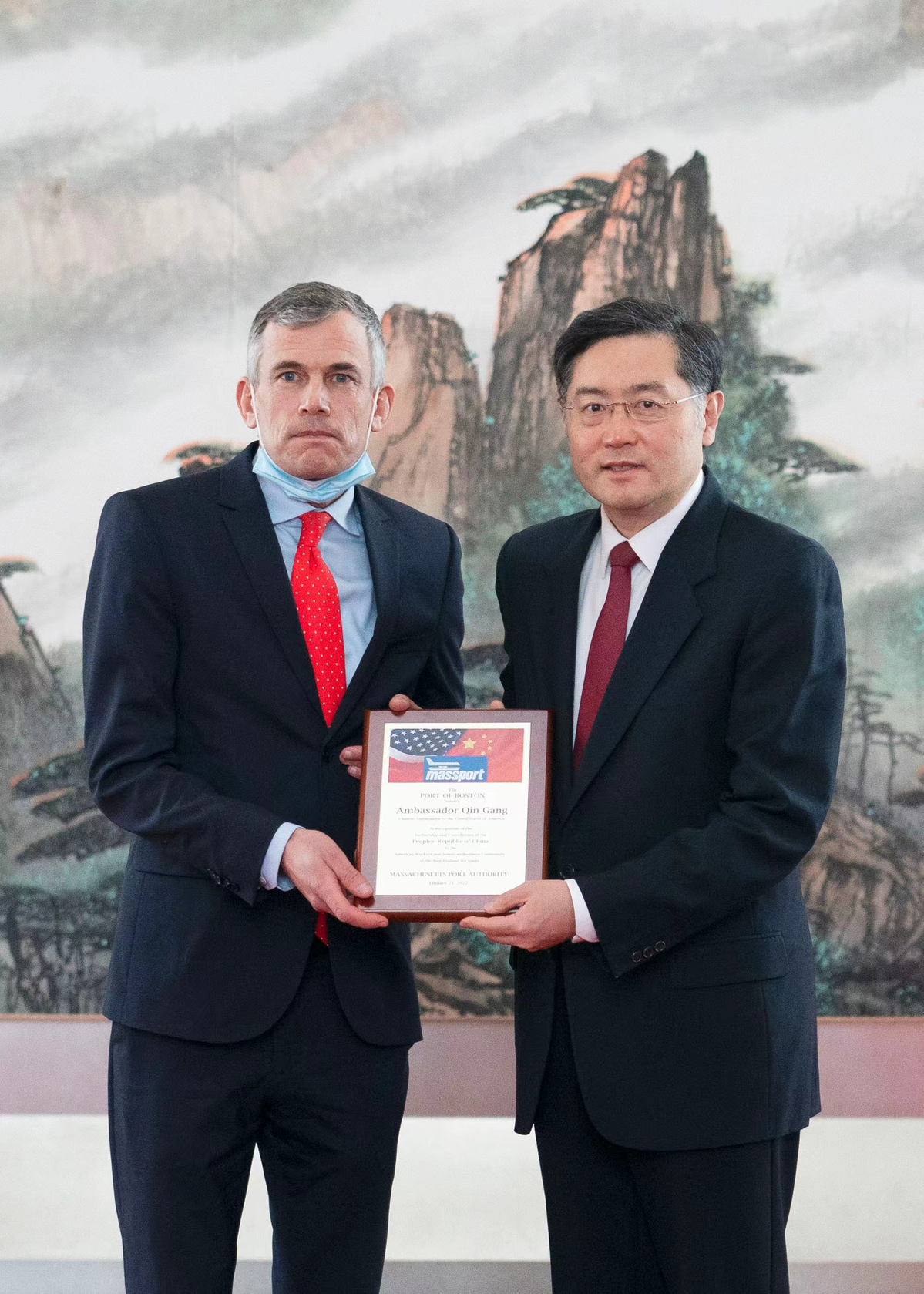 Twenty years since it "anchored" in the Port of Boston, China's shipping giant COSCO has operated vessel services that preserved 9,000 maritime and shipping-related jobs and created thousands more across Massachusetts and the New England Six States region.
So successful was the cooperation that representatives of Massachusetts Port Authority (Massport) and the International Longshoremen's Association (ILA) went to Washington on Friday to present a plaque of recognition to China's Ambassador to the United States, Qin Gang.
Notably, Qin wore a commemorative jacket from ILA and Port of Boston as he delivered a speech at the embassy, hailing COSCO's collaboration with the port "an example of the win-win economic and trade cooperation between China and the US".
The jacket was presented by ILA Vice-President Bernie O'Donnell. He represented more than 9,000 longshoremen at the Port of Boston and their families in sending the gift, and expressed appreciation to Chinese companies for their long-term contributions to Boston.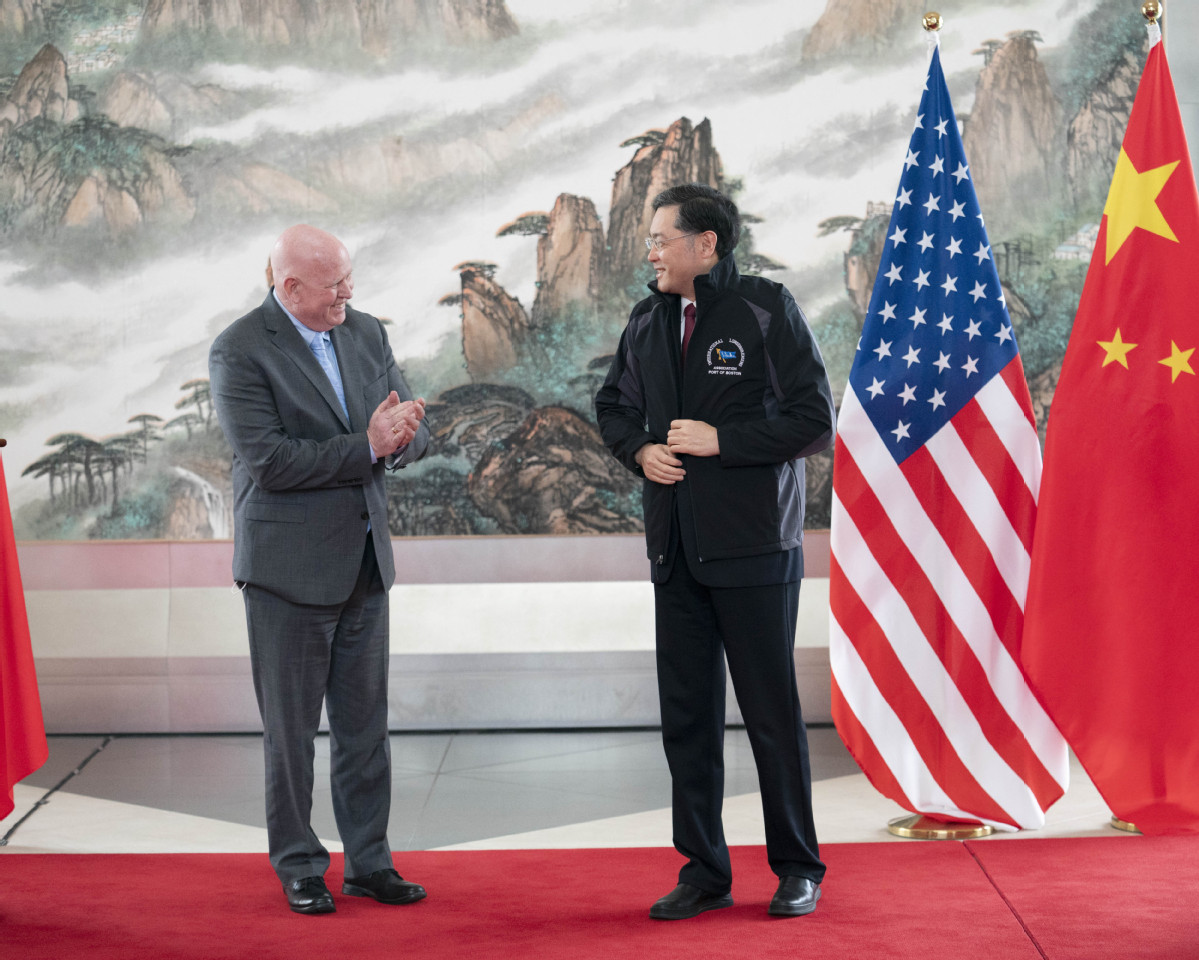 In 2002, when Danish shipping line Maersk, part of AP Moller-Maersk Group, closed its routes to the Boston port, the China Ocean Shipping Company, also known as COSCO, opened direct vessel service from the Chinese mainland to that port.
That operation came at a time when the historic port was on the verge of closure, and many workers faced job losses, Qin recalled in his speech.
Michael Meyran, Massport maritime director, said the 20-year partnership between COSCO Shipping and the Port of Boston has created thousands of jobs across Massachusetts and the New England Six States region.
"This 20-year partnership has been the perfect model of how to do business between the United States and China," Meyran said. "We look forward to continuing this partnership of business cooperation for the long future."
COSCO Shipping has become the Port of Boston's biggest client, taking up over half of its market share. In addition to saving 9,000 jobs in the region's shipping industry, it also created another 400,000 jobs and energized many trading companies, Qin said.
For COSCO, operation in the US is like a stress test in a high-standard, international environment. While cooperation with the Port of Boston has brought jobs and vitality to the local community, it also helped COSCO improve management, becoming more competitive and productive, according to the ambassador.
Qin noted that in China's 40-plus years of reform and opening-up, the US has got deeply involved in China's development, and also benefited a lot from it.
Citing recent data, Qin said at least 70,000 American companies have invested in the Chinese market, and 97 percent of them made profits in the past year, with 64 percent seeing their revenue increase.
China-US trade volume topped $580 billion in 2020, and reached $750 billion last year.
"Our trade has provided many quality but inexpensive products for American consumers, and supported 2.6 million American jobs," Qin said.
The US is one of the biggest sources of foreign investment for China, and China is the number two holder of US treasury bonds. The two countries "have long been bound together by our shared interests," he said.
This year marks the 50th anniversary of US President Richard Nixon's 1972 visit to China, and a lesson learned from the past half century is that China-US cooperation can deliver "many things good for both countries and the whole world", Qin said.
"It can also bring tangible benefits and opportunities to places like the Port of Boston, to our longshoremen, and to all of us," he said, adding that it would be a political tragedy benefiting no-one if the two countries enter into conflict and confrontation, fight a trade war or a new "Cold War".
"Faced with all these global challenges, fighting the pandemic, restoring growth, stabilizing industrial chain and supply chain, and addressing climate change, China and the US have no better choice than solidarity and cooperation," he said.
"This is also the expectation of the international community."