Hundreds at risk as California wildfire closes highway
China Daily | Updated: 2022-01-25 09:37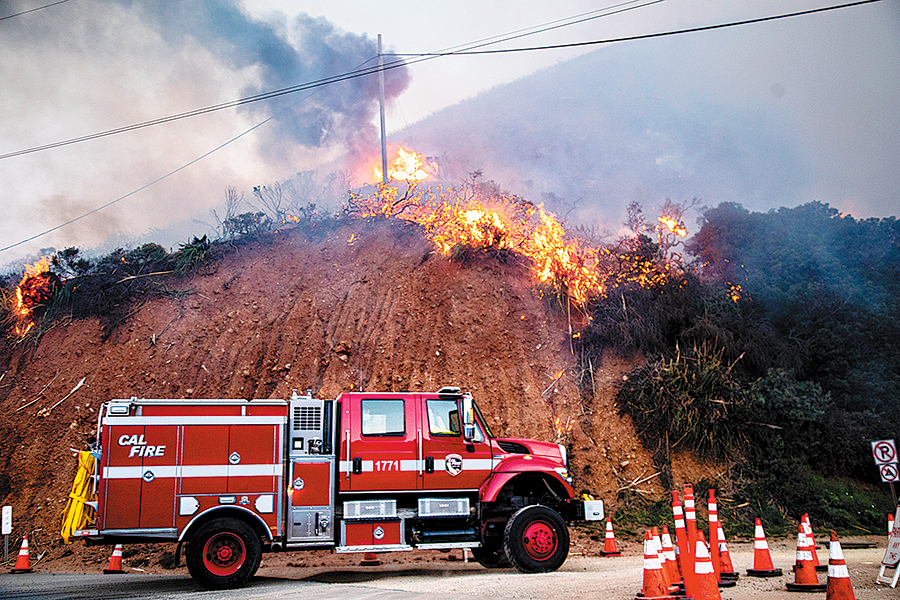 BIG SUR, California-A wildfire that closed northern California's scenic coastal highway and threatened a famous bridge burned into its third night on Sunday, as some 500 people remained under evacuation orders, officials said.
The so-called Colorado Fire, about 24 kilometers south of Monterey and just north of the area known as Big Sur, broke out on Friday night and crossed the Pacific Coast Highway, burning for a time on the ocean side of the road.
The fire approached but did not damage the Bixby Creek Bridge, known for its spectacular concrete arch support that soars 80 meters over the gorge and the Pacific Ocean below.
The fire was 35 percent contained on Sunday night, up from the morning's figure of 25 percent, said the California Department of Forestry and Fire Protection, or Cal Fire, in an update. The blaze was limited to about 283 hectares.
"The fire behavior was moderate and made wind-driven runs late Saturday night and into Sunday morning," Cal Fire said, adding that crew efforts to build and improve containment lines and mop up hotspots would continue.
One structure, an occupied yurt, was destroyed, said Cal Fire spokesperson Cecile Juliette. Most of the 500 people under evacuation orders are believed to have left the area, she said.
Such fires are atypical at this time of the year, as the Colorado Fire has scorched an area that had gone more than 10 years since experiencing a fire of more than 40 hectares in January, Juliette said.
Active season
California has long had an active wildfire season. But in recent years, it has grown longer and more punishing, fueled at least in part by climate change and a two-decade drought.
"We've had several fires across northern California in the last few years that have been different to the fires from 10 or 15 years ago," Juliette said.
"They've been much bigger, much more energy, much hotter, and spread much more quickly. So this is the new California."
Last year, the wildfire season started unusually early amid an ongoing drought and low reservoir levels. In January 2021 alone, the state battled 297 fires on about 470 hectares, said Cal Fire.
California was also grappling with the Santa Ana winds. Several wind advisories, mostly affecting the southern part of the state, remained in effect through Sunday afternoon, according to the National Weather Service.
The National Weather Service said a similar windy event happened in the Bay Area nearly a year ago. A red flag warning of extreme fire danger was issued then due to strong winds and much drier conditions.
This time, the region received a reprieve from December storms that dumped heavy snow in the mountains and partially refilled parched reservoirs.
However, Juliette said the winds quickly dried up vegetation weakened by a prolonged drought and lowered humidity level.
"It's unusual to have fire this size here on the coast at the end of January," she said. "The fact that we had a fire this size is of great concern."
Agencies - Xinhua