Children's theater
By Cheng Yuezhu | China Daily | Updated: 2022-01-26 08:05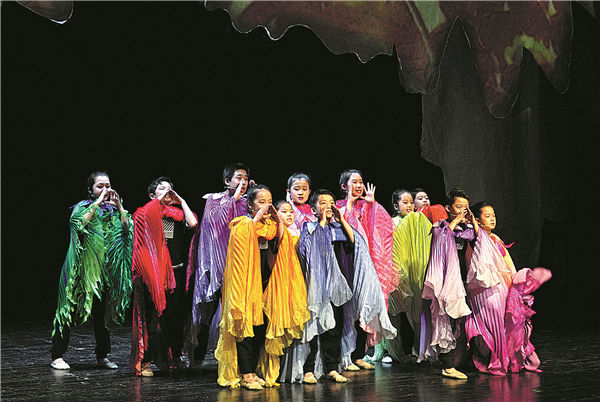 New stage adaptation of Flowers in the Mirror incorporates ideas from its young cast members and presents the story from their perspective, Cheng Yuezhu reports.
Classical literature being adapted into stage productions is not an unconventional practice, but when done from the perspective of children, they might bring a sense of novelty and freshness.
Flowers in the Mirror, a fantasy novel written by Qing Dynasty (1644-1911) novelist Li Ruzhen, was recently adapted into a stage play performed entirely by children and premiered in Beijing on Jan 13.
The stage production added a sense of fairy-tale enchantment to the original text. The protagonist is meant to be a flower fairy, who descends to the mortal world as the fisher girl Tang Xiaoshan. Tang then goes on a series of Gulliverian adventures with her uncle Lin Zhiyang in search of the lost flowers.
The play is coproduced by Qfun Theater, a troupe dedicated to children's theater education in China since 2013, and Hybridites France-Chine, an organization founded in France that promotes France-China artistic exchanges.
In recent years, Qfun Theater has been producing stage works adapted from classical Chinese literature, but seen from the viewpoint of children, with one or two original productions each year.
Members from the Compagnie Philippe Genty, a French troupe specializing in theater puppetry and visual arts, joined in the production as art advisers. They helped realize some of the more surreal aspects of the scenery and plot through puppetry and new media techniques, for example, by designing a giant puppet controlled by several of the children to portray the character of the flower fairy.