Experts throw light on ancient rock carvings, fur ski in Altay
chinadaily.com.cn | Updated: 2022-01-26 09:37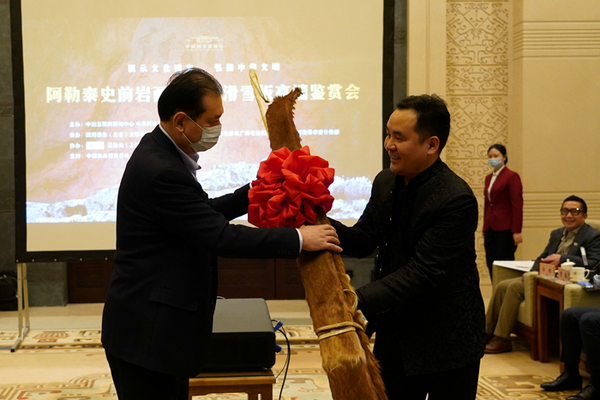 A symposium on the cultural value of the ancient rock carvings and fur ski in Altay prefecture, Northwest China's Xinjiang Uygur autonomous region, was held in the National Museum of China on Jan 20.
The fur ski is made of a pair of planks wrapped with horsehide, which not only provides friction to prevent skiers from slipping while ascending but also helps them slide more smoothly down the slopes.
According to rock carvings uncovered in the area in the 2000s, such ski has been used as a means of transportation for the snowfield inhabitants of Altay for more than 100 centuries.
The event's attendees included experts in culture, history and archaeology as well as officials from Altay.
Min Lingchao, vice-director of China Internet News Center, said that Xinjiang boasts rich natural resources and cultural treasures. As the 2022 Beijing Winter Olympic Games is soon to be kicked off, coming to conduct exchanges on the two cultural treasures that are highly related to ice and snow sports will help push forward the tourism development in Altay and kindle the public's interest in ice and snow sports.
Qiao Xiaoguang, a professor with the Central Academy of Fine Arts, said that the rock carving, fur ski and ballad that tell stories of skiing of ancient dwellers in Altay are together forming an intangible cultural heritage that shows the sport's long history in China.
Meng Jian, director of Fudan University National Center for Cultural Innovation Research, shared his ideas on how to introduce the rock carvings and fur ski in Altay to the whole world.
He encouraged the prefecture to tell lively stories about these cultural treasures and use multiple media channels to lift their reputation.