Chilean cherry farmers count on China's demand to bounce back from pandemic-induced woes
By SERGIO HELD in Cajica, Colombia and ZHANG MENGYING in Hong Kong | chinadaily.com.cn | Updated: 2022-01-26 10:54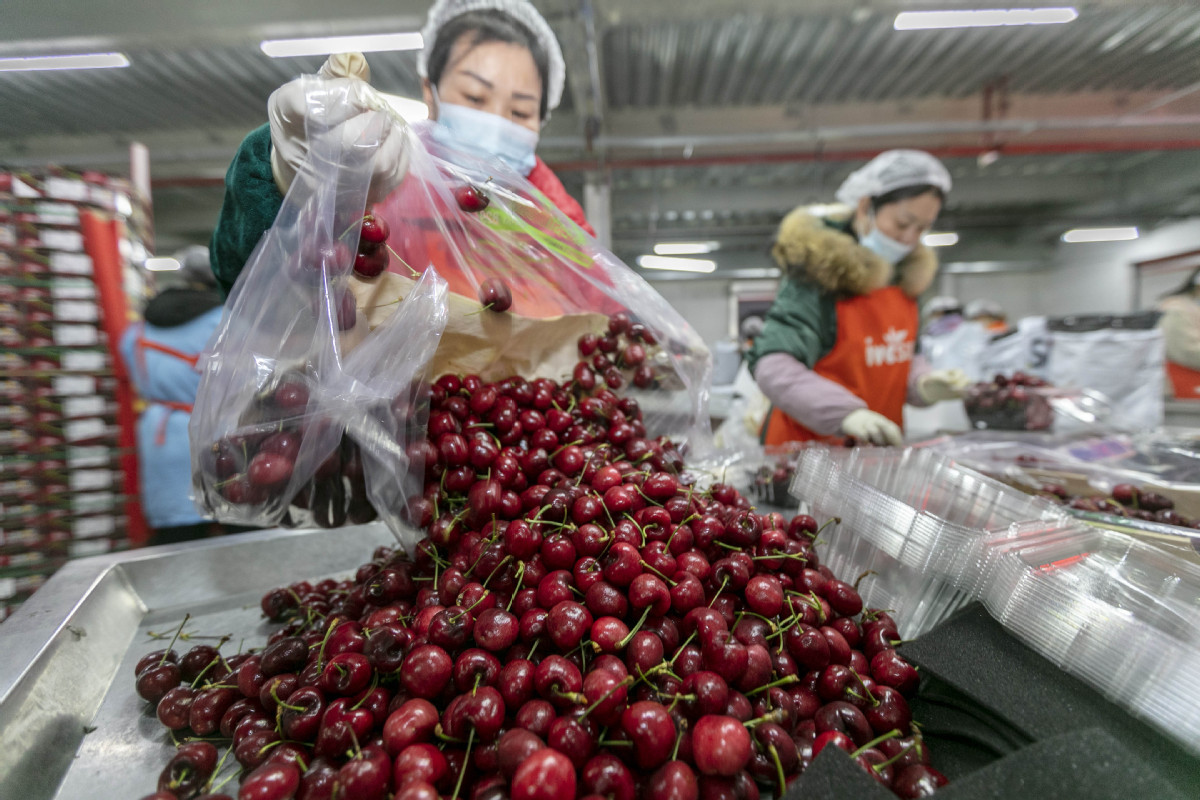 Thousands of tons of Chilean cherries have been arriving at Chinese ports since early November, as farmers in the Latin American country ramp up production of the fruit with an eye clearly fixed on the nation's largest trade partner.
Although Chile's cherry season is about to end, the fruit continues to arrive in vessels that are transporting cherries exclusively, helping farmers recover from the COVID-19 pandemic. The ongoing arrivals mark a dramatic turnaround from the 2019-20 season.
"This year we are going to have around 10 percent more production, compared to the last season – that is the estimate," said Hector Sepulveda-Melita, a cherry farmer and exporter in the central Chilean region of Biobio.
He said that the 2019-20 season had been "quite hard", with prices dropping by half due to the outbreak of the COVID pandemic.
But the situation improved during the 2020-21 season, with exports of about 353,000 tons of cherries, a surge of 54.3 percent compared to the previous season.
Chile's cherry season usually starts from October and ends in January.
Sepulveda-Melita, who employs five people on a regular basis and hires about 140 during harvest season, is happy with how the market is getting back on track. His farm produced about 170 tons of cherries this season. He specializes in the Kordia or Attika cherry, a premium quality cherry that accounts for just 2 percent of Chile's cherries.
A report released in December by the Chilean Fresh Fruit Exporters Association forecast that exports would hit 361,840 tons of cherries during the current season, and said that China buys between 88 percent and 91 percent of all cherry exports.
"Without Chile's supply (of cherries) to the Chinese market in the winter, the (Chinese) consumers would have to pay several times the price to get them," said Kurt Huang, deputy secretary of the general fruit branch of China Chamber of Commerce of Import and Export of Foodstuffs, Native Produce and Animal By-products, or CFNA.
Most of the cherries arrive in China in ships specifically hired to transport cherries. Known in Chile as the "Cherry Express" vessels, they sail directly to the Chinese mainland, mainly via Hong Kong.
According to Sepulveda-Melita, there are currently about 3,000 containers full of cherries awaiting clearance at the port of Hong Kong, where only about 50 are cleared every day, while more ships full of cherries await to anchor and unload their cargo.
The global logistics problem that the world is facing has delayed the dispatch and arrival of cherries at the ports, adding a few days in each extreme – a critical factor when it comes to fresh fruits, where every hour counts.
The sector faces other challenges, including strict sanitary protocols established between China and Chile that are hitting the Latin American nation's agricultural sector. Shipments are thoroughly inspected upon arrival at Chinese ports.
"The protocol has established the requirements of the Chinese market for cherry exports, setting clear limits for exports," said Marlene Rosales, professor and director of research and postgraduate studies at the Faculty of Agronomy and Forestry Engineering of the Pontifical Catholic University of Chile in Santiago.
Although it means additional costs in the required testing, it has "given peace of mind to the export sector" Rosales said, adding that the sector has taken the demanding protocols seriously.
The protocols have proven helpful. During the 2020-2021 season, Chinese authorities found traces of Prunus necrotic ringspot virus in some batches of Chilean cherries.
The virus, left unchecked, could impact production of various agricultural products. Both Chile and China have committed to fighting such viruses together, with neither side taking any chances.
"Fortunately, rejections this season have been marginal, indicating that the export sector has been quick to embrace the new regulations and that diagnostic and phytosanitary surveillance services have responded well to the demand," Rosales said.
CFNA's Huang said that while logistics bottlenecks have impacted transportation of fruits from the South American country, Chilean cherries are still sought by Chinese consumers because they are affordable and of good quality.
Exporter Sepulveda-Melita said the average time for a cherry to reach the table of a Chinese consumer – from the moment it is handpicked from a tree in his plantation in Chile – ranges between 35 and 45 days.
Chile's use of specially developed technology to allow the fruits to survive the trip of over 18,000 kilometers and stay as fresh as possible is also widely recognized in China.
"With faster shipping processes and improved preservation technology, consumers could hardly find any rotten fruits inside (the containers)," said Huang.
The writers are freelancers for China Daily.