Possible 'authorized departure' of US diplomats raises concern
By WANG QINGYUN | CHINA DAILY | Updated: 2022-01-27 07:18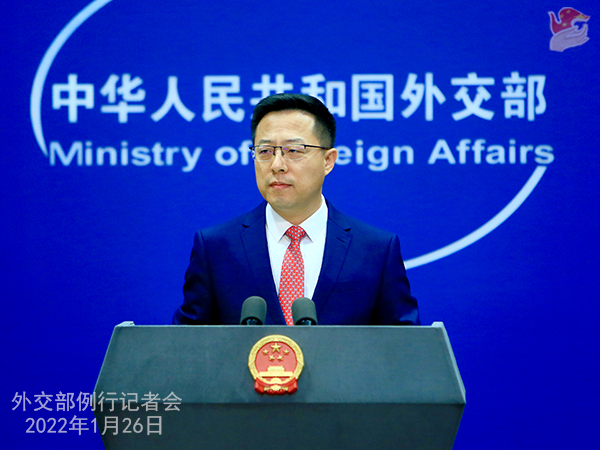 Beijing has expressed its "serious concerns and dissatisfaction" to Washington over the possible "authorized departures" of US diplomats, hoping that the United States will abide by and cooperate with China's regulations to prevent and control the pandemic.
Foreign Ministry spokesman Zhao Lijian made the remarks on Wednesday as Reuters reported that the US State Department is preparing to authorize departures for US diplomats and their families in China who wish to leave because of China's "intrusive pandemic control measures".
China has been taking a precise and scientific approach to control and prevent COVID-19, and the strategies it adopted to tackle the pandemic have also protected the health of foreigners living in the country, Zhao said.
Such measures are in line with the Vienna Convention on Diplomatic Relations and the Vienna Convention on Consular Relations, and have made full allowance for the comfort and lawful rights of diplomats in China, Zhao said.
"China is no doubt the safest country in the world now. Evacuation from the safest place will only increase the chances of getting infected," the spokesman said. "The US' line of reasoning is confusing and can hardly be justified."
Zhao called for the US to treat China's position and concerns seriously and cautiously consider the "authorized departures" of US diplomats.
The US unilaterally closed its consulate general in Wuhan, Hubei province, and evacuated the staff there during the city's COVID-19 outbreak in January 2020.
Global Times newspaper quoted a source on Wednesday as saying that given the US has carried out "a series of activities to sabotage the Beijing Winter Olympics", and the possible "authorized departures "come when Spring Festival and the Games are approaching, such departures are "obviously not only about pandemic control and prevention".
Such a step is intended to create public panic, and smear the achievements China has made in its pandemic response and disrupt the successful hosting of the Games, the source said.