UK govt holds breath over Partygate report
By JULIAN SHEA in London | China Daily Global | Updated: 2022-01-27 09:22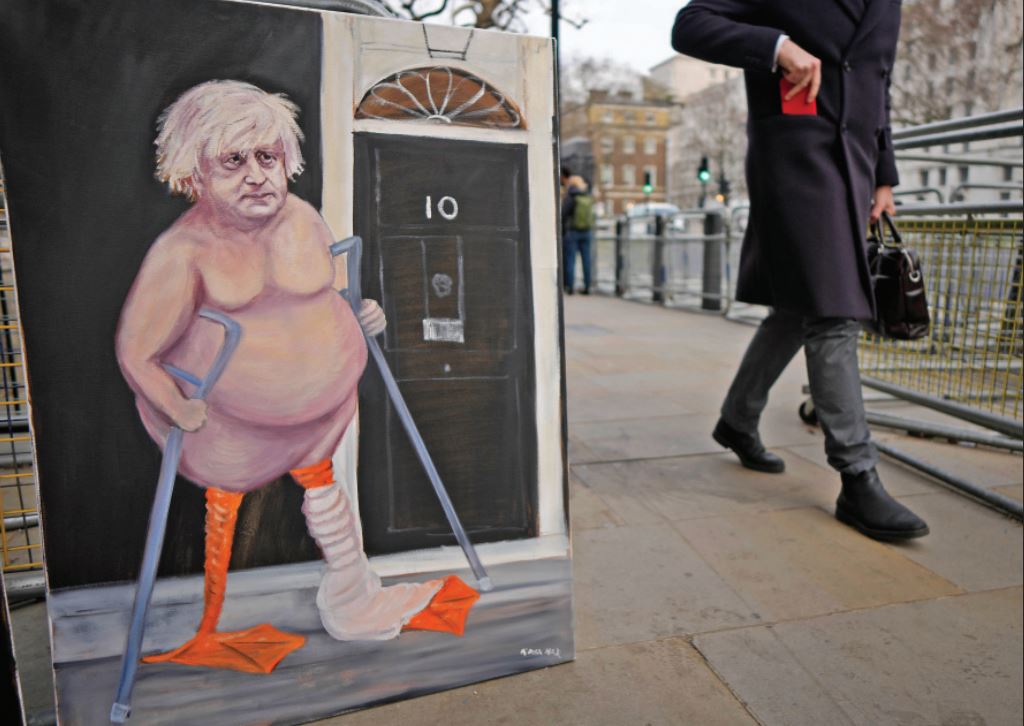 Findings from 'ruthless' inquiry chief Sue Gray expected to be 'bad for PM'
Political observers in the United Kingdom were left on tenterhooks on Wednesday as the publication of the report into Downing Street parties breaching COVID-19 restrictions drew nearer, adding to pressure on Prime Minister Boris Johnson.
Senior civil servant Sue Gray was already well into her inquiry about a series of breaches of COVID-19 rules for social events held in and around Downing Street, known as Partygate, before it emerged that during the first lockdown in June 2020, there had been a birthday party for Johnson at Downing Street, with his wife and an interior decorator friend in attendance.
Previously, Johnson had tried to deflect blows about another photographed social gathering in the Downing Street garden by saying that he was under the impression it was "a work event", but the presence of non-political individuals at the latest event, and the fact birthday cake was served, meant he could make no such claims about this get-together.
One of Johnson's defenders, member of Parliament Conor Burns, provoked widespread public derision when he told Channel 4 News that the prime minster had been "ambushed with a cake".
Ryan Heath, senior editor of the Politico website, is a former civil servant who was once sacked by Gray. He told BBC Radio 5 Live he expected her report to be "bad for Boris Johnson and Downing Street" as she is "not one to embrace reckless behavior".
He called her "extremely ruthless" and "not afraid to wield the knife".
On Tuesday it was confirmed that London's Metropolitan Police would be investigating rule breaches, which it was feared might cause long delays to the Gray report, but after some confusion over exactly when it would be published, it was confirmed that this should not hold it back.
Johnson held a weekly Cabinet meeting as the police announcement was being made, without telling his colleagues about it, meaning many key members of government did not hear the news until after it was public knowledge.
Liberal Democrats home affairs spokesperson Alistair Carmichael even suggested Johnson should temporarily leave Downing Street while the police investigation went on.
"This will ensure he cannot try and abuse his position to get himself off the hook," he said.
"Refusing to do so will show both the Conservatives' utter contempt for the public and erode trust in this government even further.
"This truly is a government in chaos, and every day the story gets worse. We have a prime minister who is at war with his own backbenches and desperate to cling onto power."
The contents of the Gray report could potentially see more Conservative MPs submit letters of no confidence in Johnson's leadership to an internal party committee. If 54 letters are received, Johnson would face a vote on his leadership.
One of Johnson's staunchest supporters, Leader of the House of Commons Jacob Rees-Mogg, has suggested that if he were to be ousted from government, a snap general election would be needed, which is interpreted by some people as being a warning to those who might be willing to bring him down that their seats could be at risk-but there is no such requirement.
When Conservative prime minister Margaret Thatcher was ejected from power in 1990 by an internal revolt, her successor John Major waited 18 months for an election.
The last Labour Party prime minister Gordon Brown succeeded Tony Blair in 2007, but did not hold an election until 2010.
Johnson's predecessor Theresa May waited a year after replacing David Cameron before going to the country, and when Johnson replaced her as prime minister in July 2019, he only held an election in December of that year as a gamble to break the legislative deadlock over Brexit, after a string of Parliamentary defeats.