China and Russia: A model for relations
By WANG QINGYUN | China Daily | Updated: 2022-01-28 09:32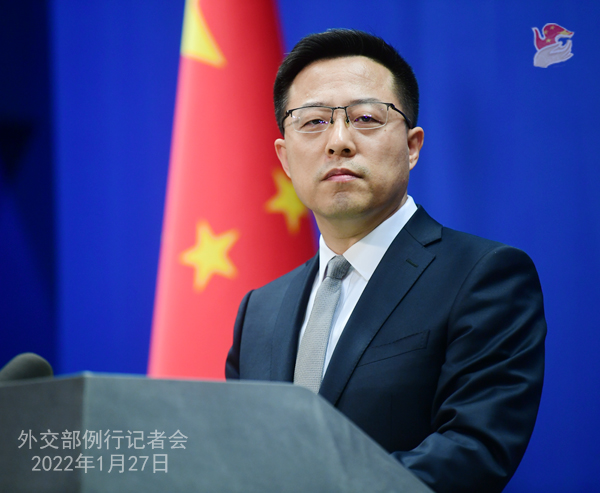 There is no limit to mutual trust between China and Russia and no forbidden zone for their strategic cooperation, with their connection "a true example of a new type of relations between major countries", Foreign Ministry spokesman Zhao Lijian told a news conference on Thursday.
Zhao made the remark after Russian Foreign Minister Sergey Lavrov said on Wednesday that the strategic partnership between the two countries is a good example of how to conduct interstate relations in the 21st century.
"In some aspects, it has reached a more advanced level than conventional military-political alliances," Lavrov said while delivering a speech to the State Duma, the Russian legislature. While pursuing independent policies, Russia and China are subjected to sanctions, demonization and other "punishments" by the West, he said.
Praising Lavrov's comments, Zhao said they reflect the consensus between the two countries on developing bilateral ties.
It was a strategic choice made by China and Russia, based on their long-term development, to regard each other as their diplomatic priorities, with the aim of benefiting both countries and their peoples while maintaining world peace and international justice.
"China and Russia are not interested in, and don't want to imitate the polarizing Cold-War mentality and all those so-called alliances or little cliques that were created to meet private interests," Zhao said. "Any attempt to demonize or provoke the two countries is doomed to fail.
"China hopes to keep on working with Russia to walk firmly on the path planned by their heads of state, tap into the huge potential and advantage of bilateral cooperation and inject more stability and positive energy in a world of unrest and changes."