Race is on for rivals in booming NEV market
By FAN FEIFEI | China Daily | Updated: 2022-01-28 10:06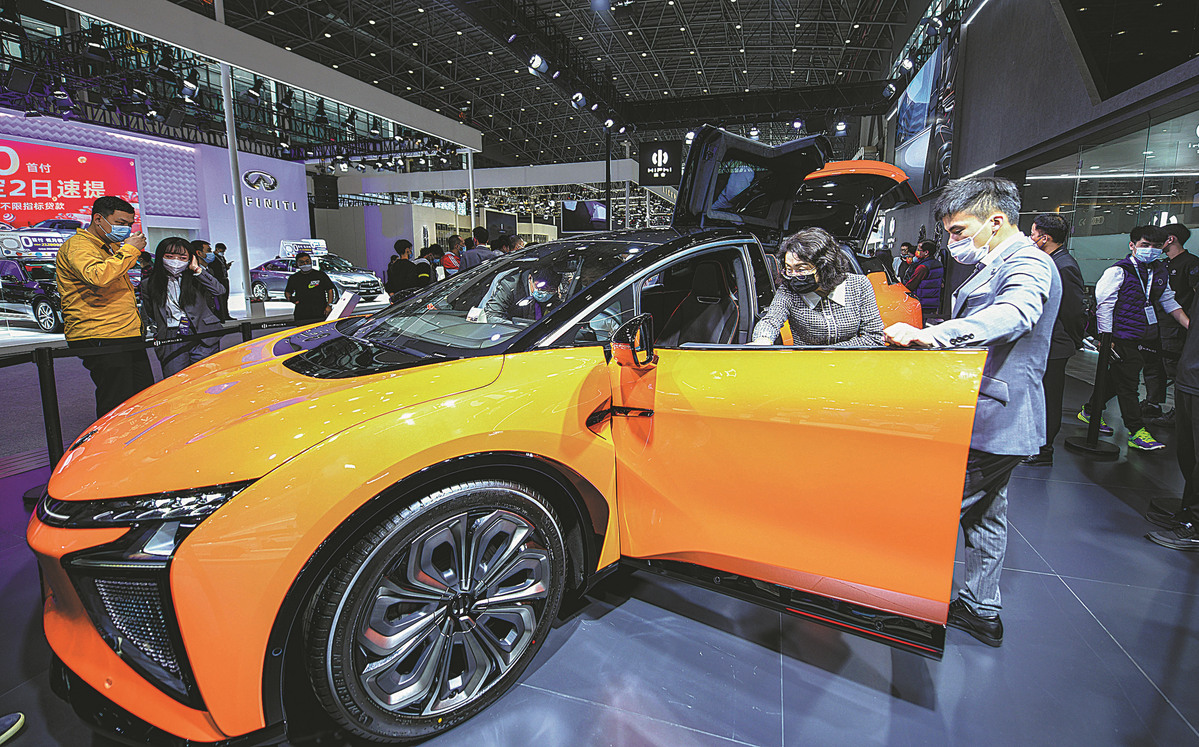 Plan set for full electrification of vehicles in public sector by 2035
The competition in China's new energy vehicle market is set to intensify because of the soaring price of lithium batteries, global chip shortages and a reduction in government subsidies on the vehicles, industry experts said.
They said NEV companies should shift their focus to accelerating technological innovation and enhancing the competitiveness of products while reducing manufacturing costs. In addition, more efforts should be made to speed up the construction of battery charging facilities.
Cui Dongshu, secretary-general of the China Passenger Car Association (CPCA), said the country's NEV market has shown robust growth, and NEV sales are expected to surpass 6 million units in 2022, accounting for about 22 percent of all vehicle sales.
A total of 2.99 million new energy passenger cars were sold last year, up 169 percent year-on-year, according to the CPCA. NEVs include electric vehicles, plug-in hybrids and hydrogen fuel-cell energy vehicles.
In December alone, retail sales of new energy passenger vehicles stood at 475,000, an increase of 128.8 percent, said the CPCA. Total sales of passenger cars in the country rose 4.4 percent year-on-year to 20.15 million units in 2021.
Subsidies for buying NEVs, such as electric cars, were reduced by 30 percent at the beginning of 2022 before being scrapped completely by year's end, according to a notice issued by the Ministry of Finance and another three government departments.
The CPCA said that while the decline of subsidies for NEV purchases may affect consumer sentiment, sales of NEVs are expected to see a limited impact given that a backlog of pre-delivery orders remains.
Electric vehicle manufacturer Tesla Inc of the United States said on Dec 31 it would bump up the price of its Model 3 sedan by 10,000 yuan ($1,577) and Model Y SUV by 21,000 yuan. EV startup Xpeng raised the price of its flagship sedan P7 by between 4,300 yuan and 5,900 yuan.
Cui said Chinese consumers' acceptance of NEVs has greatly improved, and price hikes for NEVs are just a short-term trend. As more and more traditional carmakers have jumped on the NEV bandwagon, related technologies continue to improve and the cost of production is predicted to drop accordingly.
Carmakers hope to remain competitive, so it is an inevitable trend that the price of NEVs will continue to fall over the longer term as technology advances, Cui said. He estimated that sales of NEVs will witness explosive growth in China-the world's largest vehicle market-this year.
China has ranked first globally in terms of NEV sales for seven consecutive years, according to the Ministry of Industry and Information Technology. However, a serious global shortage of semiconductor chips for automobiles has triggered an imbalance in supply and demand in the domestic market.
In addition, Chinese battery suppliers have raised prices, spurred by a continuous price surge in raw materials, such as lithium carbonate, and soaring demand for NEVs. At present, lithium carbonate and other lithium salts are highly dependent on imports.
But the world's major chip enterprises have gradually increased their production and supply of automotive chips, and the supply shortage is expected to ease this year, according to Wang Weiming, an official from the MIIT.
Zhang Xiang, a researcher at the Automobile Industry Innovation Research Center, which is part of North China University of Technology in Beijing, said the further reduction of subsidies this year won't have a big impact on the NEV market. Some policies such as the exemption from sales tax on electric cars will further boost the sector's development, Zhang said.
"The shortage of chips and lithium batteries in the NEV market will exist this year, but the situation is likely to ease in the second half of 2022 given that semiconductor companies and battery makers have scaled up new production capacity," Zhang said, adding the supply chain pressure won't restrain consumer demand for NEVs.
According to the latest development plan for the NEV industry from 2021 to 2035 approved by the State Council, the country's Cabinet, vehicles used in public transport will be completely electrified by 2035.
Hainan province started building a global NEV experience center on Dec 29, with a total investment of about $500 million. The first phase of the project is expected to be put into operation in 2023.
The center will attract world-renowned NEV companies, as well as automobile service and mobility service enterprises, focusing on boosting the development of the province's NEV industry.
Hainan is the first province in China to announce a ban on the sale of gasoline-fueled automobiles by 2030. In recent years, the provincial authorities have released several policies to encourage the purchase and use of NEVs, while speeding up the construction of NEV charging stations and other infrastructure.
NEV companies are betting on brighter market prospects in Hainan. Tesla has built charging facilities covering the whole island of Hainan, while Chinese EV startup Nio has set up three battery swap facilities in Haikou, Qionghai and Danzhou.
According to the Hainan branch of the China Southern Power Grid, a total of 337,000 charging piles and 430 public battery swap stations will be built in Hainan by 2025, with the number of NEVs rising to 2 million.