LA rail thefts expose US supply chain vulnerabilities
By LIU YINMENG in Los Angeles | China Daily Global | Updated: 2022-01-28 10:50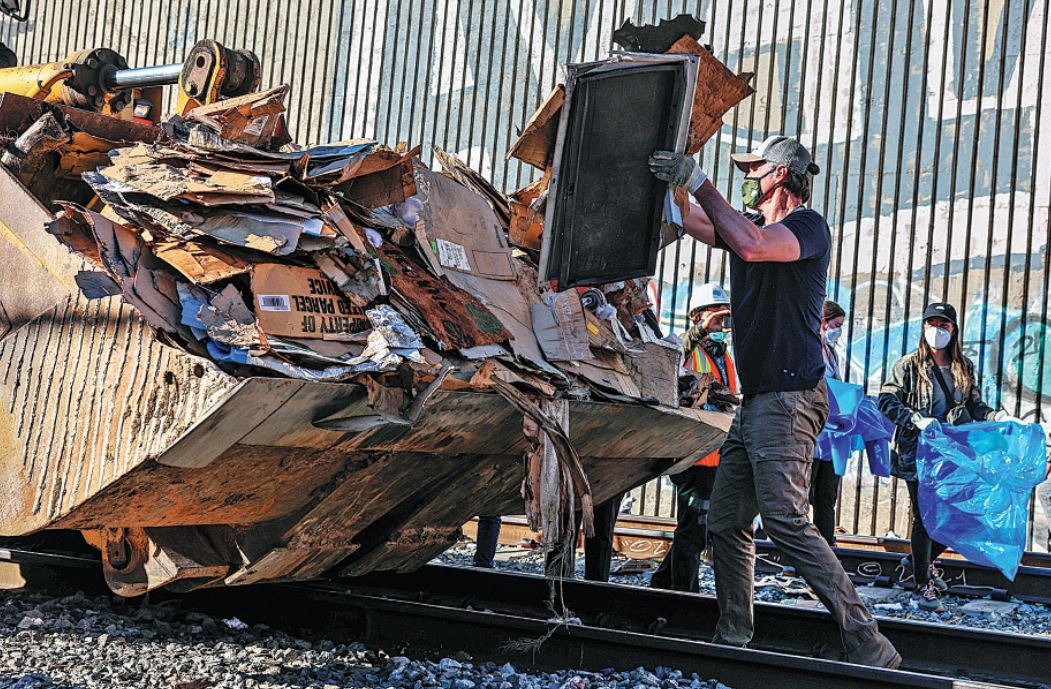 Opened containers of socks, jewelry, family portraits and even unused COVID-19 test kits have been strewn across trash-clogged railroad tracks in eastern Los Angeles.
Many of the shredded packages come from major United States shipping companies, such as Amazon and United Parcel Service.
The cargo packages were opened amid a wave of organized and opportunistic train thefts in Southern California, a global hub for the movement of goods. The problem, which has persisted for months, has exposed major structural deficiencies in the US supply chain and the lack of security personnel along rail lines.
"The images (photos and video of the pilfered cargo boxes) looked like a Third World country," California Governor Gavin Newsom told reporters on Jan 20 during a visit to a rail yard at Lincoln Heights, a neighborhood near downtown Los Angeles where the looting took place.
"What you saw here in the last week is just not acceptable," said Newsom, who proposed steps to increase local law enforcement in the area. "So I took off the suit and tie and said I'm coming because I couldn't take it. I can't turn on the news anymore. What the hell is going on?"
Southern California, which has hundreds of kilometers of train tracks, is a major transportation hub for cargo. It is also home to the ports of Los Angeles and Long Beach, which together handle about 40 percent of the country's maritime imports.
Much of the imports are shipped by train to warehouses, retailers and other distributors in the nation. However, supply chain congestion is causing cargo trains to sit idle on the tracks. This has left them vulnerable to thieves who climb atop trains, pry open containers and steal items.
The discarded boxes left by thieves on the tracks and nearby were then picked over by scavengers who hoped to find valuables among the scattered items.
Train tracks in Los Angeles were littered with merchandise that was destined for businesses and consumers during the busy Christmas shopping season, further straining the shipping backlog that has been in place since the pandemic.
"Missing a package? Shipment delayed? Maybe your package is among the thousands we found discarded along the tracks," photojournalist John Schreiber, who took photos of the looted packages, wrote on Twitter.
On Monday, the Los Angeles Police Department said it was concerned that guns were among the items stolen from the cargo containers.
"People were ... breaking into these containers and stealing firearms, tens of firearms, that gave us the great concern as a source again of further violence in the city, as people were capitalizing on the transport of these containers with having little or no policing or security services there," said Los Angeles Police Chief Michel Moore.
The department has recovered numerous guns from people who said the weapons were taken from rail cars in the area, a revelation that led the department to become much more alarmed about the thefts, the Los Angeles Times reported.
According to Union Pacific Railroad, which covers more than 440 kilometers of track at nine rail facilities throughout Los Angeles County, rail theft in the area has jumped 160 percent since December 2020.
"In several months during that period, the increase from the previous year surpassed 200 percent," Union Pacific spokesman Adrian Guerrero wrote in a letter to Los Angeles County District Attorney George Gascon. "In October 2021 alone, the increase was 356 percent compared with October 2020. Not only do these dramatic increases represent retail product thefts, they include increased assaults and armed robberies of UP employees performing their duties moving trains."
In the last three months of 2021, a peak season for holiday shopping, more than 90 containers on average were compromised each day, said Guerrero, adding that over 100 people have been arrested in connection with the thefts.
Guerrero estimated that the company has incurred approximately $5 million in claims, losses and damages from the increased criminal activity over the past year.
In a statement on Jan 16, Union Pacific said local policy as applied to these arrests made it easy for the suspects to be released from jail.
"Criminals are caught and arrested, turned over to local authorities for booking (into jail), arraigned before the local courts, charges are reduced to a misdemeanor or petty offense, and the criminal is released after paying a nominal fine," the railroad said.
Union Pacific has its own private security force to protect the tracks. According to the Times, budgetary issues in recent years have decreased the number of officers employed by the company, leaving as few as half a dozen in the region.
Gascon's office said in a public statement that it was "committed to working with law enforcement to ensure collective safety across Los Angeles County's sprawling infrastructure, whether it's at our ports or on railroad tracks."