'My China Album', Olympic edition, shows beauty of sports
By MINLU ZHANG in New York | China Daily Global | Updated: 2022-01-28 11:37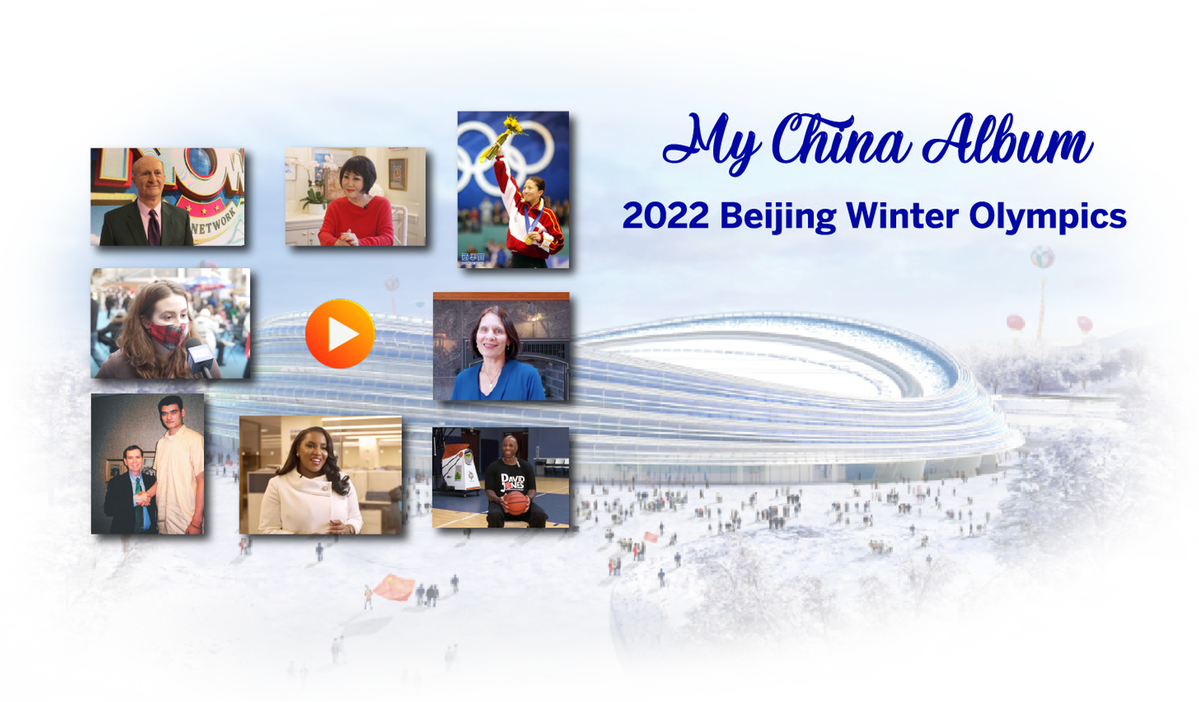 The Chinese embassy in the US and China Daily have launched "My China Album Winter Olympics," a story-sharing project to chronicle the unforgettable sporting events and beauty of the Beijing 2022 Olympic Winter Games.
China is in intense preparations for the Winter Olympics, which will unfold in Beijing from Feb 4-20, followed by the Paralympic Winter Games from March 4-13.
The "My China Album Winter Olympics" project interviewed Olympic champions, academic experts, actors, professional athletes, entrepreneurs and other Chinese and American people about their expectations for the Games and their understanding of sports.
Eileen Gu, a Chinese freestyle skier, recorded her fourth-straight victory at the International Ski Federation World Cup this season. She also claimed the Crystal Globe for the first time in her career, marking the start of the Winter Olympics.
"My biggest wish is to share this opportunity and let more Chinese teenagers, especially girls, express and know themselves," Gu said. She hopes to promote understanding between the two countries' winter sports fans and people.
Over the years, generations of Chinese and Americans have actively created platforms and opportunities for sports exchanges, and people-to-people exchanges have yielded fruitful results in all fields.
Vince Gennaro, the associate dean of New York University's Tisch Institute for Global Sport, attended the US-China Sports Forum in China in 2017. Later that year, he hosted a similar forum in New York City.
People from both countries shared insights into the commercialization of the sports industry and how to build a professional sports infrastructure.
"Sports has the power to bring different races, ethnicities, regions and nations together," said Gennaro. "It's bringing people together. It's bringing nations together and giving us the opportunity to put down and put aside our differences."
American singer and actress Mary Millben, who has performed for three US presidents, said she had such beautiful memories living in China and experiencing Chinese culture as an exchange student in 2006.
"The beautiful platform of sports, just like music, is that it gives us a way to certainly talk about our differences, but most of all talk about our commonalities," said Millben. "That's why I feel the Winter Olympics plays a unique role, where we as a global family, certainly between the United States and China, we can focus on our commonalities."
Yue-Sai Kan, a well-known Chinese American entrepreneur, host and author, used television to bridge the communication gap between East and West. In the 1970s, Kan created a popular American show called Looking East, which introduced traditional Chinese culture and customs to US audiences. In the mid-1980s, she was invited by CCTV to produce China's first travel TV program, One World.
"When China was a host in international events, you can be pretty sure that it would be a pretty good one," Kan said. "I think sports are for the world. It should not be political in any way, shape or form."
The Winter Olympics is "such an extraordinary opportunity for people to really embrace each other, to engage each other in a totally nonpolitical situation", she said.
Kendall Kracke, a graduate student in Chinese-language education at Portland State University, has been studying Chinese for six years, since she was 18. Kracke won the global championship of the 20th "Chinese Bridge" Chinese-language proficiency competition for foreign college students in November 2020.
"Sports are a way for people to try to close the gap — the political or the economic or any kind of gap we might have between each other," she said.
Table tennis led to the emergence of "Ping-Pong Diplomacy" between China and the US, with an exchange of visits between Chinese and American teams in 1971 and 1972. The competitions helped initiate the normalization of relations between the two countries.
Connie Sweeris, a "Ping-Pong Diplomat" and member of the 1971 nine-person US table tennis team, said that when people compete against each other in sports from countries all over the world, "you begin to break barriers down and you begin to understand their culture".
"Our two countries, USA and China, didn't have diplomatic relations in 1971. With 'Ping-Pong Diplomacy', we were able to crack the ice, to allow the two countries to come together and create what we have now — a very important relationship," said Judy Hoarfrost, a former member of the US table-tennis team.
She visited China at age 15 with the US table-tennis delegation in 1971.
Yang Yang, China's first Winter Olympic gold medalist and chairwoman of the Beijing 2022 Athletes' Commission, said that China, as the organizer, has to be prepared 100 percent.
"And now, we are ready," she said. "I should say there are challenges definitely, but we are very confident to host the Games to provide the best conditions for the world."