Together for a shared future: the RCEP approach
By Wu Ke | chinadaily.com.cn | Updated: 2022-01-29 17:08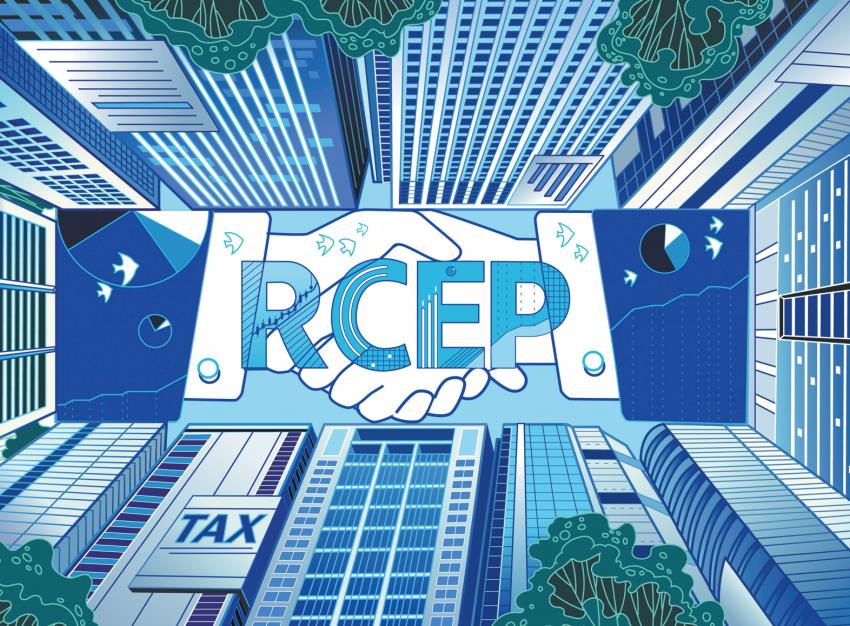 To achieve a better performance during economic slowdown, stimuli can be tailored to activate the most promising markets and help bring economic bonus to a pandemic-stricken world. This can also be verified by the fact that during the past decade, countries showed their shared orientation for a shared regional economic landscape by eventually signing the Regional Comprehensive Economic Partnership agreement via video conference in Hanoi in Nov 2020 and subsequently entered it into effect in early 2022 to facilitate regional trade, investment and supply chains.
The RCEP includes 10 ASEAN members — namely Brunei, Cambodia, Indonesia, Laos, Malaysia, Myanmar, the Philippines, Singapore, Thailand and Vietnam — two Oceania neighbours in Australia and New Zealand, and three participants from east Asia in China, Japan and South Korea. It is a free-trade agreement aiming to cut tariff and non-tariff barriers, strengthen supply chains with common rules of origin and codify new e-commerce principles. Confronted with uncertainties in the world economy, the RCEP brings major emerging markets together, many of which already count China as their largest trading partner.
The sections covered by the RCEP agreement are positioned in trade in goods, trade in services, investment access, standards and technology, animal and plant quarantine, economic and technical cooperation, intellectual property, e-commerce, dispute resolution and other areas. All the above sections serve to form an integrated market between member countries to hopefully make the RCEP the largest and most influential free trade agreement in the world. As the agreement comes into effect, member countries are to reduce tariffs and open markets in at least 100 sectors.
As a free trade agreement, the RCEP is unique in a few ways. At present, even countries with bilateral trade deals often impose high tariffs on finished products if a significant portion of the raw materials comes from a third country, while the RCEP allows business entities to source raw materials from each other, with their final products enjoying low or no tariffs. This will facilitate trade and investments among members in terms of optimization of economic cooperation efficiency and exemption of trade barriers.
The RCEP is also in conformity with China's new "dual circulation" development pattern, since the agreement can cultivate China's various industries in market competition and consolidate the country's competitiveness to reallocate resources in both international and domestic markets. As a supportive promise from China for economic recovery during the pandemic, the agreement will grant goods from RCEP members easier access to the Chinese market and its 1.4 billion people.
Its economic volume enables China to play a crucial role in the RCEP. In terms of technical capabilities, China also helps other developing countries build infrastructure and train professionals from all walks of life, although China is in favor of and promotes the centrality of ASEAN in RCEP.
Moreover, during a pandemic when protectionism and tariff wars seem to prevail in economic development modes, the RCEP is making multilateralism a development pattern. After 10 years of negotiation, the agreement was originated and realized in Asia, where governments play a critical role in economic development. The mode of national economic rejuvenation, which was more linked to national sovereignty in Asia, will be facilitated with a breakthrough in deductible trade barriers in an integrated market between member countries through RCEP.
What is also worth mentioning is the RCEP, for the first time, promotes a possible economic landscape between China and Japan, as the free trade agreement will serve to intensify regional economic integration between the two countries.
The launch of the RCEP also shows dialogue among civilizations stands in opposition to a clash of civilizations, as a praiseworthy facilitator instead of an obstacle. With RCEP, a promising perspective towards a shared understanding and prosperity has emerged from the abyss of economic recession. We believe a common objective can be defined for dialogue and mutually beneficial cooperation between economies: namely, a shared future may be found in any religion, culture and civilization whether in the East or West.
The author is an associate professor at Guangzhou Maritime University and a research committee member at the Translators Association of China.
The opinions expressed here are those of the writer and do not necessarily represent the views of China Daily and China Daily website.
If you have a specific expertise, or would like to share your thought about our stories, then send us your writings at opinion@chinadaily.com.cn, and comment@chinadaily.com.cn.