Guards shrug off harsh conditions to ensure the border remains secure
By YANG ZEKUN | CHINA DAILY | Updated: 2022-02-08 09:08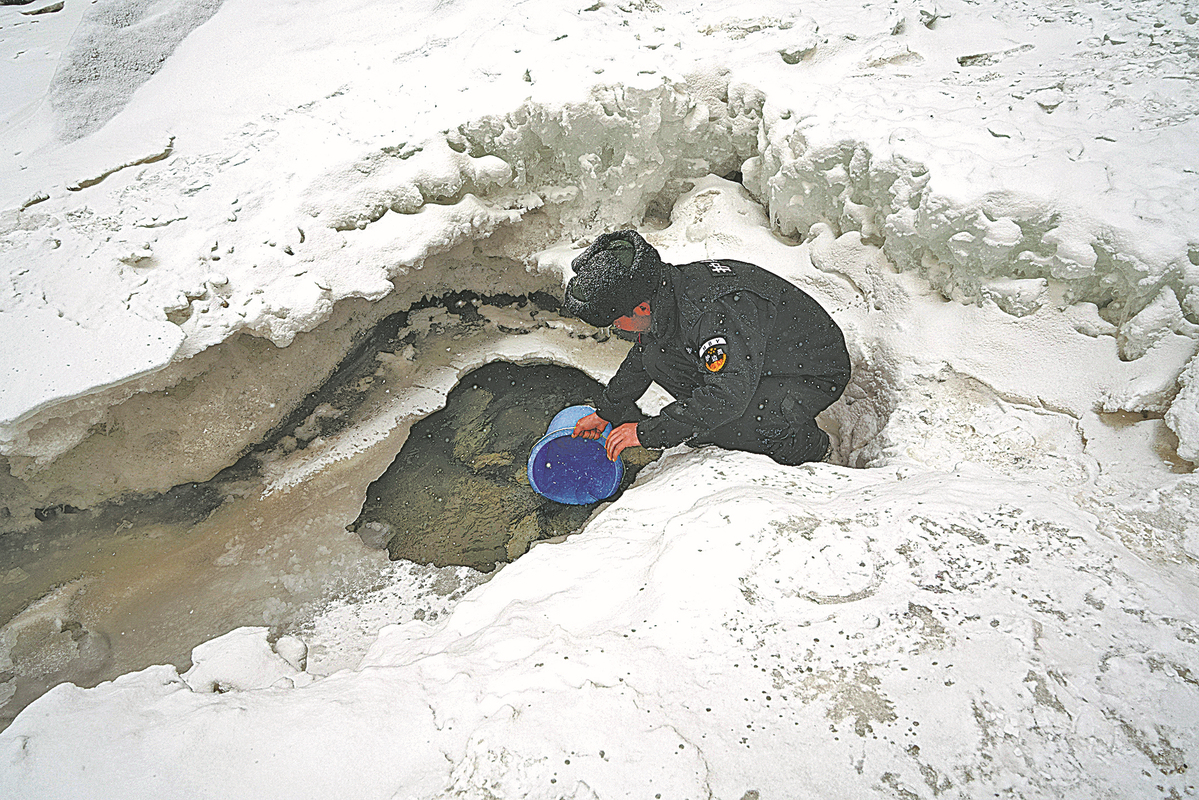 Low oxygen levels and harsh weather can put people off certain jobs, but Zhu Baohua and his fellow officers at the National Immigration Administration have never been deterred by the tough environment around their workplace, a mountain pass close to the China-Tajikistan border.
The 38-year-old, who has been a police officer for 15 years, is head of the Aranbaotai guard post at the border police station in Teznap, a township in Kashgar prefecture, Xinjiang Uygur autonomous region.
The guard post, in Northwest China, was established in May 2017. It is home to three police officers, while 21 herdsmen who assist the border control team are also based there.
Zhu participated in the station's construction, and he started working there full time in 2019. Initially, it was only a single-story building of about 20 square meters and there was no electricity or running water, so the officers needed to fetch water from a nearby river.
"The temperature in winter is about -20 C, and we needed to take a chisel to cut the ice on the river's surface so we could get water. Taking a shower or washing clothes was not easy, either," he said. "They were not the worst things we faced. Even now, there is only a dry latrine about 100 meters from where we sleep, so using it on winter nights is quite difficult."
The station is situated near a mountain pass that connects four paths to the border area. Zhu and his colleagues are on 24-hour call to conduct inspections of people and vehicles that use the pass and the surrounding area.
They also maintain public order, help herdsmen transfer livestock to new pastures and rescue animals that become lost or trapped in the mountains.
The station, which lies at an altitude of 3,260 meters, is located between two mountains, both more than 5,000 meters high. The exposed position means it is battered by strong winds-averaging speeds of 26 to 32 knots-for most of the year.
"The warmer period starts in late April and ends in late September. The rest of the time, it's windy or snowy. We have tried growing some plants, but while flowers grow during summer, no trees can survive the long winters," Zhu said.
The low oxygen level and bad weather have affected Zhu's health. He has heart disease and high blood pressure as a result of long-term exposure to the high altitude and the strong ultraviolet radiation.
"Becoming a police officer was my dream, but when I started the job, I learned about the hardships it entails. It's nothing like the movies! Because I love this job, I stick to my post. No matter where I am, I want to do my best to change things around me," he said.
"We adapted the station step by step. Now, we have a water tank and electricity, and an abandoned stable next to the house has been converted into a living space with a kitchen and places to study."
Zhu's busy life means he rarely sees his family. His wife, three children and his mother live in downtown Kashgar. Despite being in the same area, Zhu only visits about three times a year to see his children, so he often educates them via phone calls.
"My kids often ask me when I will come back, which makes me a little sad. There is very little I can do to help them when something bad happens, except worry," he said.
In December 2018, one of his children went missing, so Zhu asked all his friends and the local police for help. Luckily, the child was found quickly, but the incident left Zhu sad and fearful.
"I get homesick, especially during Spring Festival, which is a time for family reunions and has a special meaning for Chinese people," he said.
"During one festival, we saw bright lights from homes in the distant downtown, which was a sharp contrast to the dark mountain pass we guard. At that moment, though, instead of feeling sad, I felt a sense of pride as I realized that our work helps safeguard the region's peace and protects many families."