Deliverymen rewarded for fighting drug crimes
By YANG ZEKUN | China Daily | Updated: 2022-02-09 10:36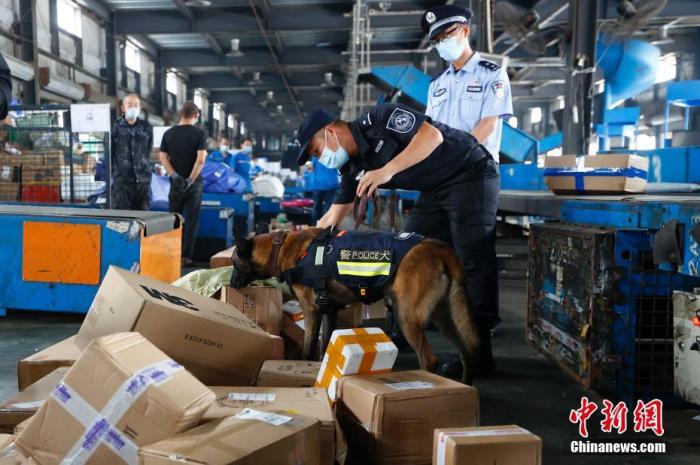 Public security organs gave rewards totaling over 800,000 yuan ($125,800) to 125 delivery workers around China for their assistance in fighting drug-related crimes committed via express delivery services in the final four months of last year.
Express delivery businesses have become more aware of fulfilling their social responsibilities in drug control, and delivery people have become more enthusiastic in identifying, investigating and reporting such crimes, the Ministry of Public Security said.
In October, a deliveryman in Guangzhou, Guangdong province, was awarded 185,000 yuan for providing a tip that led to a drug-related arrest.
The man said a client had sent eight packages, labeled as machines for processing quail eggs, from Zhongshan, Guangdong, to an express delivery station in Guangzhou, the provincial capital, in August. The machines were then supposed to be delivered overseas.
He found that the weight of each package was different, and there were soldered joints on them, indicating that the machines had been taken apart and reassembled. In addition, the freight charges to send the goods from Zhongshan to Guangzhou and then overseas exceeded their value.
The deliveryman reported the abnormalities to the police, who discovered the packages contained ketamine and methamphetamine. They went on to arrest a suspect accused of sending the packages.
Zhao Zhongchen, deputy head of the ministry's anti-drug bureau, told a news conference in Beijing last month that some criminals have taken advantage of the rapid development of e-commerce and the delivery industry in recent years to smuggle and traffic drugs, with the number of drug-related crimes in delivery channels soaring.
From September to the end of last year, the ministry, the State Post Bureau and the National Narcotics Control Commission jointly launched a nationwide operation targeting such crimes.
It led to the full coordination of the resources of public security organs, post authorities and express enterprises, Zhao said, and improved the accuracy and efficacy of industry management and the ability to investigate such crimes.
The operation also promoted the nationwide implementation of systems including real-name registration when sending mail, the inspection of package labels to determine contents and destinations, and the conducting of security checks on all parcels through means such as X-rays.
During the operation, police solved more than 1,700 drug-related crimes around China carried out through delivery channels, 60 percent more than in the same period in 2020.