Senior men strut their stuff
By WU YONG in Shenyang and YE ZIZHEN | China Daily | Updated: 2022-02-10 09:00
Strolling catwalk helps instill confidence in male modeling team members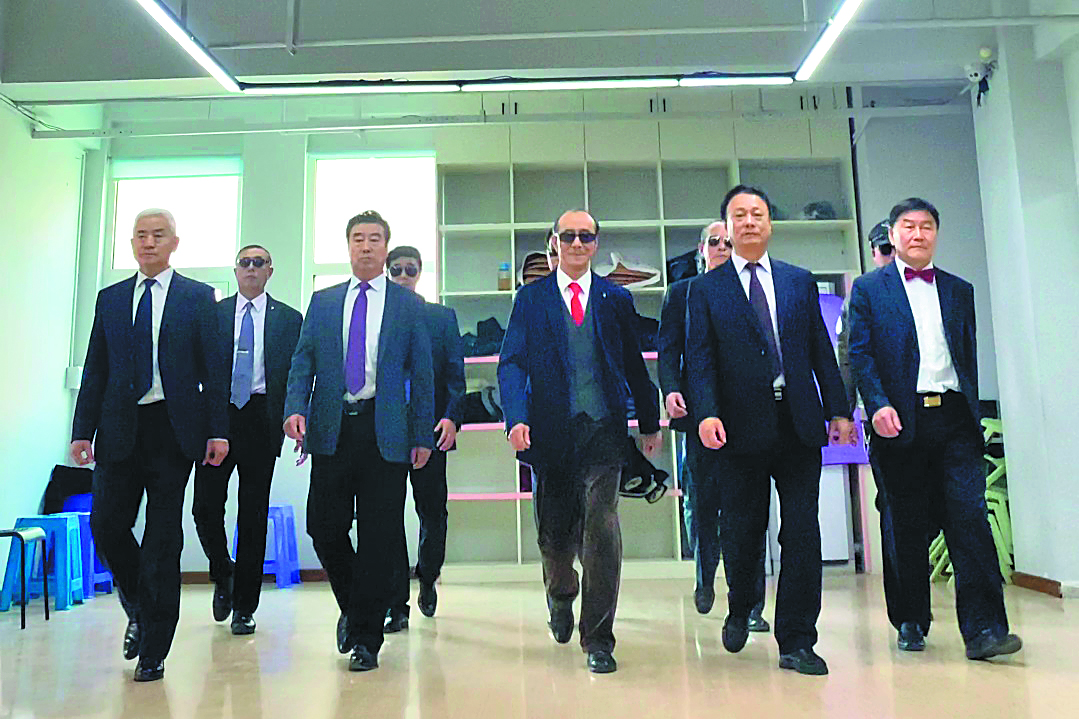 Lu Hongxiang developed a new routine after retirement.
Once a week in the morning, he attends a modeling class at Sanwei University for the Elderly in Yingkou, Liaoning province, as a student and member of the male model team at the university.
"I joined the model team after my friend introduced me to it," Lu said. "At first, I thought modeling was just for women, and I was shy and lacked confidence."
However, Lu said the training and walking make him more energetic, and that his body feels more relaxed.
Lu, 69, was a government employee in Yingkou before retirement.
"I want my life after retirement to be fun and fulfilling, that is my goal," Lu said.
Fashion isn't really the point. Wearing ordinary business suits, the men simply learn how to walk gracefully up and down the catwalk to music while striking poses in front of crowds. The performances help instill confidence.
Lu's teammates were also driven by curiosity to try out modeling.
"When the coach found me and invited me to join the team, I was deeply taken by the idea of becoming a male model," said Sun Shoucheng, who teaches video classes at Sanwei.
Sun explained that he is hunchbacked as a result of his frequent video making, so he thought modeling would be a good way to improve his back.
"My idea was to join the team temporarily, because I also work as their cameraman," he said.
"However, I was cheered up by their passion and love of life, so I decided to stay."
There are 24 men on the team-the youngest is 59, and the oldest is 73, said Zhang Wenzhi, the team's founder and coach.
Zhang, who also teaches a physique course at Sanwei, said he found more men have become interested in modeling in recent years.
"I thought it would be great if there was a platform for men interested in modeling to showcase their charm," he said.
Zhang first suggested that the university start a male modeling class and team in 2020. Upon approval, he drafted a notice to encourage students to join and set up the course.
"Some of the students were shy at first and not used to the catwalk, but with devotion and effort, they gradually saw the fun in it and gained more confidence," he said.
The group first took to the stage in October in Yingkou.
The show Zhang directed was a combination of catwalk and dance performances.
Lu said: "My wife, children, relatives and friends all came to support our show. They are all very encouraging; they said our show is very masculine, and we all look energetic."
In December, the Sanwei models won a provincial level arts competition for seniors in Liaoyang, which encouraged them to sign up to compete in a national level event.
Sun said his wife's support has motivated him to continue.
"One day, when I was out walking with my wife on the street, she said the way I walk is different, and that I look more vigorous. Her words boosted my confidence and encouraged me to stick with modeling," Sun said. "Although I'm in my 60s, I want to show the positive spirit of the elderly."
Male model groups of retirees can also be found in other places.
In June, a group of senior male models with average heights of 1.84 meters from Xi'an, Shaanxi province, caught the attention of netizens on Sina Weibo, the largest social media platform in China.
Chen Guozhi, the founder of the group, said he started modeling in 2002. At the age of 79, he hopes to continue until he's 90.