The family of officers guarding streets during Winter Olympics
By CAO YIN | China Daily | Updated: 2022-02-15 08:45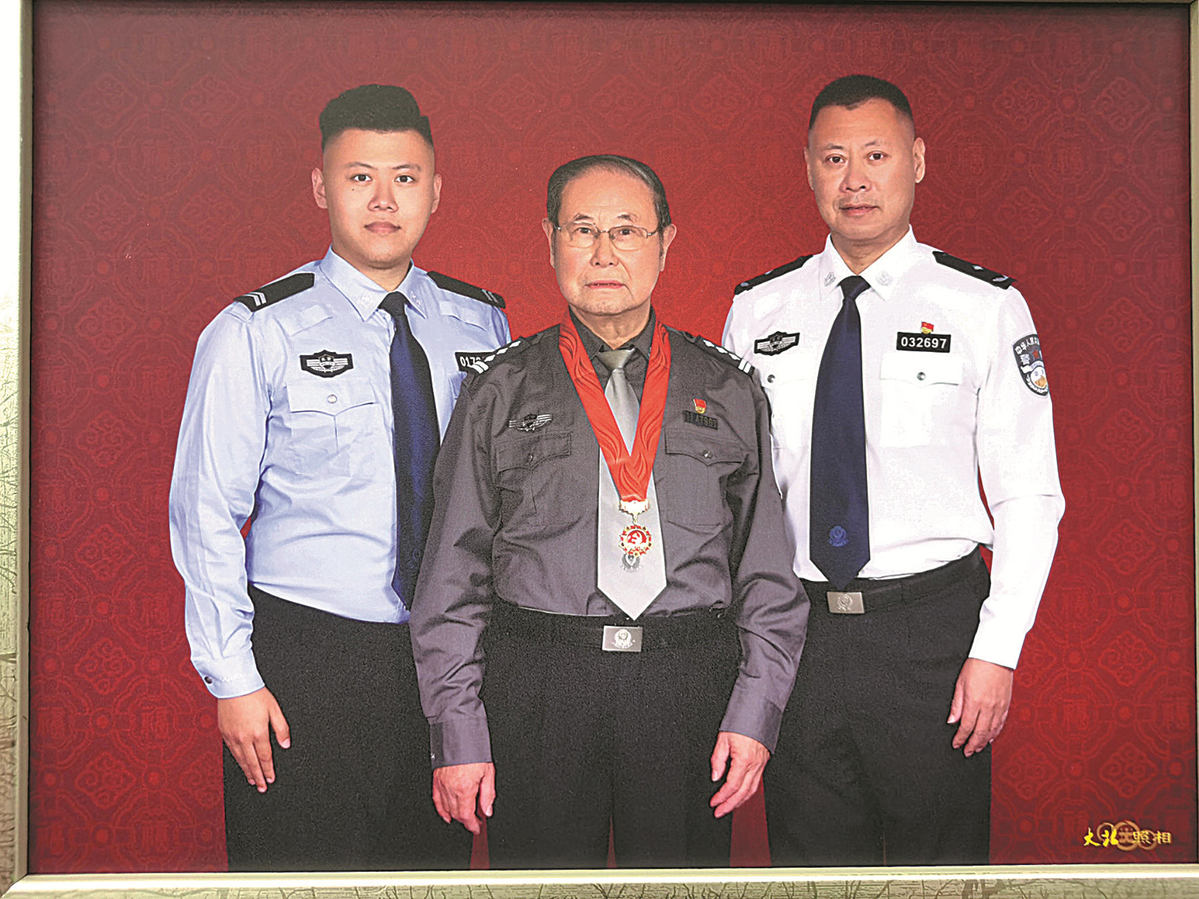 While Huai Haobo is busy with security checks at 2022 Beijing Winter Olympic competition venues, his father and grandfather are performing similar services at their own posts.
All three are police officers from the capital's Chaoyang district. Huai Jie, the father, is responsible for patrolling outside the Olympic Village, and Huai Xitian, the grandfather and who is a retired police officer, is voluntarily maintaining security in the community.
"I'm proud to devote my efforts to such an important sports event, but what makes me even more proud is that I can finally work with my father and grandfather in keeping the city safe together," said the 24-year-old, who joined the district's public security department last year.
Born into a family of police, Huai Haobo spent much of his childhood in the police station where his father worked.
"Dad rarely came home for dinner because of his busy job. I had to do homework at his office when my mother worked overtime," Huai Haobo said.
He said that he understood his father's absences because his grandfather "did the same thing, and often told me that being a police officer meant spending more time helping others with their problems than looking after their own families".
While neither the father nor the grandfather had much time to play with the young boy, Huai Haobo still followed in their footsteps to become a police officer.
"I also wanted to be brave, help others and guarantee the safety of the city," he said.
Knowing that his grandfather had been part of security at the 1990 Beijing Asian Games and having seen his father work at the 2008 Beijing Summer Olympics, Huai Haobo was looking forward to joining his relatives in working on a sports event.
"Now, the Beijing Winter Games has made that dream come true," he said. "It's like we've been running a relay race between three generations."
Regarding himself as a bridge, 51-year-old Huai Jie said that he would uphold security as dutifully as his father, setting a good example for his son, who is participating in a sports event of this magnitude for the first time.
"As police officers, we're duty-bound to provide a safe environment for people, and I hope to pass on this spirit to the next generation," Huai Jie said.
Huai Xitian is doing the same. The 76-year-old veteran has not stopped security work even though he retired in 2000.
He volunteered for the Beijing Winter Games because he "still wanted to work on the frontline to contribute to maintaining a safe environment for the city".
"Maybe the three of us can't enjoy the Games together, but it's a great honor to work shoulder-to-shoulder," Huai Xitian said. "I believe this will be the most unforgettable memory for us all, and it'll also be the most glorious moment in our public security careers."