Smallest atom getting larger role in China's decarbonizing efforts
By ZHENG XIN | China Daily | Updated: 2022-02-15 09:34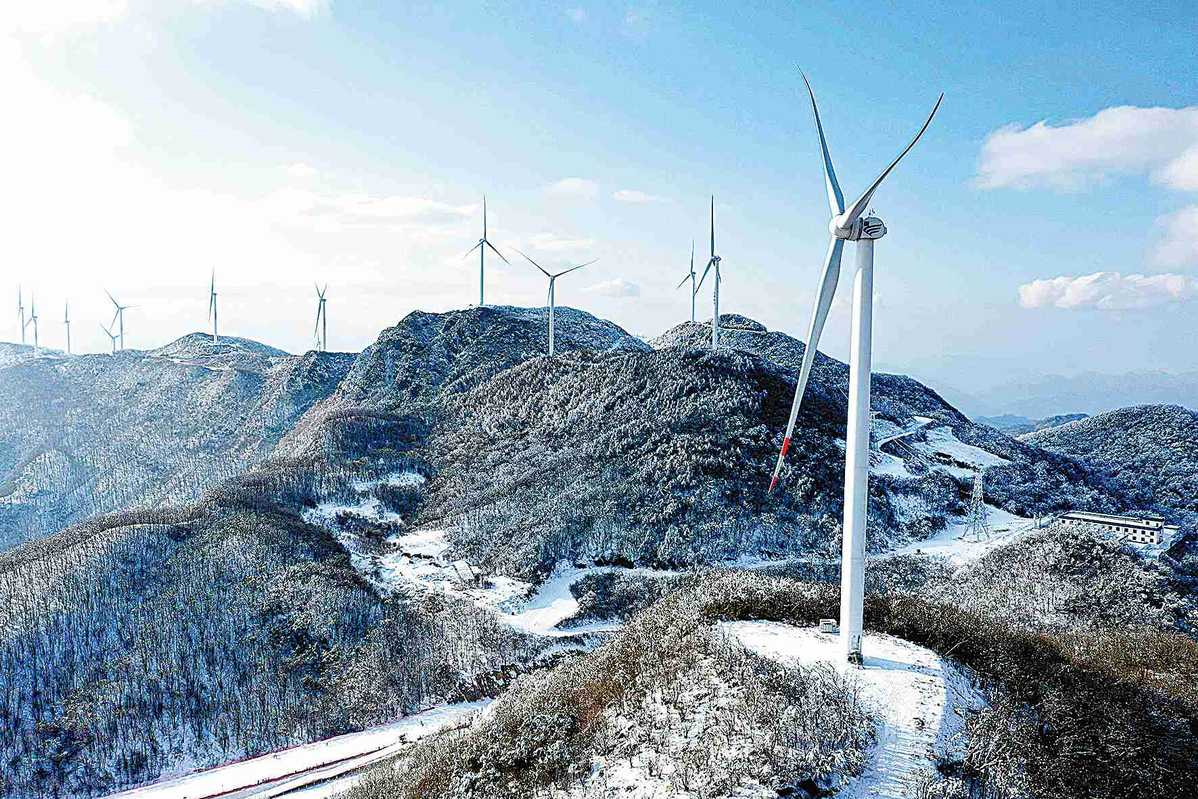 Hydrogen, the first and smallest element on the periodic table, is expected to play a much larger role in China's decarbonization process across various sectors, especially in traditional industries like steelmaking and aviation, said a recent report.
With 60 percent of energy consumption expected to be electrified by 2060, the remaining 40 percent in hard-to-electrify sectors will require hydrogen to play a more important role in meeting energy needs, according to a recent report by Royal Dutch Shell.
Sectors such as heavy-duty road transport, shipping and aviation, as well as heavy industries like steel and chemicals-all of which primarily rely on fossil fuels for now-will have to transition to new lower-carbon energy sources in the future, and portable, high-density hydrogen in particular will play an important role, it said.
A deep and rapid decarbonization pathway relies on electrifying as much of the economy as possible with low-carbon and no-carbon sources of power generation, and low-carbon hydrogen will be needed for hard-to-electrify sectors, it said.
The report suggested that China quadruple the size of its electrical power system for end use using hydrogen and raise the lightest element's share of final energy consumption from negligible today to 16 percent.
It also highlighted the importance of demonstrating technologies that transform heavy industry through hydrogen, bioenergy and carbon capture, utilization and storage (CCUS) technologies. According to the report, hydrogen will be primarily used in heavy industry, agricultural machinery, heavy-duty road transport, short-haul aviation and shipping. More than 85 percent of it will be green hydrogen produced through electrolysis powered by renewable and nuclear power.
This scale of deployment by 2060 means significant investment will be needed to commercialize green hydrogen over the next two decades.
At the same time, the growing use of hydrogen will require investment in production, distribution and storage infrastructure.
All these investments need to occur simultaneously: commercialization projects, initial investments in hydrogen production plants and pilot projects for hydrogen take-up in end-use sectors like road freight, shipping and steel, it said.
Mi Siyi, an analyst with BloombergNEF, said it is expected that by 2031, it will be cheaper for long-haul, heavy-payload trucks to run using hydrogen fuel cells than diesel engines.
Recognizing the importance of hydrogen, both as a low-carbon energy resource and as a global growth industry, China's 14th Five-Year Plan (2021-25) names hydrogen as one of six key industries of the future.
The China Hydrogen Alliance, a government-supported industry group, predicts that hydrogen will make up at least 5 percent of China's energy portfolio by 2030, which is in line with analysis by energy giant Shell.
Most of the hydrogen currently produced in China is used in the refining and chemical sectors, such as the production of ammonia as fertilizer.
For example, China Petroleum and Chemical Corp, or Sinopec, the world's largest refiner by volume, started construction on the world's biggest green hydrogen plant in Kuqa, the Xinjiang Uygur autonomous region, in November, which will be powered entirely by solar energy.
The green hydrogen will be provided to Sinopec Tahe Petrochemical Co Ltd, a subsidiary of Sinopec, and replace the current hydrogen production project generated from natural gas and fossil fuels, said the company. In the meantime, the application of hydrogen fuel for transportation is also quickly picking up, which is becoming a focus in China's decarbonization method for the transportation sector, such as fuel cell electric vehicles.
"It is economically and technically possible for China to achieve a carbon peak by 2030 and carbon neutrality by 2060, and Shell is willing to provide the clean, sustainable energy solutions that China needs to fulfill its net-zero emissions pledge and vision of an ecological civilization," said Jason Wong, executive chairman of Shell Companies in China.